Effects of treatment with hydroxychloroquine and azithromycin on the index of cardiac electrophysiological balance in patients with COVID-19: A retrospective cohort study
Keywords:
COVID-19, Hydroxychloroquine, Azithromycin, ECG, iCEB, Tp-e interval
Abstract
Background/Aim: The common cardiac toxicities of hydroxychloroquine (HCQ) and azithromycin (AZ) are not well defined in COVID-19 patients. Index of cardiac electrophysiological balance (iCEB) is used as a novel risk marker for drug-induced arrhythmias. The purpose of this study was to evaluate ventricular repolarization using iCEB and other conventional ECG parameters such as the end of electrocardiographic T wave (Tp-e) interval, Tp-e/QT ratio, and Tp-e/ heart rate-corrected QT (QTc) ratio in COVID-19 patients treated with HCQ and AZ. Methods: This retrospective study enrolled 164 patients diagnosed with COVID-19 pneumonia in the Emergency Department (ED) and then transferred to the ward or the intensive care unit in April 2020. Results: A total of 164 patients with a mean age of 47 (18) years (range: 18-97 years) included 83 (50.6%) females. There were 38 and 126 patients in Groups HTQ and HTQ+AZ, respectively. On the 5th day of hospitalization, all patients' heart rates were significantly lower (P<0.001), while QTc, QT max (V5-V6), QTmin, Tp-e (V5-V6), and iCEB values were significantly higher (P=0.01 and P<0.001 for the rest, respectively) compared to the basal values measured in the ED (P<0.001). iCEB values of the HTZ+AZ group were significantly higher than those of the HTQ group (P=0.03). iCEBc strongly positively correlated with Tp-e/QT (V5), and strongly negatively correlated with Tp-e (V5). Conclusion: The iCEB values were increased after HTQ and AZ treatment among COVID-19 patients, and strongly correlated with Tp-e and Tp-e/QT. iCEB is a simple, non-invasive method that can be a useful marker to evaluate ventricular repolarization in COVID-19 patients.
Downloads
Download data is not yet available.
References
Xu X, Chen P, Wang J, Feng J, Zhou H, Li X, et al. Evolution of the novel coronavirus from the ongoing Wuhan outbreak and modeling of its spike protein for risk of human transmission. Sci China Life Sci. 2020;63(3):457-60. PMID: 32009228; doi: 10.1007/s11427-020-1637-5.
World Health Organization. Naming the coronavirus disease (COVID-19) and the virus that causes it. Available from: https://www.who.int/emergencies/diseases/novel-coronavirus-2019/technical-guidance/naming-the-coronavirus-disease-(covid-2019)-and-the-virus-that-causes-it. Accessed in 2020 (Sep 11).
Colson P, Rolain JM, Lagier JC, Brouqui P, Raoult D. Chloroquine and hydroxychloroquine as available weapons to fight COVID-19. Int J Antimicrob Agents. 2020;55(4):105932. PMID: 32145363; doi: 10.1016/j.ijantimicag.2020.105932.
Biot C, Daher W, Chavain N, Fandeur T, Khalife J, Dive D, et al. Design and synthesis of hydroxyferroquine derivatives with antimalarial and antiviral activities. J Med Chem. 2006;49(9):2845-9. PMID: 16640347; doi: 10.1021/jm0601856.
Food and Drug Administration (FDA). Emergency Use Authorization. Available from: https://www.fda.gov/emergency-preparedness-and-response/mcm-legal-regulatory-and-policy-framework/emergency-use-authorization. Accessed in 2020 (Sep 11).
Gautret P, Lagier JC, Parola P, Hoang VT, Meddeb L, Mailhe M, et al. Hydroxychloroquine and azithromycin as a treatment of COVID-19: results of an open-label non-randomized clinical trial. Int J Antimicrob Agents. 2020;56(1):105949. PMID: 32205204; doi: 10.1016/j.ijantimicag.2020.105949.
Bilim Kurulu Çalışması. COVID-19 (SARS-CoV-2 Enfeksiyonu) Rehberi. Available from https://covid19bilgi.saglik.gov.tr/tr/covid-19-rehberi.html. Accessed in 2020 (Sep 11).
Chorin E, Dai M, Shulman E, Wadhwani L, Bar-Cohen R, Barbhaiya C, et al. The QT interval in patients with COVID-19 treated with hydroxychloroquine and azithromycin. Nat Med. 2020;26(6):808-9. PMID: 32488217; doi: 10.1038/s41591-020-0888-2.
Borba MGS, Val FFA, Sampaio VS, Alexandre MAA, Melo GC, Brito M, et al. Effect of High vs Low Doses of Chloroquine Diphosphate as Adjunctive Therapy for Patients Hospitalized With Severe Acute Respiratory Syndrome Coronavirus 2 (SARS-CoV-2) Infection: A Randomized Clinical Trial. JAMA Netw Open. 2020;3(4):e208857. PMID: 32339248; doi: 10.1001/jamanetworkopen.2020.8857.
Rosenberg ES, Dufort EM, Udo T, Wilberschied LA, Kumar J, Tesoriero J, et al. Association of Treatment with Hydroxychloroquine or Azithromycin with In-Hospital Mortality in Patients with COVID-19 in New York State. JAMA. 2020;323(24):2493-502. PMID: 32392282; doi: 10.1001/jama.2020.8630.
Monitillo F, Leone M, Rizzo C, Passantino A, Iacoviello M. Ventricular repolarization measures for arrhythmic risk stratification. World J Cardiol. 2016;8(1):57-73. PMID: 26839657; doi: 10.4330/wjc.v8.i1.57.
Chugh SS, Reinier K, Singh T, Uy-Evanado A, Socoteanu C, Peters D, et al. Determinants of prolonged QT interval and their contribution to sudden death risk in coronary artery disease: The Oregon sudden unexpected death study. Circulation. 2009;119(5):663-70. PMID: 19171855; doi: 10.1161/CIRCULATIONAHA.108.797035.
Panikkath R, Reinier K, Uy-Evanado A, Teodorescu C, Hattenhauer J, Mariani R, et al. Prolonged T peak-to-T end Interval on the Resting ECG Is Associated With Increased Risk of Sudden Cardiac Death. Circ Arrhythm Electrophysiol. 2011;4(4):441-7. PMID: 21593198; doi: 10.1161/CIRCEP.110.960658.
Castro-Torres Y, Carmona-Puerta R, Katholi RE. Ventricular repolarization markers for predicting malignant arrhythmias in clinical practice. World J Clin Cases. 2015;3(8):705-20. PMID: 26301231; doi: 10.12998/wjcc.v3.i8.705.
Antzelevitch C, Oliva A. Amplification of spatial dispersion of repolarization underlies sudden cardiac death associated with catecholaminergic polymorphic VT, long QT, short QT and Brugada syndromes. J Intern Med. 2006;259(1):48-58. PMID: 16336513; doi: 10.1111/j.1365-2796.2005.01587.x.
Aidonidis I, Poyatzi A, Stamatiou G, Lymberi M, Stamatoyannis N, Molyvdas PA, et al. Dose-Related Shortening of Ventricular Tachycardia Cycle Length After Administration of the KATP Channel Opener Bimakalim in a 4-Day-Old Chronic Infarct Anesthetized Pig Model. J Cardiovasc Pharmacol Ther. 2009;14(3):222-30. PMID: 19587223; doi: 10.1177/1074248409338929.
Lu HR, Hermans AN, Gallacher DJ. Does terfenadine-induced ventricular tachycardia/fibrillation directly relate to its QT prolongation and Torsades de Pointes?. Br J Pharmacol. 2012;166(4):1490-502. PMID: 22300168; doi: 10.1111/j.1476-5381.2012.01880.x.
Robyns T, Lu HR, Gallacher DJ, Garweg C, Ector J, Willems R, et al. Evaluation of Index of Cardio-Electrophysiological Balance (iCEB) as a New Biomarker for the Identification of Patients at Increased Arrhythmic Risk. Ann Noninvasive Electrocardiol. 2016;21(3):294-304. PMID: 26305685; doi: 10.1111/anec.12309.
Yang J, Zheng Y, Gou X, Pu K, Chen Z, Guo Q, et al. Prevalence of comorbidities and its effects in patients infected with SARS-CoV-2: A systematic review and meta-analysis. Int J Infect Dis. 2020;94:91-5. PMID: 32173574; doi: 10.1016/j.ijid.2020.03.017.
Li B, Yang J, Zhao F, Zhi L, Wang X, Liu L, et al. Prevalence and impact of cardiovascular metabolic diseases on COVID-19 in China. Clin Res Cardiol. 2020;109(5):531-8. PMID: 32161990; doi: 10.1007/s00392-020-01626-9.
Cubeddu LX. Drug-induced Inhibition and Trafficking Disruption of ion Channels: Pathogenesis of QT Abnormalities and Drug-induced Fatal Arrhythmias. Curr Cardiol Rev. 2016;12(2):141-54. PMID: 26926294; doi: 10.2174/1573403x12666160301120217.
Kapoor A, Pandurangi U, Arora V, Gupta A, Jaswal A, Nabar A, et al. Cardiovascular risks of hydroxychloroquine in treatment and prophylaxis of COVID-19 patients: A scientific statement from the Indian Heart Rhythm Society. Indian Pacing Electrophysiol J. 2020;20(3):117-20. PMID: 32278018; doi: 10.1016/j.ipej.2020.04.003.
Giudicessi JR, Noseworthy PA, Friedman PA, Ackerman MJ. Urgent Guidance for Navigating and Circumventing the QTc-Prolonging and Torsadogenic Potential of Possible Pharmacotherapies for Coronavirus Disease 19 (COVID-19). Mayo Clin Proc. 2020;95(6):1213-21. PMID: 32359771; doi: 10.1016/j.mayocp.2020.03.024.
Ray WA, Murray KT, Hall K, Arbogast PG, Stein CM. Azithromycin and the Risk of Cardiovascular Death. N Engl J Med. 2012;366(20):1881-90. PMID: 22591294; doi: 10.1056/NEJMoa1003833.
Yayla Ç, Bilgin M, Akboǧa MK, Gayretli Yayla K, Canpolat U, Dinç Asarcikli L, et al. Evaluation of Tp-E Interval and Tp-E/QT Ratio in Patients with Aortic Stenosis. Ann Noninvasive Electrocardiol. 2016;21(3):287-93. PMID: 26246339; doi: 10.1111/anec.12298.
Yontar OC, Karaagac K, Tenekecioglu E, Tutuncu A, Demir M, Melek M. Assessment of ventricular repolarization inhomogeneity in patients with mitral valve prolapse: Value of T wave peak to end interval. Int J Clin Exp Med. 2014;7(8):2173-8. PMID: 25232403.
Y. Alsancak, Gürbüz AS, Saklı B, A. İçli, Evaluation of index of cardio-electrophysiological balance and Tp-e/QT ratio in patients with coronary artery ectasia, J. Surg. Med. 2019;3(3) 223–226. https://doi.org/10.28982/josam.485247.
King JH, Huang CL, Fraser JA. Determinants of myocardial conduction velocity: Implications for arrhythmogenesis. Front Physiol. 2013;4:154. PMID: 23825462; doi: 10.3389/fphys.2013.00154.
Lu HR, Yan GX, Gallacher DJ. A new biomarker − index of Cardiac Electrophysiological Balance (iCEB) − plays an important role in drug-induced cardiac arrhythmias: Beyond QT-prolongation and Torsades de Pointes (TdPs). J Pharmacol Toxicol Methods. 2013;68(2):250-9. PMID: 23337247; doi: 10.1016/j.vascn.2013.01.003.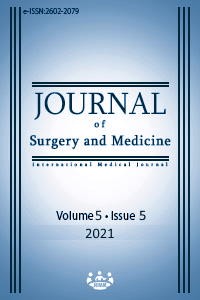 How to Cite
1.
Araç S, Karahan MZ, Özel M, Yiğit R, Akkoç H, Araç E. Effects of treatment with hydroxychloroquine and azithromycin on the index of cardiac electrophysiological balance in patients with COVID-19: A retrospective cohort study. J Surg Med [Internet]. 2021 May 1 [cited 2023 Sep. 25];5(5):412-6. Available from: https://jsurgmed.com/article/view/843042
License
Copyright (c) 2021 Songül Araç, Mehmet Zülkif Karahan, Mehmet Özel, Ramazan Yiğit, Hasan Akkoç, Eşref Araç
This work is licensed under a Creative Commons Attribution-NonCommercial-NoDerivatives 4.0 International License.
#6956