The effect of vulvar lichen sclerosus on quality of life and sexual functioning
Keywords:
Lichen sclerosus, Vulva, Quality of life, Sexual function
Abstract
Background/Aim: Vulvar lichen sclerosus (VLS) is a chronic inflammatory condition that has the potential to cause sexual dysfunction and reduction in patients' life quality. We aimed to evaluate the quality of life and sexual function in female patients with VLS. Methods: This prospective case-control study was conducted with women who presented to the gynecology clinic with a biopsy-proven diagnosis of VLS or for routine gynecological check-ups between June 2017-January 2018. The patients were grouped according to the presence or absence of VLS. Effects of VLS on quality of life and sexual functions were analyzed with the Dermatology Life Quality Index (DLQI) and Female Sexual Function Index (FSFI) questionnaires. Results: A total of 86 women were included in this study. Thirty-seven VLS patients were compared with 49 patients without VLS. The total DLQI scores of the VLS and control groups were 6.14 (6.87) and 1.92 (2.41), respectively (P=0.001), and the total FSFI scores, 15.42 and 24.22, respectively (P<0.001). Sub-group analyses revealed that the two groups significantly differed in terms of sexual desire, arousal, orgasm, satisfaction, and pain (P<0.001), but not in terms of lubrication (P=0.741). Conclusion: Vulvar lichen sclerosus negatively affects the quality of life and sexual function. Questionnaires such as DLQI and FSFI are useful tools for the assessment of sexual function and quality of life in these patients. Since these patients may be hesitant to report their sexual problems, healthcare professionals should interrogate them in this regard during the early stages of management.
Downloads
Download data is not yet available.
References
References
Marfatia Y, Surani A, Baxi R. Genital lichen sclerosus et atrophicus in females: An update. Indian J Sex Transm Dis. 2019;40(1):6.
Lee A, Fischer G. Diagnosis and Treatment of Vulvar Lichen Sclerosus: An Update for Dermatologists. Am J Clin Dermatol. 2018 Oct;19(5):695–706.
Davick JJ, Samuelson M, Krone JT, Stockdale CK. The Prevalence of Lichen Sclerosus in Patients With Vulvar Squamous Cell Carcinoma: International Journal of Gynecological Pathology. 2017 Jul;36(4):305–9.
Oztürkcan S, Ermertcan AT, Eser E, Sahin MT. Cross validation of the Turkish version of dermatology life quality index. Int J Dermatol. 2006 Nov;45(11):1300–7.
Fatma Eti Aslan Da. The Turkish Adaptation of the Female Sexual Function Index. J Med Sci. 2005;3(25):393–9.
Foster DC. Vulvar disease. Obstet Gynecol. 2002 Jul;100(1):145–63.
Yang M, Wen W, Chang J. Vulvar lichen sclerosus: A single-center retrospective study in China. J Dermatol. 2018 Sep;45(9):1101-1104. doi: 10.1111/1346-8138.14533. Epub 2018 Jul 9. PMID: 29984529.
Corazza M, Maietti E, Toni G, Virgili A, Borghi A. Combining topical tretinoin with mometasone furoate in the treatment of vulvar lichen sclerosus: Results of dermoscopic assessment. Dermatol Ther. 2018 Nov;31(6):e12735. doi: 10.1111/dth.12735. Epub 2018 Oct 17. PMID: 30334327.
Prodromidou A, Chatziioannou E, Daskalakis G, Stergios K, Pergialiotis V. Photodynamic Therapy for Vulvar Lichen Sclerosus—A Systematic Review: Journal of Lower Genital Tract Disease. 2018 Jan;22(1):58–65.
Oyama N, Chan I, Neill SM, Hamada T, South AP, Wessagowit V, et al. Autoantibodies to extracellular matrix protein 1 in lichen sclerosus. Lancet. 2003 Jul 12;362(9378):118–23.
Karadag A, Kavala M, Ozlu E, Zindancı İ, Ozkanlı S, Turkoglu Z, et al. The co-occurrence of lichen sclerosus et atrophicus and celiac disease. Indian Dermatol Online J. 2014;5(6):106.
Jones RW, Scurry J, Neill S, MacLean AB. Guidelines for the follow-up of women with vulvar lichen sclerosus in specialist clinics. American Journal of Obstetrics and Gynecology. 2008 May;198(5):496.e1-496.e3.
American College of Obstetricians and Gynecologists' Committee on Practice Bulletins—Gynecology. Diagnosis and Management of Vulvar Skin Disorders: ACOG Practice Bulletin, Number 224. Obstet Gynecol. 2020;136(1):e1–14.
Hodges KR, Wiener CE, Vyas AS, Turrentine MA. The Female Genital Self-image Scale in Adult Women With Vulvar Lichen Sclerosus: Journal of Lower Genital Tract Disease. 2019 Jul;23(3):210–3.
Sanchez-Carazo JL, López-Estebaranz JL, Guisado C. Comorbidities and health-related quality of life in Spanish patients with moderate to severe psoriasis: a cross-sectional study (Arizona study). J Dermatol. 2014 Aug;41(8):673–8.
Lansdorp CA, van den Hondel KE, Korfage IJ, van Gestel MJ, van der Meijden WI. Quality of life in Dutch women with lichen sclerosus: Quality of life in Dutch women with lichen sclerosus. British Journal of Dermatology. 2013 Apr;168(4):787–93.
Cheng H, Oakley A, Conaglen JV, Conaglen HM. Quality of Life and Sexual Distress in Women With Erosive Vulvovaginal Lichen Planus. J Low Genit Tract Dis. 2017 Apr;21(2):145–9.
Kiebert G, Sorensen SV, Revicki D, Fagan SC, Doyle JJ, Cohen J, et al. Atopic dermatitis is associated with a decrement in health-related quality of life. Int J Dermatol. 2002 Mar;41(3):151–8.
Pınar Yüksel BAŞAK. Sık Görülen Bazı Deri Hastalıklarının Yaşam Kalitesi Üzerindeki Etkilerinin Karşılaştırılması | Article | Türkiye Klinikleri. T Klin J Dermatol. 2000;10:171–4.
Van De Nieuwenhof HP, Meeuwis KAP, Nieboer TE, Vergeer MCM, Massuger LFAG, De Hullu JA. The effect of vulvar lichen sclerosus on quality of life and sexual functioning. Journal of Psychosomatic Obstetrics & Gynecology. 2010 Nov;31(4):279–84.
Dalziel KL. Effect of lichen sclerosus on sexual function and parturition. J Reprod Med. 1995 May;40(5):351–4.
Haefner HK, Aldrich NZ, Dalton VK, Marcus SB, Patel DA, Berger MB. The Impact of Vulvar Lichen Sclerosus on Sexual Dysfunction.Journal of Womens Health. 2014:23;765-70.
LeFevre C, Hoffstetter S, Meyer S, Gavard J. Management of lichen sclerosus with triamcinolone ointment: effectiveness in reduction of patient symptom scores. J Low Genit Tract Dis. 2011 Jul;15(3):205–9.
Lawton S, Littlewood S. Vulval skin conditions: disease activity and quality of life. J Low Genit Tract Dis. 2013 Apr;17(2):117-24. doi: 10.1097/LGT.0b013e3182652450. Erratum in: J Low Genit Tract Dis. 2013 Jul;17(3):369. PMID: 23343705.
Burrows LJ, Creasey A, Goldstein AT. The treatment of vulvar lichen sclerosus and female sexual dysfunction. J Sex Med. 2011 Jan;8(1):219–22.
Brauer M, van Lunsen R, Burger M, Laan E. Motives for Vulvar Surgery of Women with Lichen Sclerosus. J Sex Med. 2015 Dec;12(12):2462–73.
De Franciscis P, Mainini G, Messalli EM, Trotta C, Luisi A, Laudando E, et al. Arterial hypertension and female sexual dysfunction in postmenopausal women. Clin Exp Obstet Gynecol. 2013;40(1):58–60.
Stechova K, Mastikova L, Urbaniec K, Vanis M, Hylmarova S, Kvapil M, et al. Sexual Dysfunction in Women Treated for Type 1 Diabetes and the Impact of Coexisting Thyroid Disease. Sex Med. 2019 Jun;7(2):217–26.
Zsoldos M, Pajor A, Pusztafalvi H. [Relation between sexual dysfunction and metabolic syndrome]. Orv Hetil. 2019 Jan;160(3):98–103.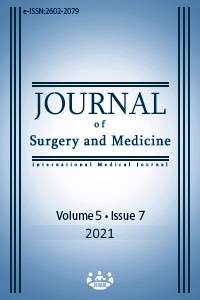 How to Cite
1.
Helvacioglu Özlem, Topkarcı Z, Helvacıoğlu Çağlar, Kavak A. The effect of vulvar lichen sclerosus on quality of life and sexual functioning. J Surg Med [Internet]. 2021 Jul. 1 [cited 2023 Jun. 7];5(7):691-4. Available from: https://jsurgmed.com/article/view/806578
License
Copyright (c) 2021 Özlem Helvacioglu, Zeynep Topkarcı, Çağlar Helvacıoğlu, Ayşe Kavak
This work is licensed under a Creative Commons Attribution-NonCommercial-NoDerivatives 4.0 International License.
#6993