Sympathectomy with T2-T3 percutaneous radiofrequency thermocoagulation method in upper extremity primary hyperhidrosis cases
Keywords:
Primer Hyperhidrosis, Radiofrecans Thermocoagulations,, T2–T3 Sympatectomy, Stellat Ganglion Radiofrecans
Abstract
Sweating is controlled by the sympathetic nervous system and helps regulate the body's heat and electrolyte balance. Excessive sweating may be observed in about 1% of the population due to a number of reasons. Many methods are used in the treatment of hyperhidrosis, which is important for quality of life. In four patients with primary hyperhidrosis resistant to medical treatment, radiofrequency thermocoagulation of the stellate ganglion with an anterior approach and then the response of radiofrequency thermocoagulation to the T2-T3 sympathetic ganglion were evaluated. We think that it is an advantageous and successful method in terms of being less invasive and cost effective compared to other surgical methods, as the procedure time is short, patient satisfaction, hospitalization time is low. We have seen that stellate and T2-T3 sympathectomy with radiofrequency thermocoagulation method is a useful technique in the treatment of primary hyperhidrosis.
Downloads
Download data is not yet available.
References
Leung AK, Chan PY, Choi MC, Hydrosis. Int J Dermatol. 1999 Aug;38(8):561-7. doi: 10.1046/j.1365-4362.1999.00609.x.
Hornberger J, Grimes K, Naumann M, Glaser DA, Lowe NJ, Naver H, et al. Multi-Specialty Working Group on the Recognition, Diagnosis, and Treatment of Primary Focal Hyperhidrosis J Am Acad Dermatol. 2004 Aug;51(2):274-86. doi: 10.1016/j.jaad.2003.12.029.
Derma Goldsmith LA. Disorders of Ecrine Sweat Gland. In : Freedberg IM, Eisen AZ, Wolf K, Ausen KF, Goldsmith LA, Katz SI, et al, Editors Fitzpatrik's Dermatology İn General Medicine.5th Ed New York, NY:Mcgraw-Hill;1999.P.800-5
Vadoud-Seyedi J. Treatment Of Plantar Hyperhidrosis With Botulinum Toxin Type A. int J Dermatol. 2004 Dec;43(12):969-71. doi: 10.1111/j.1365-4632.2004.02304.x.
Lauchli S, Burg G. Treatment Of Hyperhidrosis With Botulinum Toxin A. Skin Therapy Lett. 2003. 8: 1-4
Loscertales J, Arroyo Tristán A, Congregado Loscertales M, Jiménez Merchán R, Girón Arjona JC, Arenas Linares C, et al. Thoracoscopic sympathectomy for palmar hyperhidrosis. Immediate results and postoperative quality of life [Article in Spanish] Arch Bronconeumol. 2004 Feb;40(2):67-71. doi: 10.1016/s1579-2129(06)60197-3.
Hashmonai M, Assalia A, Kopelman D. Thoracoscopic Sympathectomy For Palmar Hyperhidrosis. Ablate Or Resect? Surg Endosc. 2001;15:435-41.
Chiou TS, Chen SC. Intermediate-Term Results Of Endoscopic Transaxillary T2 Sympathectomy For Primary Palmar Hyperhidrosis. Br J Surg. 1999 Jan;86(1):45-7. doi: 10.1046/j.1365-2168.1999.00992.x.
Hehir DJ, Brady MP: Long-Term Results Of Limited Thoracic Sympathectomy for Palmar Hyperhidrosis J Pediatr Surg. 1993 Jul;28(7):909-11. doi: 10.1016/0022-3468(93)90694-g.
Chang YT, Li HP, Lee JY, Lin PJ, Lin CC, Kao EL, et al. Treatment of palmar hyperhidrosis: T(4) level compared with T(3) and T(2). Ann Surg. 2007 Aug;246(2):330-6. doi: 10.1097/SLA.0b013e3180caa466.
Yang J, Tan JJ, Ye GL, Gu WQ, Wang J, Liu YG. T3/T4 Thoracic Sympathictomy And Compensatory Sweating İn Treatment Of Palmar Hyperhidrosis Chinese Registry Of Palmar Hyperhidrosis İnvestigators Chin Med J. 2007;120(18):1574-7. doi: 10.1097/00029330-200709020-00003
Lin CC, Wu HH. Endoscopic T4-Sympathetic Block By Clamping (ESB4) İn Treatment Of Hyperhidrosis Palmaris Et Axillaries-Experiences Of 165 Cases. Ann Chir Gynaecol. 2001;90:167-9.
Choi BC, Lee YC, Sim SB. Treatment Of Palmar Hyperhidrosis By Endoscopic Clipping Of The Upper Part Of The T4 Sympathetic Ganglion. Preliminary Results. Clin Auton Res. 2003 Dec;13 Suppl 1:I48-51. doi: 10.1007/s10286-003-1112-4.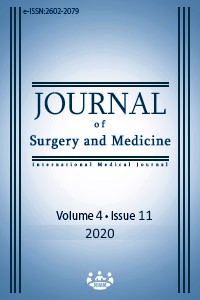 How to Cite
1.
Yılmaz A, Yılmaz Özgür. Sympathectomy with T2-T3 percutaneous radiofrequency thermocoagulation method in upper extremity primary hyperhidrosis cases. J Surg Med [Internet]. 2020 Nov. 1 [cited 2023 Dec. 5];4(11):1098-100. Available from: https://jsurgmed.com/article/view/806119
License
Copyright (c) 2020 Ayşe Yılmaz, Özgür Yılmaz
This work is licensed under a Creative Commons Attribution-NonCommercial-NoDerivatives 4.0 International License.
#6792