Saphenous vein graft aneurysm after coronary artery bypass graft surgery: A case report
Keywords:
SAFEN VEİN, ANEURYSM, CORONARY ARTERY BYPASS
Abstract
Aneurysm of the saphenous vein, which is the most used graft in coronary bypass surgery, is a rare complication. While saphenous vein dilatation forming in the early or late stages after bypass surgery can be symptomatic, it can also be diagnosed incidentally. Aneurysms forming in the late stages are atherosclerotic while those forming in the initial stages are mostly connected to venous damage. In the present case, a saphenous aneurysm with atherosclerotic causes was detected in a patient 20 years after coronary bypass surgery. The patient was admitted with chest pain, syncope, and dizziness complaints. Examination revealed a saphenous vein aneurysm measuring 28x30 mm. The patient underwent surgery, and the aneurysm was resected.
Downloads
Download data is not yet available.
References
Yavuz S, Celkan A, Turk T, Ozdemir İA. Aneurysm of an aortocoronary saphenous veın bypass graft. Turkish Journal of Thoracic and Cardiovascular Surgery. 1999;7:336-8.
Carrasquilla C, Weaver AW. Aneurysm of a saphenous vein graft to the common carotid artery. Vasc Surg. 1972;6:66-8.
Riahi M, Vasu CM, Tomatis LA, Schlosser RJ, Zimmerman G. Aneurysm of saphenous vein bypass graft to coronary artery. J Thorac Cardiovasc Surg. 1975;70:358-9.
Neitzel GF, Barboriak JJ, Pintar K, Qureshi I. Atherosclerosis in aortocoronary bypass grafts. Morphologic study and risk factor analysis 6 to 12 years after surgery. Arteriosclerosis. 1986;6:594-600.
Van de Wal RMA, Van Verkum JW, Le cocq d'armandville MC, Plokker HWT, Morshuis WJ. Giant aneurysm of an aortocoronary venous bypass graft compressing the right ventricle. Neth Heart J. 2007;15:252-4.
Abbasi M, Soltani G, Shomali A, Javan H. A large saphenous vein graft aneurysm one year after coronary artery bypass graft surgery presenting as a left lung mass. Interactive Cardio Vascular and Thoracic Surgery. 2009;8:691–3.
Pulling TM, Uyesugi WY. Aneurysm of an autologous aorta to right coronary artery reverse saphenous vein graft presenting as a mediastinal mass: a case report. Cases Journal. 2008;1;340.
Kalimi R, Palazzo RS, Graver LM. Giant aneurysm of saphenous vein graft to coronary artery compressing the right atrium. Ann Thorac Surg. 1999;68;1433-7.
Ramirez FD, Hibbert B, Simard T, Pourdjabbar A, Wilson KR, et al. Natural history and management of aortocoronary saphenous vein graft aneurysms: a systematic review of published cases. Circulation 2012;126:2248-56
Breton LH, Pavin D, Langanay T, Roland Y, Leclercq C, Beliard JM, et al. Aneurysms and pseudoaneurysms of saphenous vein coronary artery bypass grafts. Heart 1998;79:505-8.
Boczar KE, Hibbert B, Simard T, Hibbert R, Chan V, O'Brien ER. Giant saphenous vein graft aneurysm presenting as ST-elevation myocardial infarction. Circ J. 2014;78:769-71.
Nölke L, McGovern E, Wood EA. Saphenous vein graft aneurysms; the true, false and ugly! Interact Cardiovasc Thorac Surg. 2004;3:631-3.
Kim D, Guthaner DF, Wexler L. Transcatheter embolization of a leaking pseudoaneurysm of saphenous vein aortocoronary bypass graft. Cathet Cardiovasc Diagn. 1983;9:591-4.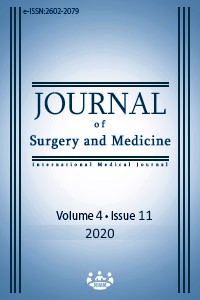 How to Cite
1.
Reyhanoğlu H, Özcan K, Edem E. Saphenous vein graft aneurysm after coronary artery bypass graft surgery: A case report. J Surg Med [Internet]. 2020 Nov. 1 [cited 2022 Dec. 7];4(11):1086-8. Available from: https://jsurgmed.com/article/view/803776
License
Copyright (c) 2020 Hasan Reyhanoğlu, Kaan Özcan, Efe Edem
This work is licensed under a Creative Commons Attribution-NonCommercial-NoDerivatives 4.0 International License.
#6794