A case of bilateral hip and knee osteonecrosis in a patient with ankylosing spondylitis who used steroids due to immune thrombocytopenic purpura
Keywords:
Osteonecrosis, Meloxicam, Immune thrombocytopenic purpura, Ankylosing spondylitis
Abstract
We aim to present a case of bilateral hip and knee osteonecrosis due to steroid use in an ankylosing spondylitis (AS) patient who developed immune thrombocytopenic purpura (ITP) after the use of nonsteroidal anti-inflammatory drugs (NSAID). A 60-year-old male patient was diagnosed with AS with bilateral sacroiliitis and inflammatory low back pain on sacroiliac radiography 10 years ago. He was followed up with NSAIDs. Intravenous steroid treatment was started in the hematology clinic to the patient who had developed ITP due to NSAID usage. The patient presented to our clinic with bilateral hip pain that developed after steroid therapy. He had limited hip joint movement and bilateral destructive hip joints in pelvic radiography. Bilateral total hip arthroplasty (THA) was performed by the Orthopedics and Traumatology Department at 1-year intervals because of osteonecrosis associated with steroid use. When he presented to our clinic 3 years later with bilateral knee pain, we detected osteonecrosis in the distal segments of bilateral femurs and proximal tibial diaphysis on knee MRI. We implemented a rehabilitation program with the conservative treatment recommendation of orthopedics. Comorbidities or drug side effects should be examined more carefully while treating peripheral joint involvement in patients with AS.
Downloads
Download data is not yet available.
References
Mankin HJ. Nontraumatic necrosis of bone (osteonecrosis). N Engl J. 1992;326:1473-9. doi: 10.1056/NEJM199205283262206
Van den Bemt PMLA, Meyboom RHB, Egberts ACG. Drug-induced thrombocytopenia. Drug Saf. 2004;27:1243–52. doi: 10.2165/00002018-200427150-00007.
Lafforgue P. Pathophysiology and natural history of avascular necrosis of bone. Joint Bone Spine. 2006;73:500-7. doi: 10.1016/j.jbspin.2006.01.025.
Bekler H, Uygur AM, Gökçe A, Beyzadeoğlu T. Steroid kullanımının femur başı avasküler nekrozu patogenezindeki yeri: Deneysel hayvan modeli. Acta Orthop Traumatol Turc. 2007;41(1):58-63.
Usui M, Inoue H, Yukihiro S, Abe N. Femoral neck fracture following avascular necrosis of the femoral head. Acta Med Okayama. 1996;50(2):111-7. doi: 10.18926/AMO/30487.
Yildiz N, Ardic F, Deniz S. Very Early Onset Steroid-Induced Avascular Necrosis of the Hip and Knee in a Patient with Idiopathic Thrombocytopenic Purpura. Inter Med. 2008;47:1989-92. doi: 10.2169/internalmedicine.47.1038.
Fotopoulos VCh, Mouzopoulos G, Floros T, Tzurbakis M. Steroid-induced femoral head osteonecrosis in immune thrombocytopenia treatment with osteochondral autograft transplantation. Knee Surg Sports Traumatol Arthrosc. 2015; 23(9):2605-10. doi: 10.1007/s00167-014-3239-3.
Boehringer-Ingelheim Pharmaceuticals, Inc. Mobic (meloxicam) package insert. Ridgefield, CT. 2012.
Ranieri MM, Bradley EF, Simon AB. Meloxicam-induced thrombocytopenia. Pharmacotherapy. 2014;34(2):e14-7. doi: 10.1002/phar.1372.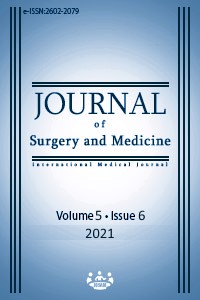 How to Cite
1.
Öztekin SNS, Sonmez R, Sarsan A, Alkan H. A case of bilateral hip and knee osteonecrosis in a patient with ankylosing spondylitis who used steroids due to immune thrombocytopenic purpura. J Surg Med [Internet]. 2021 Jun. 1 [cited 2023 Jun. 7];5(6):651-3. Available from: https://jsurgmed.com/article/view/799391
License
Copyright (c) 2021 Saadet Nur Sena Öztekin, Rafet Sonmez, Ayşe Sarsan, Hakan Alkan
This work is licensed under a Creative Commons Attribution-NonCommercial-NoDerivatives 4.0 International License.
#6981