Evaluation of patients with multiple sclerosis and sleep disorders
Keywords:
Multiple sclerosis, Sleep disorders, Polysomnography
Abstract
Background/Aim: Sleep disorders are often reported by MS patients and various studies have shown sleep disorders to be more widespread in MS patients than in healthy control groups. However, despite the high frequency, they are often overlooked. This study aimed to determine the characteristics of fatigue and daytime sleepiness in MS patients, the underlying factors, and their relationship for testing the reliability of subjective scales and establishing when patients presenting with these symptoms should be referred to a sleep specialist. Methods: The patients enrolled in this cohort study were aged >18 years, had a confirmed diagnosis of relapsing remitting MS, were in the remission phase, had not taken steroids within the last 3 months, and had complaints of fatigue, daytime sleepiness, and sleep disorders. Patients with EDSS score <3 were admitted to the sleep laboratory for 2 days to perform 1 night of polysomnography (PSG) and a 5-nap multiple sleep latency test (MSLT) the following day. The results were evaluated with regards to the clinical scales. Results: A total of 41 patients were evaluated. Excessive daytime sleepiness was found in 14 (34.1%), and sleep quality was poor in 28 (68.29%). According to the PSG-MSLT, a sleep disorder was found in 37 patients (90.24%). A diagnosis of hypersomnolence was made in 23 (56.1%) patients, and two (4.88%) were categorized as type 2. Conclusion: It is necessary for every clinician involved in MS treatment to correctly diagnose and treat fatigue, excessive daytime sleepiness, and other sleep disorders, which increase the disability of disease. When the high prevalence of these types of disorders and the fact that they are multifactorial are taken into consideration, the timing of the referral of these patients to a sleep specialist and the implementation of objective tests become more important.
Downloads
Download data is not yet available.
References
Dobson R, Giovannoni G. Multiple sclerosis–a review. European Journal of Neurology. 2019;26(1):27-40. doi: 10.1111/ene.13819
Braley T J, Chervin R D. Fatigue in Multiple Sclerosis: Mechanisms, Evaluation, and Treatment. Sleep. 2010 Aug 1; 33(8): 1061–1067. doi: 10.1093/sleep/33.8.1061
Freal J, Kraft G, Coryell J. Symptomatic fatigue in multiple sclerosis. Archives of Physical Medicine and Rehabilitation. 1984;65(3):135-8. PMID: 6703889
Fisk JD, Pontefract A, Ritvo PG, Archibald CJ, Murray T. The impact of fatigue on patients with multiple sclerosis. Canadian Journal of Neurological Sciences. 1994;21(1):9-14. PMID: 8180914
Krupp LB, Alvarez LA, LaRocca NG, Scheinberg LC. Fatigue in multiple sclerosis. Archives of Neurology. 1988;45(4):435-7. doi: 10.1001/archneur.1988.00520280085020
Veauthier C, Paul F. Fatigue in multiple sclerosis: which patient should be referred to asleep specialist? Multiple Sclerosis Journal. 2012;18(2):248. doi: 10.1177/1352458511411229
Popp RF, Fierlbeck AK, Knüttel H, König N, Rupprecht R, Weissert R et al. Daytime sleepiness versus fatigue in patients with multiple sclerosis: a systematic review on the Epworth sleepiness scale as an assessment tool. Sleep Medicine Reviews. 2017;32:95-108. doi: 10.1016/j.smrv.2016.03.004
Merkelbach S, Schulz H, Kölmel H, Gora G, Klingelhöfer J, Dachsel R et al. Fatigue, sleepiness, and physical activity in patients with multiple sclerosis. Journal of Neurology. 2011;258(1):74-9. doi: 10.1007/s00415-010-5684-3
Mendozzi L, Tronci F, Garegnani M, Pugnetti L. Sleep disturbance and fatigue in mild relapsing remitting multiple sclerosis patients on chronic immunomodulant therapy: an actigraphic study. Multiple Sclerosis Journal. 2010;16(2):238-47. doi: 10.1177/1352458509354551
Shahrbanian S, Duquette P, Mayo N. Impairment, disability and fatigue in multiple sclerosis. Caspian Journal of Internal Medicine. 2018;9(3):244-51. doi: 10.22088/cjim.9.3.244
Manconi M, Fabbrini M, Bonanni E, Filippi M, Rocca M, Murri L et al. High prevalence of restless legs syndrome in multiple sclerosis. European journal of Neurology. 2007;14(5):534-9. doi: 10.1111/j.1468-1331.2007.01740.x
Manconi M, Ferini-Strambi L, Filippi M, Bonanni E, Iudice A et al. Italian R. Study Group Multicenter case-control study on restless legs syndrome in multiple sclerosis: the REMS study. Sleep. 2008;31(7):944-52. PMCID: PMC2491510 PMID: 18655317
Ferini-Strambi L, Filippi M, Martinelli V, Oldani A, Rovaris M, Zucconi M et al. Nocturnal sleep study in multiple sclerosis: correlations with clinical and brain magnetic resonance imaging findings. Journal of the Neurological Sciences. 1994;125(2):194-7. doi: 10.1016/0022-510x(94)90035-3
Marrie RA, Reider N, Cohen J, Trojano M, Sorensen PS, Cutter G et al. A systematic review of the incidence and prevalence of sleep disorders and seizure disorders in multiple sclerosis. Multiple Sclerosis Journal. 2015;21(3):342-9. doi: 10.1177/1352458514564486
Lin M, Krishnan AV, Eckert DJ. Central sleep apnea in multiple sclerosis: a pilot study. Sleep Breath. 2017;21(3):691-6. doi: 10.1007/s11325-016-1442-9
Ohayon MM, Priest RG, Zulley J, Smirne S, Paiva T. Prevalence of narcolepsy symptomatology and diagnosis in the European general population. Neurology. 2002;58(12):1826-33. doi: 10.1212/wnl.58.12.1826.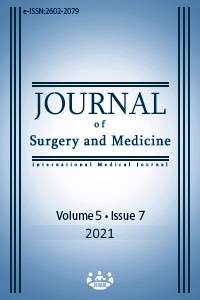 How to Cite
1.
Bavli S, İnanç Y, Tuncel D. Evaluation of patients with multiple sclerosis and sleep disorders. J Surg Med [Internet]. 2021 Jul. 1 [cited 2023 Sep. 24];5(7):665-9. Available from: https://jsurgmed.com/article/view/793016
License
Copyright (c) 2021 Songül Bavli, Yılmaz İnanç, Deniz Tuncel
This work is licensed under a Creative Commons Attribution-NonCommercial-NoDerivatives 4.0 International License.
#6989