A new biological marker in inflammatory bowel disease: Pentraxin 3
Keywords:
PTX3, IBD, Crohn, Ulcerative colitis, Inflammation
Abstract
Aim: Pentraxin 3 is a molecule that is known to show inflammation, however few studies with contradictory results have been conducted in current literature in Inflammatory Bowel Disease patients regarding PTX3. We aimed to investigate whether PTX3 can be used in the discrimination of Crohn's disese and Ulcerative colitis patients and whether there is a correlation of PTX3 with disease activity, involved intestinal segments and their length. Method: Ethical committee approval was obtained for this a prospective, single-centered, single-blind study. IBD patients who were older than 18 years old, without pregnancy, malignancy, acute/chronic infections or inflammatory diseases were included. Healthy volunteers were included in study as a control group. PTX3 levels were measured in the blood. Shapiro-Wilk, Mann-Whitney U, Kruskal Wallis, Bonferroni-Dunn, Spearman tests were used with NCSS 2007 program. Results: The median age of the 56 male and 42 female participants was 37 years (25 CD, 43 UK and 30 controls). In the UK group, PTX3, which did not have relationship with the Trulove Witts score or the Mayo score; was a statistically significant higher in patients with pancolitis. There was no relationship between PTX3 levels and involvement, behavior pattern, CDAI scores and activity of the disease in CD group. Conclusion:PTX3 is not an appropriate biomarker for monitoring the activation of İBD and it can't distinguish two subtypes from eachother. PTX3 is insufficient to indicate both the behavior pattern and the location of involvement in CD patients. Only, until the control endoscopy times of the patients with UK, it can be monitored whether the disease affects the entire colon by following the PTX3 levels in the interim period.
Downloads
Download data is not yet available.
References
Chen J, Xu X, Xia L, Xi X, Liu B, Yang M. Serum pentraxin 3 is a novel marker in Crohn's disease. Mol Med Rep. 2015 Jul;12(1):543-6. doi:10.3892/mmr.2015.3451. Epub 2015 Mar 6.
Muthas D, Reznichenko A, Balendran CA, Böttcher G, Clausen IG, Kärrman Mårdh C, et al. Neutrophils in ulcerative colitis: a review of selected biomarkers and their potential therapeutic implications. Scand J Gastroenterol. 2017 Feb;52(2):125-135. doi: 10.1080/00365521.2016.1235224. Epub 2016 Sep 27.
Leitner GC, Vogelsang H. Pharmacological- and non-pharmacological therapeutic approaches in inflammatory bowel disease in adults. World J Gastrointest Pharmacol Ther. 2016;7(1):5-20.
Burisch J, Munkholm P. The epidemiology of inflammatory bowel disease. Scand J Gastroenterol. 2015;50(8):942-51.
Klouche M, Peri G, Knabbe C, Eckstein HH, Schmid FX, Schmitz G, at al. Modified atherogenic lipoproteins induce expression of pentraxin 3 by human vascular smooth muscle cells. Atherosclerosis 175: 221 228, 2004.
Fazzini F, Peri G, Doni A, Dell'Antonio G, Cin ED, Bozzolo E, et al. PTX3 in small vessel vascu¬litides: an independent indicator of disease activity produced at sites of inflammation. Arthritis Rheum 44: 2841 2850, 2001.
Baldini M, Maugeri N, Ramirez GA, Giacomassi C, Castiglioni A, Gonzalez SP, et al. Selective up regu¬lation of the soluble pattern recognition receptor pentraxin 3 and of vascular endothelial growth factor in giant cell arteritis: relevance for recent optic nerve ischemia. Arthritis Rheum 64: 854 865, 2012.
Kato S, Ochiai M, Sakurada T, Ohno S, Miyamoto K, Sagara M, et al. Increased expression of long pentraxin PTX3 in inflammatory bowel diseases. Dig Dis Sci. 2008;53(7):1910-6.
Savchenko AS, Inoue A, Ohashi R, Jiang S, Hasegawa G, Tanaka T, et al. Long pentraxin 3 (PTX3) expression and release by neutrophils in vitro and in ulcerative colitis. Pathol Int. 2011 May;61(5):290-7. doi: 10.1111/j.1440-1827.2011.02651.x. Epub 2011 Mar 17.
Kato S, Ochiai M, Sakurada T, Ohno S, Miyamoto K, Sagara M, et al. Increased Expression of Long Pentraxin PTX3 in Inflammatory Bowel Diseases. Dig Dis Sci. 2008 Jul;53(7):1910-6. Epub 2007 Nov 8.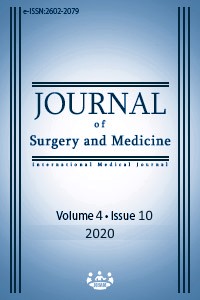 How to Cite
1.
Kalyon S, Gökden Y, Oyman F. A new biological marker in inflammatory bowel disease: Pentraxin 3. J Surg Med [Internet]. 2020 Oct. 1 [cited 2023 Jun. 7];4(10):875-8. Available from: https://jsurgmed.com/article/view/791156
License
Copyright (c) 2020 Semih Kalyon, Yasemin Gökden, Fırat Oyman
This work is licensed under a Creative Commons Attribution-NonCommercial-NoDerivatives 4.0 International License.
#6760