Comparison of computerized tomography angiography and digital subtraction angiography in aneurysmal subarachnoid hemorrhage
Keywords:
Subarachnoid hemorrhage, Aneurysm, CT angiography, DSA
Abstract
Background/Aim: A subarachnoid hemorrhage (SAH) usually occurs between the ages of 45-60 years and its prevalence is 2-32 per hundred thousand. Approximately 70-80% of SAHs develop as a result of aneurismal hemorrhage. Studies examining the two methods in the literature are insufficient. The goal of this study was to compare CT angiography (CTA) and digital subtraction angiography (DSA) in the management of patients with aneurysmal subarachnoid hemorrhage (ASH). Method: In this retrospective cohort study, the CTA and DSA records of patients who were followed up due to aneurysmal SAH were retrospectively examined. The location and size of the aneurysm were measured. The patients were transported to the DSA unit within 1-12 hours once they stabilized and the records of the patients who underwent DSA for Anterior Communicating Artery (Ant.Com.A), Basilar Artery (BA), MCA and Posterior Communicating Artery (Post.Com.A.) for diagnostic purposes were assessed. Results: Our study included a total of 69 aneurysm cases complying with our criteria. Twenty-four (34.8%) were at the Ant.Com.A, 6 (8.7%) were at the BA, 32 (46.4%) were at the MCA and 7 (10.1%) were at the Post.Com.A. When the alignment between DSA and CTA results was examined according to the location, eighteen cases with Ant.Com.A aneurysm, and eighteen cases with MCA aneurysm were coherent, while six and fourteen cases of Ant.Com.A and MCA aneurysm, respectively, were not (p>0,05). An analysis in terms of size revealed that DSA was more sensitive in patients with aneurysms <1 cm, while both DSA and CTA showed equal rates of sensitivity in aneurysms>1 cm. Overall, no significant difference was found (Ҡ=-0.075, -0.120; π= -0.107, -0.200; P=0.600) between DSA and CTA in terms of accuracy of showing aneurysmal location (Ҡ=-0.050, π= -0.076; P=0.650). Conclusion: In SAH due to aneurysms, CTA can be preferred, and treatment can be planned based on its results because it is more accessible and cheaper, does not require specially trained physicians and technicians, enables easier control of post-operative brain CT, and reduces patient referrals between health institutions for diagnostic purposes.
Downloads
Download data is not yet available.
References
Zuurbier C, Greving JP, Rinkel G, Ruigrok YM. Higher risk of intracranial aneurysms and subarachnoid haemorrhage in siblings of families with intracranial aneurysms.Eur Stroke J. 2020;5(1):73-7.
Lepski G, Lobão CAF, Taylor S, MesquitaFilho PM, Tatagiba M. Reply: Intracranial aneurysm diameterand risk of rupture. Arq Neuropsiquiatr. 2019;77(11):840.
Özdemir M, Bozkurt M, Kahiloğulları G, Uğur HÇ, Egemen N. Subaraknoid kanama ve komplikasyonlarının tedavisi. Journal of Ankara University Faculty of Medicine.2011;64(1):52-5.
Kocaeli H, Kofralı E. Anevrizmal subaraknoid kanama ve Komplikasyonları. Temel nöroşirürji 2010;1:803-14.
Kurita M, Miyasaka Y, Ishiwata M, Kitahara T, Fujii K. Infectious aneurysm rerupture caused by delayed diagnosis: an operative case report. N Library of med. 2008;36(7):633-8.
Angtuaco EJ, Binet EF. High-resolution computed tomography in intracranial aneurysms.Crit Rev Diagn Imaging. 1986;25(2):113-58.
Wang X, Benson J, Jagadeesan B, McKinney AJ. Giant Cerebral Aneurysms: Comparing CTA, MRA, and Digital Subtraction Angiography Assessments. J Neuroimaging. 2020;30:335-41. doi: 10.1111/jon.12712
Zwanzger C, López-Rueda A, Campodónico D, Rosati S, BlascoJ, San Román L, et al. Usefulness of CT angiography for characterizing cerebral arteriovenous malformations presenting as hemorrhage: comparison with digital subtraction angiography.Radiologia. 2020;62(5):392-9. doi: 10.1016/j.rx.2020.01.006
Dundar TT, Aralasmak A, Kitiş S, Yılmaz FT, Abdallah A. Comparison of Subtracted Computed Tomography from Computed Tomography Perfusion and Digital Subtraction Angiography in Residue Evaluation of Treated Intracranial Aneurysms. World Neurosurg. 2019;132:746-51.
Páez-Granda D. Subarachnoid haemorrhage with negative tomographic angiography without vasospasm: is it necessary to perform angiographic controls? Rev Neurol. 2020;70(8):287-92.
Schattlo B, Fathi AR, Fandino J. Management of aneurysmal subarachnoid haemorrhage. Swiss Med Wkly. 2014;144:13934.
Iki Y, Morofuji Y, Kanamoto T, Horie N, Izumo T, Anda T, et al. Traumatic Middle Meningeal Arteriovenous Fistula of Non-fractured Site Detected by Four-dimensional Computed Tomography Angiography: A Case Report.NMC Case Rep J. 2020;7(2):57-61.
Chen LW, Lin CJ, Guo WY, Hung SC, Lee HJ, Chen KK, et al. Evaluating cerebral hemodynamics using quantitative digital subtraction angiography and flat-detector computed tomography perfusion imaging: A comparative study in patients with carotid stenosis. J Chin Med Assoc. 2018;81(11):977-84.
Wong H, Hodgson L, Banfield J, Shankar JJS. Digital Subtraction Angiography for CT Angiogram Negative Haemorrhages. Can J Neurol Sci. 2018;45(5):522-6.
Bender M, Bogdan G, Radančević D, Pejanović-Škobić N. Contrast-Induced Encephalopathy following Cerebral Angiography in a Hemodialysis Patient. Case Rep Neurol Med. 2020:3985231.
Little JR, Furlan AJ, Modic MT, Bryerton B, Weinstein MA. Intravenous digital subtraction angiography: application to cerebrovascular surgery. Neurosurgery. 1981;9(2):129-36.
Fang Y, Xu S, Lu J, Wu H, Zheng J, Lenahan C, et al. Validation and Comparison of Aneurysmal Subarachnoid Hemorrhage Grading Scales in Angiogram-Negative Subarachnoid Hemorrhage Patients. BioMed Research International. 2020:1;1-9. doi: 10.1155/2020/970723.
Pozzi-Mucelli F, Bruni S, Doddi M, Calgaro A, Braini M, Cova MJ. Detection of intracranial aneurysms with 64 channel multidetector row computed tomography: comparison with digital subtraction angiography. Radiol. 2007;64(1):15-26.
Türk Y, Salmaslıoğlu A, Sasani H. The role of multislice computerized tomography angiography in assessing postoperative vascular complications in liver transplant patients. Turk J Med Sci. 2019;49(4):1212-20.
Al-Smadi AS, Elmokadem A, Shaibani A, Hurley MC, Potts MB, Jahromi BS, et al. Adjunctive Efficacy of Intra-Arterial Conebeam CT Angiography Relativeto DSA in the Diagnosis and Surgical Planning of Micro-Arteriovenous Malformations. AJNR Am J Neuroradiol. 2018;39(9):1689-95.
Dündar TT, Kitiş S, Abdallah A, Yurtsever İ, Gülen B. Evaluation of the platelet volume index as a prognostic factor after aneurysmal subarachnoid hemorrhage. J Surg Med. 2019;3(9):685-8.
Li M, Liang H, Liu C, Liu H, Zheng Y, Shi W, et al. Risk Factors of Transient Cortical Blindness After Cerebral Angiography: A Multicenter Study. Neurol. 2019;10:1005.
Tan RY, Chong TT, Tsai FC, Pang SC, Lee KG, Gogna A, et al. A pilot study on adjunctive use of parametric colour-coded digital subtraction angiography in endovascular interventions of haemodialysis access. BMC Med Imaging. 2018;18(1):28-36. doi: 10.1186/s12880-018-0270-8.
Wang TL, Wu CH, Chen CW, Tsai TH, Kung SS, Chao CH, et al. Bilaterally isolated abducens palsy after an aneurysm rupture is related with intracranial hypertension. Springer plus. 2015;4:765.
Luther E, McCarthy DJ, Brunet MC, Sur S, Chen SH, Sheinberg D, et al. Treatment and diagnosis of cerebral aneurysms in the post-International Subarachnoid Aneurysm Trial (ISAT) era: trends and outcomes. J Neurointerv Surg. 2020;12(7):682-7. doi: 10.1136/neurintsurg-2019-015418.
Hammer Janssen HA, Ranaie G, Yakubov E, Erbguth F, Holtmannspoetter M, Steiner HH. Dynamics of outcome after aneurysmal subarachnoid hemorrhage. Aging (Albany NY). 2020;12(8):7207-17. doi: 10.18632/aging.10306.
Kim HJ, Lee SW, Lee TH, Kim YS. Huge Intramural Hematoma in a Thrombosed Middle Cerebral Artery Aneurysm: A Case Report. J Cerebrovasc Endovasc Neurosurg. 2015;17(3):234-8.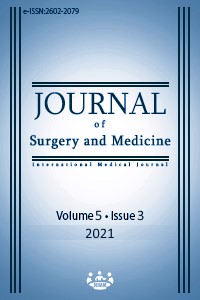 How to Cite
1.
Yücetaş Şeyho C, Kaya H, Kafadar S, Kılınç S, Karataş İrem, Kafadar H. Comparison of computerized tomography angiography and digital subtraction angiography in aneurysmal subarachnoid hemorrhage. J Surg Med [Internet]. 2021 Mar. 1 [cited 2023 Mar. 31];5(3):280-3. Available from: https://jsurgmed.com/article/view/786971
License
Copyright (c) 2021 Şeyho Cem Yücetaş, Hakan Kaya, Safiye Kafadar, Süleyman Kılınç, İrem Karataş, Hüseyin Kafadar
This work is licensed under a Creative Commons Attribution-NonCommercial-NoDerivatives 4.0 International License.
#6903