Acute bilateral paramedian thalamic infarct in the differential diagnosis of hyperactive delirium: A case report
Keywords:
Behavioral changes, delirium, paramedian thalamic ischemia
Abstract
Acute bilateral paramedian thalamic infarct is a rare condition. Changes in consciousness, hypersomnia, mood disorders, cognitive problems and paralysis of vertical gaze may be observed in patients with acute bilateral paramedian thalamic infarct. Although it may have many causes, the most common is atherosclerotic small vessel disease. Some patients, who present with isolated neuro-psychiatric symptoms, may be misdiagnosed with a psychiatric illness. We herein present a patient presenting with the clinical features of hyperactive delirium who was diagnosed with acute bilateral paramedian ischemia. A 53-year-old female patient was admitted with complaints of changes in consciousness, agitation, and impairments in attention and memory, starting 2 days earlier and fluctuating during the day. Her history revealed hypertension and obesity. Levels of serum total cholesterol, high density lipoprotein (LDL) cholesterol and triglyceride were high, and the cardiac evaluation was within normal limits. Acute paramedian thalamic ischemia was detected through neuroimaging. Thalamic infarcts display different clinical features according to the localization of the lesions. Although many neurological and neuropsychological symptoms may be seen, thalamic infarcts may also present with psychiatric symptoms alone. Therefore, thalamic lesions should also be considered in acute or subacute behavioral changes in patients with no history of psychiatric disorders.
Downloads
Download data is not yet available.
References
Schmahmann JD. Vascular syndromes of the thalamus. Stroke. 2003;34(9):2264-78. doi: 10.1161/01.STR.0000087786.38997.9E.
Carrera E, Bogousslavsky J. The thalamus and behavior: effects of anatomically distinct strokes. Neurology. 2006;66(12):1817-23. doi: 10.1212/01.wnl.0000219679.95223.4c.
Engelborghs S, Marien P, Martin JJ, De Deyn PP. Functional anatomy, vascularisation and pathology of the human thalamus. Acta Neurol Belg. 1998;98(3):252-65.
Yamamoto Y, Georgiadis AL, Chang HM, Caplan LR. Posterior cerebral artery territory infarcts in the New England Medical Center Posterior Circulation Registry. Arch Neurol. 1999;56(7):824-32. doi: 10.1001/archneur.56.7.824.
Hedge A, Mohan S, Lath N, Lim CC. Differential diagnosis for bilateral abnormalities of the basal ganglia and thalamus. Radiographics. 2011;31(1):5-30. doi: 10.1148/rg.311105041. PMID: 21257930.
Rodriguez EG, Lee JA. Bilateral thalamic infarcts due to occlusion of the artery of percheron and discussion of the differential diagnosis of bilateral thalamic lesions. J Radiol Case Rep. 2013;7(7):7-14. doi: 10.3941/jrcr.v7i7.961.
Qu J, Chen Y, Luo G, Zhong H, Xiao W, Yin H. Delirium in the acute phase of ischemic stroke: incidence, risk factors, and effects on functional outcome. J Stroke Cerebrovasc Dis. 2018;27(10):2641-7. doi: 10.1016/j.jstrokecerebrovasdis.2018.05.034.
Yang HW, Lee M, Shin JW, Jeong HS, Kim J, Kim JL. Outcome differences by delirium motor subtype in patients with ischemic stroke. Psychiatry Investig. 2019;16(11):852-9. doi: 10.30773/pi.2019.0120.
Jiménez Caballero PE. Bilateral paramedian thalamic artery infarcts: report of 10 cases. J Stroke Cerebrovasc Dis. 2010;19(4):283-9. doi: 10.1016/j.jstrokecerebrovasdis.2009.07.003.
Caruso P, Manganotti P, Moretti R. Complex neurological symptoms in bilateral thalamic stroke due to percheron artery occlusion. Vasc Health Risk Manag. 2017;13:11-4. doi: 10.2147/VHRM.S119395.
Raina S, Thakur A, Sharma R, Sharma A. Hyperactive delirium and bilateral ptosis: Bilateral thalamic infarcts due to artery of percheron occlusion. J Assoc Physicians India. 2019;67(12):77-8.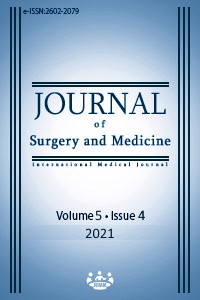 How to Cite
1.
Eren F, Demir A. Acute bilateral paramedian thalamic infarct in the differential diagnosis of hyperactive delirium: A case report. J Surg Med [Internet]. 2021 Apr. 1 [cited 2023 Oct. 4];5(4):392-4. Available from: https://jsurgmed.com/article/view/775127
License
Copyright (c) 2021 Fettah Eren, Aysegul Demir
This work is licensed under a Creative Commons Attribution-NonCommercial-NoDerivatives 4.0 International License.
#6914