Do the clinical outcomes of Covid-19 differ in pregnancy?
Keywords:
Corona virus disease, Covid-19, Pregnancy, Maternal-fetal conflict
Abstract
In this brief review, we aimed to assess Covid-19 infection from a different aspect and emphasize the advantages of patients during pregnancy. Therefore, the course of Covid-19 infection and chronic diseases during pregnancy were evaluated. The disease seems to have a positive effect on fetomaternal circulation during pregnancy. Our hypothesis on this matter is that the regulation of the host immune system which occurs due to pregnancy may reduce the cytokine storm and multiple organ failure-related mortality in Covid-19 infected pregnant women.
Downloads
Download data is not yet available.
References
Zhang C, Huang S, Zheng F, Dai Y. Controversial treatments: An updated understanding of the Coronavirus Disease. J Med Virol. Mar 16 2019. doi: 10.1002/jmv.25788.
Liu D, Li L, Wu X, Zheng D, Wang J, Yang L, et al. Pregnancy and Perinatal Outcomes of Women with Coronavirus Disease (Covid-19) Pneumonia: A Preliminary Analysis. AJR Am Roentgenol. Mar 18 2020. doi: 10.2214/AJR.20.23072.
Chen H, Guo J, Wang C, Luo F, Yu X, Zhang W, et al. Clinical characteristics and intrauterine vertical transmission potential of Covid-19 infection in nine pregnant women: a retrospective review of medical records. Lancet. 2020;395:809-15.
Huang C, Wang Y, Li X, Ren L, Zhao J, Hu Y, et al. Clinical features of patients infected with 2019 novel coronavirus in Wuhan, China. Lancet. 2020;395:497–506.
Atluri S, Manchikanti L, Hirsch JA. Expanded Umbilical Cord Mesenchymal Stem Cells (UC-MSCs) as a Therapeutic Strategy in Managing Critically Ill Covid-19 Patients: The Case for Compassionate Use. Pain Physician. 2020;23:e71-83.
Murphy MB, Moncivais K, Caplan AI. Mesenchymal stem cells: environmentally responsive therapeutics for regenerative medicine. Exp Mol Med. 2013;45:e54.
Lee MJ, Ko AY, Ko JH, Lee HJ, Kim MK, Wee WR, et al. Mesenchymal stem/stromal cells protect the ocular surface by suppressing inflammation in an experimental dry eye. Mol Ther. 2015;23:139–46.
Akison LK, Robertson SA, Gonzalez MB, Richards JS, Smith CW, Russell DL, et al. Regulation of the ovarian inflammatory response at ovulation by nuclear progesterone receptor, Am. J. Reprod. Immunol. 2018;79:e12835.
Polikarpova AV, Maslakova AA, Levina IS, Kulikova LE, Kuznetsov YV, Guseva AA, et al. Selection of progesterone derivatives specific to membrane progesterone receptors, Biochemistry (Mosc.). 2017; 82: 140–48.
Raghupathy R, Al Mutawa E, Makhseed M, Azizieh F, Szekeres-Bartho J. Modulation of cytokine production by dydrogesterone in lymphocytes from women with recurrent miscarriage. BJOG. 2005;112:1096–101.
Lu J, Reese J, Zhou Y, Hirsch E. Progesterone-induced activation of membrane- bound progesterone receptors in murine macrophage cells. J. Endocrinol. 2015;224:183–94.
Lee JH, Ulrich B, Cho J, Park J, Kim CH. Progesterone promotes differentiation of human cord blood fetal T cells into T regulatory cells but suppresses their differentiation into Th17 cells. J Immunol. 2011;187:1778–87.
Boddy A, Fortunato A, Sayres MW, Aktipis A. Fetal microchimerism and maternal health: A review and evolutionary analysis of cooperation and conflict beyond the womb. Bioessays. 2015;37:1106-18.
Franceschi C, Bonafè M, Valensin S, Olivieri F, De Luca M, Ottaviani E, et al. Inflamm-aging. An evolutionary perspective on immunosenescence. Ann NY Acad Sci. 2000;908:244–54.
Prasad S, Sung B, Aggarwal BB. Age-associated chronic diseases require age-old medicine: role of chronic inflammation. Prev Med. 2012;54:29–37.
Xie C, Jin J, Lv X, Tao J, Wang R, Miao D. Anti-aging effect of transplanted amniotic membrane mesenchymal stem cells in a premature aging model of Bmi-1 deficiency. Sci Rep. 2015;15:13975. doi: 10.1038/srep13975.
Michaeli FT, Bergman Y, Gielchinsky Y. Rejuvenating effect of pregnancy on the mother. Fertil Steril. 2015;103:1125–8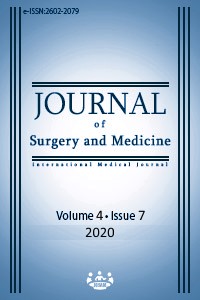 How to Cite
1.
Aygün EG, Karabuk E, Dilek TUK. Do the clinical outcomes of Covid-19 differ in pregnancy?. J Surg Med [Internet]. 2020 Jul. 1 [cited 2023 Dec. 11];4(7):600-2. Available from: https://jsurgmed.com/article/view/770082
License
Copyright (c) 2020 Elif Ganime Aygün, Emine Karabuk, Talat Umut Kutlu Dilek
This work is licensed under a Creative Commons Attribution-NonCommercial-NoDerivatives 4.0 International License.
#6673