Can mesenchymal stem cells ameliorate testicular damage? Current researches
Keywords:
Azoospermia, Male infertility, Mesenchymal stem cells, Stem cell therapy, Testicular damage
Abstract
Many recent studies have demonstrated the therapeutic effects of mesenchymal stem cells (MSC) in different disease models. Infertility is a global disease with a high prevalence. Non-obstructive azoospermia may occur due to genetic factors, exposure to toxic substances, anticancer treatments such as radiotherapy and chemotherapy and testicular torsion. Many experiments have been conducted to determine the efficacy of MSCs in the treatment of male infertility due to their differentiation capacity and paracrine effect. In these studies, the differentiation capacities of MSCs, obtained from diverse sources, to male germ cells were determined in vitro and their effects on testis niche were assessed by injection of MSCs into the testis. In this review, we addressed a few of the causes of non-obstructive azoospermia and summarized the current studies to determine the therapeutic effects of MSCs on testicular injury.
Downloads
Download data is not yet available.
References
Inhorn MC, Patrizio P. Infertility around the globe: new thinking on gender, reproductive technologies and global movements in the 21st century. Hum Reprod Update. 2015 Jul-Aug;21(4):411-26.
Chehab M, Madala A, Trussell JC. On-label and off-label drugs used in the treatment of male infertility. Fertil Steril. 2015 Mar;103(3):595-604.
Ring JD, Lwin AA, Kohler TS. Current medical management of endocrine-related male infertility. Asian J Androl. 2016 Apr 12.
Cocuzza M, Agarwal A. Nonsurgical treatment of male infertility: specific and empiric therapy. Biologics. 2007 Sep;1(3):259-69.
Miyamoto T, Tsujimura A, Miyagawa Y, et al. Male infertility and its causes in human. Adv Urol. 2012;2012:384520.
Organization WH. WHO laboratory manual for the examination and processing of human semen. 2010.
Cocuzza M, Alvarenga C, Pagani R. The epidemiology and etiology of azoospermia. Clinics (Sao Paulo). 2013;68 Suppl 1:15-26.
Host E, Lindenberg S, Smidt-Jensen S. The role of DNA strand breaks in human spermatozoa used for IVF and ICSI. Acta Obstet Gynecol Scand. 2000 Jul;79(7):559-63.
Fang F, Li Z, Zhao Q, et al. Human induced pluripotent stem cells and male infertility: an overview of current progress and perspectives. Hum Reprod. 2018 Feb 1;33(2):188-95.
Harlev A, Agarwal A, Gunes SO, et al. Smoking and Male Infertility: An Evidence-Based Review. World J Mens Health. 2015 Dec;33(3):143-60.
Dai JB, Wang ZX, Qiao ZD. The hazardous effects of tobacco smoking on male fertility. Asian J Androl. 2015 Nov-Dec;17(6):954-60.
Sobinoff AP, Sutherland JM, Beckett EL, et al. Damaging legacy: maternal cigarette smoking has long-term consequences for male offspring fertility. Hum Reprod. 2014 Dec;29(12):2719-35.
Sansone A, Di Dato C, de Angelis C, et al. Smoke, alcohol and drug addiction and male fertility. Reprod Biol Endocrinol. 2018 Jan 15;16(1):3.
Aitken RJ, Baker MA. Oxidative stress, sperm survival and fertility control. Mol Cell Endocrinol. 2006 May 16;250(1-2):66-9.
Koksal IT, Usta M, Orhan I, et al. Potential role of reactive oxygen species on testicular pathology associated with infertility. Asian J Androl. 2003 Jun;5(2):95-9.
Kumar M, Sharma MK, Saxena PS, et al. Radioprotective effect of Panax ginseng on the phosphatases and lipid peroxidation level in testes of Swiss albino mice. Biol Pharm Bull. 2003 Mar;26(3):308-12.
Agarwal A, Saleh RA, Bedaiwy MA. Role of reactive oxygen species in the pathophysiology of human reproduction. Fertil Steril. 2003 Apr;79(4):829-43.
Agarwal A, Prabakaran SA. Mechanism, measurement, and prevention of oxidative stress in male reproductive physiology. Indian J Exp Biol. 2005 Nov;43(11):963-74.
Moustafa MH, Sharma RK, Thornton J, et al. Relationship between ROS production, apoptosis and DNA denaturation in spermatozoa from patients examined for infertility. Hum Reprod. 2004 Jan;19(1):129-38.
Agarwal A, Said TM. Role of sperm chromatin abnormalities and DNA damage in male infertility. Hum Reprod Update. 2003 Jul-Aug;9(4):331-45.
Howell S, Shalet S. Gonadal damage from chemotherapy and radiotherapy. Endocrinol Metab Clin North Am. 1998 Dec;27(4):927-43.
Rowley MJ, Leach DR, Warner GA, et al. Effect of graded doses of ionizing radiation on the human testis. Radiat Res. 1974 Sep;59(3):665-78.
Mansky P, Arai A, Stratton P, et al. Treatment late effects in long-term survivors of pediatric sarcoma. Pediatr Blood Cancer. 2007 Feb;48(2):192-9.
van Beek RD, Smit M, van den Heuvel-Eibrink MM, et al. Inhibin B is superior to FSH as a serum marker for spermatogenesis in men treated for Hodgkin's lymphoma with chemotherapy during childhood. Hum Reprod. 2007 Dec;22(12):3215-22.
Whitehead E, Shalet SM, Blackledge G, et al. The effects of Hodgkin's disease and combination chemotherapy on gonadal function in the adult male. Cancer. 1982 Feb 1;49(3):418-22.
Turner TT, Brown KJ. Spermatic cord torsion: loss of spermatogenesis despite return of blood flow. Biol Reprod. 1993 Aug;49(2):401-7.
Mansbach JM, Forbes P, Peters C. Testicular torsion and risk factors for orchiectomy. Arch Pediatr Adolesc Med. 2005 Dec;159(12):1167-71.
Serakinci N, Keith WN. Therapeutic potential of adult stem cells. Eur J Cancer. 2006 Jun;42(9):1243-6.
Liu ZJ, Zhuge Y, Velazquez OC. Trafficking and differentiation of mesenchymal stem cells. J Cell Biochem. 2009 Apr 15;106(6):984-91.
Dominici M, Le Blanc K, Mueller I, et al. Minimal criteria for defining multipotent mesenchymal stromal cells. The International Society for Cellular Therapy position statement. Cytotherapy. 2006;8(4):315-7.
Pawitan JA. Prospect of stem cell conditioned medium in regenerative medicine. Biomed Res Int. 2014;2014:965849.
Kinnaird T, Stabile E, Burnett MS, et al. Marrow-derived stromal cells express genes encoding a broad spectrum of arteriogenic cytokines and promote in vitro and in vivo arteriogenesis through paracrine mechanisms. Circ Res. 2004 Mar 19;94(5):678-85.
Shirzeyli MH, Khanlarkhani N, Amidi F, et al. Bones Morphogenic Protein-4 and retinoic acid combined treatment comparative analysis for in vitro differentiation potential of murine mesenchymal stem cells derived from bone marrow and adipose tissue into germ cells. Microsc Res Tech. 2017 Nov;80(11):1151-60.
Newson AJ, Smajdor AC. Artificial gametes: new paths to parenthood? J Med Ethics. 2005 Mar;31(3):184-6.
Huang P, Lin LM, Wu XY, et al. Differentiation of human umbilical cord Wharton's jelly‐derived mesenchymal stem cells into germ‐like cells in vitro. Journal of cellular biochemistry. 2010;109(4):747-54.
Gely-Pernot A, Raverdeau M, Teletin M, et al. Retinoic Acid Receptors Control Spermatogonia Cell-Fate and Induce Expression of the SALL4A Transcription Factor. PLoS Genet. 2015 Oct;11(10):e1005501.
Ghasemzadeh-Hasankolaei M, Sedighi-Gilani MA, Eslaminejad MB. Induction of ram bone marrow mesenchymal stem cells into germ cell lineage using transforming growth factor-beta superfamily growth factors. Reprod Domest Anim. 2014 Aug;49(4):588-98.
Bader R, Ibrahim JN, Mourad A, et al. Improvement of Human Sperm Vacuolization and DNA Fragmentation Co-Cultured with Adipose-Derived Mesenchymal Stem Cell Secretome: In Vitro Effect. Int J Stem Cells. 2019 Aug 31.
Cakici C, Buyrukcu B, Duruksu G, et al. Recovery of fertility in azoospermia rats after injection of adipose-tissue-derived mesenchymal stem cells: the sperm generation. Biomed Res Int. 2013;2013:529589.
Chen H, Tang QL, Wu XY, et al. Differentiation of human umbilical cord mesenchymal stem cells into germ-like cells in mouse seminiferous tubules. Mol Med Rep. 2015 Jul;12(1):819-28.
Abd Allah SH, Pasha HF, Abdelrahman AA, et al. Molecular effect of human umbilical cord blood CD34-positive and CD34-negative stem cells and their conjugate in azoospermic mice. Mol Cell Biochem. 2017 Apr;428(1-2):179-91.
Wang YJ, Yan J, Zou XL, et al. Bone marrow mesenchymal stem cells repair cadmium-induced rat testis injury by inhibiting mitochondrial apoptosis. Chem Biol Interact. 2017 Jun 1;271:39-47.
Maghen L, Shlush E, Gat I, et al. Human umbilical perivascular cells: a novel source of MSCs to support testicular niche regeneration. Reproduction. 2016 Oct 25.
Abdelaziz MH, Salah El-Din EY, El-Dakdoky MH, et al. The impact of mesenchymal stem cells on doxorubicin-induced testicular toxicity and progeny outcome of male prepubertal rats. Birth Defects Res. 2019 Aug 1;111(13):906-19.
Hsiao CH, Ji AT, Chang CC, et al. Local injection of mesenchymal stem cells protects testicular torsion-induced germ cell injury. Stem Cell Res Ther. 2015 May 30;6:113.
Hsiao CH, Ji AT, Chang CC, et al. Mesenchymal stem cells restore the sperm motility from testicular torsion-detorsion injury by regulation of glucose metabolism in sperm. Stem Cell Res Ther. 2019 Aug 24;10(1):270.
Hassan AI, Alam SS. Evaluation of mesenchymal stem cells in treatment of infertility in male rats. Stem Cell Res Ther. 2014 Nov 23;5(6):131.
Zhang DY, Liu X, Peng JP, et al. Potential Spermatogenesis Recovery with Bone Marrow Mesenchymal Stem Cells in an Azoospermic Rat Model. Int J Mol Sci. 2014 Aug;15(8):13151-65.
Ghasemzadeh-Hasankolaei M, Batavani R, Eslaminejad MB, et al. Transplantation of Autologous Bone Marrow Mesenchymal Stem Cells into the Testes of Infertile Male Rats and New Germ Cell Formation. Int J Stem Cells. 2016 Nov;9(2):250-63.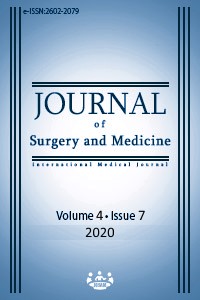 How to Cite
1.
Çetinkaya Ün B, Ferah MA, Ün B. Can mesenchymal stem cells ameliorate testicular damage? Current researches. J Surg Med [Internet]. 2020 Jul. 1 [cited 2023 Dec. 10];4(7):603-7. Available from: https://jsurgmed.com/article/view/770063
License
Copyright (c) 2020 Büşra Çetinkaya Ün, Meryem Akpolat Ferah, Burak Ün
This work is licensed under a Creative Commons Attribution-NonCommercial-NoDerivatives 4.0 International License.
#6674