Visceral variations in adult intestinal malrotation: A case-series study
Keywords:
Intestinal malrotation, Computed tomography, Redundant colon, Uncinate process
Abstract
Aim: Intestinal malrotation (IM) is a very rare rotational anomaly of midgut. Although uncommon, failure to diagnose IM may lead to devastating consequences. It is important that radiologists and surgeons are made aware of the diagnosis of adult IM and accompanying variations. Since IM is usually reported as a case report, it is important to note the frequency of the accompanying variations. It is aimed to present radiological findings of intestinal malrotation, increase awareness of abdominal variations and pathologies accompanying adult IM and reduce diagnostic failure.
Methods: Thirty-two patients aged over 18 years, who underwent computed tomography (CT) and received a diagnosis of IM, were retrospectively evaluated in terms of CT findings. Aplasia or hypoplasia of the uncinate process of the pancreas, focal thickening areas that may cause suspicion of a pseudomass, location of the superior mesenteric vein relative to the superior mesenteric artery, localization of the cecum, and the frequency of a redundant sigmoid colon were determined.
Results: The frequency of IM in adults undergoing CT was 1/5,375. In two of 32 cases, the cause of acute abdomen was identified while the other cases were detected incidentally. Aplasia or hypoplasia of the uncinate process of the pancreas and a redundant sigmoid colon were detected in 21 (65.6%) and 23 (71.9%) cases, respectively. The cecum was in the normal location in eight patients (25%), and there was a normal superior mesenteric artery-vein relationship in six (18.8%).
Conclusion: Intestinal malrotation is rarely encountered in adults and most cases are incidentally detected. IM is often accompanied by aplasia or hypoplasia of the uncinate process of the pancreas. A normal superior mesenteric artery-vein relationship and the cecum in the normal position are seen in one out of every four to five cases.

Downloads
Download data is not yet available.
References
Pickhardt PJ, Bhalla S. Intestinal malrotation in adolescents and adults: spectrum of clinical and imaging features. AJR Am J Roentgenol. 2002;179(6):1429-35.
Long FR, Kramer SS, Markowitz RI, Taylor GE, Liacouras CA. Intestinal malrotation in children: tutorial on radiographic diagnosis in difficult cases. Radiology. 1996;198(3):775-80.
Ballesteros Gomiz E, Torremade Ayats A, Duran Feliubadalo C, Martin Martinez C, Caro Tarrago A. Intestinal malrotation--volvulus: imaging findings. Radiologia. 2015;57(1):9-21.
Raahave D, Christensen E, Loud FB, Knudsen LL. Correlation of bowel symptoms with colonic transit, length, and faecal load in functional faecal retention. Dan Med Bull. 2009;56(2):83-8.
Kantor JL. The Common Affections of the Colon, their Origin and their Management. Bull N Y Acad Med. 1929;5(8):757-88.
Valsdottir E, Marks JH. Volvulus: small bowel and colon. Clin Colon Rectal Surg. 2008;21(2):91-3.
Strouse PJ. Disorders of intestinal rotation and fixation ("malrotation"). Pediatr Radiol. 2004;34(11):837-51.
Cupers S, Linthout CV, Desprechins B, Rausin L, Demarche M, Seghaye MC. Heterotaxy syndrome with intestinal malrotation, polysplenia and azygos continuity. Clin Pract. 2018;8(1):1004.
Bhatia S, Jain S, Singh CB, Bains L, Kaushik R, Gowda NS. Malrotation of the Gut in Adults: An Often Forgotten Entity. Cureus. 2018;10(3):e2313.
Eccleston JL, Su H, Ling A, Heller T, Koh C. Gastrointestinal: Adult presentation of intestinal malrotation. J Gastroenterol Hepatol. 2016;31(8):1382.
Haak BW, Bodewitz ST, Kuijper CF, de Widt-Levert LM. Intestinal malrotation and volvulus in adult life. Int J Surg Case Rep. 2014;5(5):259-61.
Kotze PG, Martins J, Rocha J, Freitas C, Steckert J, Fugita E. Ladd procedure for adult intestinal malrotation: Case report. ABCD Arq Bras Cir Dig. 2011;24(1):89-91.
Ryerson LM, Pharis S, Pockett C, Soni R, Fruitman D, Guleserian KJ, et al. Heterotaxy Syndrome and Intestinal Rotation Abnormalities. Pediatrics. 2018;142(2).
Cuda T, Gunnarsson R, de Costa A. The correlation between diverticulosis and redundant colon. Int J Colorectal Dis. 2017;32(11):1603-07.
Tan CK. Observations on some anomalies of the sigmoid colon. Singapore Med J. 1972;13(3):146-50.
Menten R, Reding R, Godding V, Dumitriu D, Clapuyt P. Sonographic assessment of the retroperitoneal position of the third portion of the duodenum: an indicator of normal intestinal rotation. Pediatr Radiol. 2012;42(8):941-5.
Chandra J, Grierson C, Bungay H. Normal variations in pancreatic contour are associated with intestinal malrotation and can mimic neoplasm. Clin Radiol. 2012;67(12):1187-92.
Ross BA, Jeffrey RB, Jr., Mindelzun RE. Normal variations in the lateral contour of the head and neck of the pancreas mimicking neoplasm: evaluation with dual-phase helical CT. AJR Am J Roentgenol. 1996;166(4):799-801.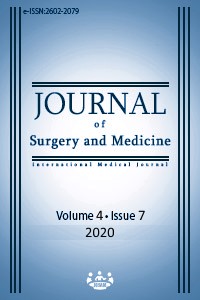 How to Cite
1.
Şahin Şükrü, Gedik M. Visceral variations in adult intestinal malrotation: A case-series study. J Surg Med [Internet]. 2020 Jul. 1 [cited 2023 Jun. 6];4(7):597-9. Available from: https://jsurgmed.com/article/view/762738
License
Copyright (c) 2020 Şükrü Şahin, Mehmet Gedik
This work is licensed under a Creative Commons Attribution-NonCommercial-NoDerivatives 4.0 International License.
#6687