Inguinal herniation associated with hydrocele
Inguinal herniation associated with hydrocele
Keywords:
Inguinal hernia, hydrocele, Winkelmann, Liechtenstein
Abstract
An inguinal hernia is a condition characterized by the protrusion of the intestine through an opening in the abdominal wall into the inguinal canal. There are various techniques available for the surgical repair of inguinal hernias, including open and laparoscopic approaches. On the other hand, a hydrocele refers to the accumulation of fluid within the scrotum and is often referred to as a "water hernia." In adults, hydroceles can be caused by factors such as injury, infection, or radiation therapy. Definitive treatment typically involves a surgical approach, which has an excellent prognosis. This case report presents the clinical scenario of a 58-year-old male patient, who presented with pain in the right inguinal region that radiated to the right scrotum. Upon examination, mild swelling was observed in the right inguinal region, along with significant edema of the right scrotum, which was tender to touch. Following admission, the patient underwent surgical treatment. The purpose of this case presentation is to enhance understanding of inguinal hernias and hydroceles, facilitating their identification and diagnosis.
Downloads
Download data is not yet available.
References
Radovanović S, Radovanović B. Kile prednjeg trbušnog zida, Beograd, 1988
Shakil A, Aparicio K, Barta E, Munez K. Inguinal hernias: Diagnosis and management. Am Fram Physician. 2020 Oct 15;(8):487-92. PMID: 33064426
Berndsen MR, Gudbjartsson T, Berndsen FH. Inguinal hernia – review. Laeknabladid. 2019 Sep;105(9):385-91. doi: 10.17992/lbl.2019.09.247 DOI: https://doi.org/10.17992/lbl.2019.09.247
Techapongsatorn S, Tansawet A, Kasetsermwiriya W, Pattanaprateep O, Thakkinstian A. Mesh fixation technique for inguinal hernia repair: protocol for an umbrella review with integrated and updated network meta-analysis. BMJ Open. 2019 Oct 28;9(10):e031742. doi: 10.1136/bmjopen-2019-031742 DOI: https://doi.org/10.1136/bmjopen-2019-031742
Huzaifa M, Moreno MA. Hydrocele. StatPearls. 2022 Jan. Bookshelf ID: NBK559125
Xu W, Ko J, Fernandez N, Koyle M, Canning DA, Kurzrock EA. Abdominoscrotal hydrocele: excision of sac may not be necessary. J Pediatr Urol. 2020 Aug;16(4):494.e1-494.e5. doi: 10.1016/j.jpurol.2020.06.027 DOI: https://doi.org/10.1016/j.jpurol.2020.06.027
Spessoto Sr LCF, Fontes RF, Beigin G, Spasseto ACN, Facio MFW, Júnior FNF. Giant abdominoscrotal hydrocele in adult: A rare entity. Cureus. 2021 Aug 30;13(8):e17562. doi: 10.7759/cureus.17562 DOI: https://doi.org/10.7759/cureus.17562
Latenstein CSS, Thunnissen FM, Harker M, Groenewoud S, Noordenbos MW, Atsma F, et al. Variation in practice and outcomes after inguinal hernia repair: a nationwide observational study. BMC Surg. 2021 Jan 20;21(1):45. doi: 10.1186/s12893-020-01030-0 DOI: https://doi.org/10.1186/s12893-020-01030-0
Bökkerink WJV, Koning GG, Vriens PWHE, Mollen RMHG, Harker MJR, Noordhof RK, et al. Open preperitoneal inguinal hernia repair, TREPP versus TIPP in a randomized clinical trial. Ann Surg. 2021 Nov 1;274(5):698-704. doi: 10.1097/SLA.0000000000005130. DOI: https://doi.org/10.1097/SLA.0000000000005130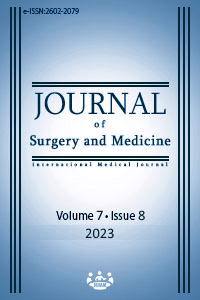 How to Cite
1.
Kasalovic M, Gojko I, Aleksandar J, Nikola M, Milica M. Inguinal herniation associated with hydrocele: Inguinal herniation associated with hydrocele. J Surg Med [Internet]. 2023 Aug. 5 [cited 2023 Sep. 25];7(8):518-20. Available from: https://jsurgmed.com/article/view/7549
License
Copyright (c) 2023 Mladen Kasalovic, Igrutinović Gojko , Jakovljević Aleksandar , Miljković Nikola , Milentijević Milica
This work is licensed under a Creative Commons Attribution-NonCommercial-NoDerivatives 4.0 International License.
#7549