Tp-Te interval prolongs in hypertension independent of the left ventricular geometry
Keywords:
Tp-Te interval, hypertension, ventricular repolarization, Left ventricle geometry
Abstract
Background/Aim: Hypertension (HT) may modulate left ventricular (LV) geometry. Electrocardiographic Tp-Te, QT and QTc interval, and Tp-Te/QTc ratio are among the parameters of ventricular repolarization (VR) that may predict ventricular arrhytmogenic potential and possess prognostic significance. It is well known that left ventricular hypertrophy is associated with increase in the parameters of VR; however, little is known about the association of these parameters with other forms of LV geometry in HT. Our aim was to assess this association. Methods: A total of 162 newly diagnosed essential HT patients were enrolled and divided into those with concentric LV remodeling (n=79) and those with normal LV geometry (n=83). Healthy normotensive subjects (n=76) comprised the control group. Data were gathered retrospectively from electrocardiographic, echocardiographic, and demographic records. Results: QT interval, P-wave duration, and QRS duration were similar among the 3 groups (P>0.05). Tp-Te, QTc and Tp-Te/QTc were greater in the HT group compared with the controls (P<0.001). In a pair-wise comparison between 2 HT subgroups, these parameters were similar (P>0.05). There was no correlation between Tp-Te interval, LV mass and LV mass index among the study population. Conclusion: Tp-Te may be useful in prognostic stratification of HT. Regardless of the LV geometry, HT patients have prolonged Tp-Te and QTc intervals, and increased Tp-Te/QTc ratio compared to the healthy subjects. Our findings may suggest possible utilization of Tp-Te as HT-related end-organ damage in the future.
Downloads
Download data is not yet available.
References
Levy D, Garrison RJ, Savage DD, Kannel WB, Castelli WP. Prognostic implications of echocardiographically determined left ventricular mass in the Framingham Heart Study. N Engl J Med. 1990;322(22):1561-6. Epub 1990/05/31. doi: 10.1056/nejm199005313222203. PubMed PMID: 2139921.
Pierdomenico SD, Lapenna D, Bucci A, Manente BM, Cuccurullo F, Mezzetti A. Prognostic value of left ventricular concentric remodeling in uncomplicated mild hypertension. Am J Hypertens. 2004;17(11 Pt 1):1035-9. Epub 2004/11/10. doi: 10.1016/j.amjhyper.2004.06.016. PubMed PMID: 15533730.
Verdecchia P, Schillaci G, Borgioni C, Ciucci A, Battistelli M, Bartoccini C, et al. Adverse prognostic significance of concentric remodeling of the left ventricle in hypertensive patients with normal left ventricular mass. J Am Coll Cardiol. 1995;25(4):871-8. Epub 1995/03/15. doi: 10.1016/0735-1097(94)00424-o. PubMed PMID: 7884090.
Antzelevitch C. T peak-Tend interval as an index of transmural dispersion of repolarization. Eur J Clin Invest. 2001;31(7):555-7. Epub 2001/07/17. PubMed PMID: 11454006.
Antzelevitch C, Sicouri S, Di Diego JM, Burashnikov A, Viskin S, Shimizu W, et al. Does Tpeak-Tend provide an index of transmural dispersion of repolarization? Heart rhythm. 2007;4(8):1114-6; author reply 6-9. Epub 2007/08/07. doi: 10.1016/j.hrthm.2007.05.028. PubMed PMID: 17675094; PMCID: PMC1994816.
Xia Y, Liang Y, Kongstad O, Holm M, Olsson B, Yuan S. Tpeak-Tend interval as an index of global dispersion of ventricular repolarization: evaluations using monophasic action potential mapping of the epi- and endocardium in swine. Journal of interventional cardiac electrophysiology: an international journal of arrhythmias and pacing. 2005;14(2):79-87. Epub 2005/12/24. doi:10.1007/s10840-005-4592-4. PubMed PMID: 16374554.
Porthan K, Virolainen J, Hiltunen TP, Viitasalo M, Vaananen H, Dabek J, et al. Relationship of electrocardiographic repolarization measures to echocardiographic left ventricular mass in men with hypertension. J Hypertens. 2007;25(9):1951-7. Epub 2007/09/01. doi: 10.1097/HJH.0b013e328263088b. PubMed PMID: 17762661.
Saba MM, Arain SA, Lavie CJ, Abi-Samra FM, Ibrahim SS, Ventura HO, Milani RV. Relation between left ventricular geometry and transmural dispersion of repolarization. Am J Cardiol. 2005;96(7):952-5. Epub 2005/09/29. doi: 10.1016/j.amjcard.2005.05.053. PubMed PMID: 16188523.
Castro-Torres Y, Carmona-Puerta R, Katholi RE. Ventricular repolarization markers for predicting malignant arrhythmias in clinical practice. World J Clin Cases. 2015;3(8):705-20. doi: 10.12998/wjcc.v3.i8.705. PubMed PMID: 26301231; PMCID: PMC4539410.
Akboga MK, Gulcihan Balci K, Yilmaz S, Aydin S, Yayla C, Ertem AG, et al. Tp-e interval and Tp-e/QTc ratio as novel surrogate markers for prediction of ventricular arrhythmic events in hypertrophic cardiomyopathy. Anatol J Cardiol. 2017;18(1):48-53. Epub 2017/03/21. doi: 10.14744/AnatolJCardiol.2017.7581. PubMed PMID: 28315570; PMCID: PMC5512198.
Lang RM, Badano LP, Mor-Avi V, Afilalo J, Armstrong A, Ernande L, et al. Recommendations for cardiac chamber quantification by echocardiography in adults: an update from the American Society of Echocardiography and the European Association of Cardiovascular Imaging. Eur Heart J Cardiovasc Imaging. 2015;16(3):233-70. doi: 10.1093/ehjci/jev014. PubMed PMID: 25712077.
Quinones MA, Otto CM, Stoddard M, Waggoner A, Zoghbi WA, Doppler Quantification Task Force of the N, Standards Committee of the American Society of E. Recommendations for quantification of Doppler echocardiography: a report from the Doppler Quantification Task Force of the Nomenclature and Standards Committee of the American Society of Echocardiography. J Am Soc Echocardiogr. 2002;15(2):167-84. PubMed PMID: 11836492.
Devereux RB, Alonso DR, Lutas EM, Gottlieb GJ, Campo E, Sachs I, Reichek N. Echocardiographic assessment of left ventricular hypertrophy: comparison to necropsy findings. Am J Cardiol. 1986;57(6):450-8. PubMed PMID: 2936235.
Mancia G, Fagard R, Narkiewicz K, Redon J, Zanchetti A, Bohm M, et al. 2013 ESH/ESC guidelines for the management of arterial hypertension: the Task Force for the Management of Arterial Hypertension of the European Society of Hypertension (ESH) and of the European Society of Cardiology (ESC). Eur Heart J. 2013;34(28):2159-219. doi: 10.1093/eurheartj/eht151. PubMed PMID: 23771844.
Castro Hevia J, Antzelevitch C, Tornes Barzaga F, Dorantes Sanchez M, Dorticos Balea F, Zayas Molina R, et al. Tpeak-Tend and Tpeak-Tend dispersion as risk factors for ventricular tachycardia/ventricular fibrillation in patients with the Brugada syndrome. J Am Coll Cardiol. 2006;47(9):1828-34. doi: 10.1016/j.jacc.2005.12.049. PubMed PMID: 16682308; PMCID: PMC1474075.
Antzelevitch C, Oliva A. Amplification of spatial dispersion of repolarization underlies sudden cardiac death associated with catecholaminergic polymorphic VT, long QT, short QT and Brugada syndromes. Journal of internal medicine. 2006;259(1):48-58. Epub 2005/12/13. doi: 10.1111/j.1365-2796.2005.01587.x. PubMed PMID: 16336513; PMCID: PMC1474026.
Charbit B, Samain E, Merckx P, Funck-Brentano C. QT interval measurement: evaluation of automatic QTc measurement and new simple method to calculate and interpret corrected QT interval. Anesthesiology. 2006;104(2):255-60. PubMed PMID: 16436843.
Salles GF, Cardoso CR, Leocadio SM, Muxfeldt ES. Recent ventricular repolarization markers in resistant hypertension: are they different from the traditional QT interval? Am J Hypertens. 2008;21(1):47-53. doi: 10.1038/ajh.2007.4. PubMed PMID: 18091743.
Peters RW, Byington RP, Barker A, Yusuf S. Prognostic value of prolonged ventricular repolarization following myocardial infarction: the BHAT experience. The BHAT Study Group. J Clin Epidemiol. 1990;43(2):167-72. PubMed PMID: 2406377.
Algra A, Tijssen JG, Roelandt JR, Pool J, Lubsen J. QTc prolongation measured by standard 12-lead electrocardiography is an independent risk factor for sudden death due to cardiac arrest. Circulation. 1991;83(6):1888-94. PubMed PMID: 2040041.
Wheelan K, Mukharji J, Rude RE, Poole WK, Gustafson N, Thomas LJ, et al. Sudden death and its relation to QT-interval prolongation after acute myocardial infarction: two-year follow-up. Am J Cardiol. 1986;57(10):745-50. PubMed PMID: 2870632.
Panikkath R, Reinier K, Uy-Evanado A, Teodorescu C, Hattenhauer J, Mariani R, et al. Prolonged Tpeak-to-tend interval on the resting ECG is associated with increased risk of sudden cardiac death. Circ Arrhythm Electrophysiol. 2011;4(4):441-7. doi:10.1161/CIRCEP.110.960658. PubMed PMID: 21593198; PMCID: PMC3157547.
Kors JA, Ritsema van Eck HJ, van Herpen G. The meaning of the Tp-Te interval and its diagnostic value. J Electrocardiol. 2008;41(6):575-80. doi: 10.1016/j.jelectrocard.2008.07.030. PubMed PMID: 18954608.
Özbek SC, Sökmen. Usefulness of Tp-Te interval and Tp-Te/QT ratio in the prediction of ventricular arrhythmias and mortality in acute STEMI patients undergoing fibrinolytic therapy. J Electrocardiol. 2019, 56: 100-105. doi:10.1016/j.jelectrocard.2019.07.004. PubMed PMID:31351370.
Tse G. Novel conduction-repolarization indices for the stratification of arrhythmic risk. Journal of geriatric cardiology: JGC. 2016;13(9):811-2. Epub 2016/12/03. doi: 10.11909/j.issn.1671-5411.2016.09.008. PubMed PMID: 27899947; PMCID: PMC5122508.
Bombelli M, Maloberti A, Raina L, Facchetti R, Boggioni I, Pizzala DP, et al. Prognostic relevance of electrocardiographic Tpeak-Tend interval in the general and in the hypertensive population: data from the Pressioni Arteriose Monitorate E Loro Associazioni study. J Hypertens. 2016;34(9):1823-30. Epub 2016/06/28. doi: 10.1097/hjh.0000000000001005. PubMed PMID: 27348518.
Ferrucci A, Canichella F, Battistoni A, Palano F, Francia P, Ciavarella GM, et al. A Novel Electrocardiographic T-Wave Measurement (Tp-Te Interval) as a Predictor of Heart Abnormalities in Hypertension: A New Opportunity for First-Line Electrocardiographic Evaluation. J Clin Hypertens (Greenwich). 2015;17(6):441-9. Epub 2015/03/17. doi: 10.1111/jch.12522. PubMed PMID: 25772633.
Rowlands DB, Glover DR, Ireland MA, McLeay RA, Stallard TJ, Watson RD, Littler WA. Assessment of left-ventricular mass and its response to antihypertensive treatment. Lancet. 1982;1(8270):467-70. Epub 1982/02/27. PubMed PMID: 6121138.
Abi-Samra F, Fouad FM, Tarazi RC. Determinants of left ventricular hypertrophy and function in hypertensive patients. An echocardiographic study. Am J Med. 1983;75(3a):26-33. Epub 1983/09/26. PubMed PMID: 6226191.
Hill JA, Olson EN. Cardiac plasticity. N Engl J Med. 2008;358(13):1370-80. Epub 2008/03/28. doi: 10.1056/NEJMra072139. PubMed PMID: 18367740.
Radice M, Alli C, Avanzini F, Di Tullio M, Mariotti G, Taioli E, et al. Left ventricular structure and function in normotensive adolescents with a genetic predisposition to hypertension. Am Heart J. 1986;111(1):115-20. Epub 1986/01/01. PubMed PMID: 3946138.
Adams TD, Yanowitz FG, Fisher AG, Ridges JD, Nelson AG, Hagan AD, et al. Heritability of cardiac size: an echocardiographic and electrocardiographic study of monozygotic and dizygotic twins. Circulation. 1985;71(1):39-44. Epub 1985/01/01. PubMed PMID: 4038369.
Ganau A, Devereux RB, Pickering TG, Roman MJ, Schnall PL, Santucci S, et al. Relation of left ventricular hemodynamic load and contractile performance to left ventricular mass in hypertension. Circulation. 1990;81(1):25-36. Epub 1990/01/01. PubMed PMID: 2297829.
Aronow WS. Hypertension and left ventricular hypertrophy. Annals of translational medicine. 2017;5(15):310. Epub 2017/09/01. doi: 10.21037/atm.2017.06.14. PubMed PMID: 28856150; PMCID: PMC5555990.
Post WS, Larson MG, Levy D. Impact of left ventricular structure on the incidence of hypertension. The Framingham Heart Study. Circulation. 1994;90(1):179-85. Epub 1994/07/01. PubMed PMID: 8025994.
Lawler PR, Hiremath P, Cheng S. Cardiac target organ damage in hypertension: insights from epidemiology. Current hypertension reports. 2014;16(7):446. Epub 2014/05/08. doi:10.1007/s11906-014-0446-8. PubMed PMID: 24801135; PMCID: PMC4051880.
Williams B, Mancia G, Spiering W, Agabiti Rosei E, Azizi M, Burnier M, et al. 2018 ESC/ESH Guidelines for the management of arterial hypertension. Eur Heart J. 2018;39(33):3021-104. Epub 2018/08/31. doi: 10.1093/eurheartj/ehy339. PubMed PMID: 30165516.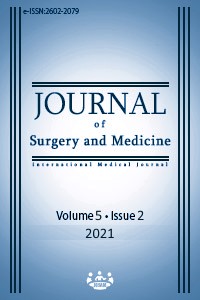 How to Cite
1.
Özbek SC. Tp-Te interval prolongs in hypertension independent of the left ventricular geometry. J Surg Med [Internet]. 2021 Feb. 1 [cited 2023 Nov. 29];5(2):183-7. Available from: https://jsurgmed.com/article/view/754891
License
Copyright (c) 2021 Sinan Cemgil Özbek
This work is licensed under a Creative Commons Attribution-NonCommercial-NoDerivatives 4.0 International License.
#6866