A case of acute renal failure requiring emergency hemodialysis due to hypothermia-associated rhabdomyolysis
Keywords:
Emergency, hemodialysis, hypothermia, rhabdomyolysis, renal failure
Abstract
Hypothermia is described as a decrease in body temperature below 35 °C. Although the body reacts neuroendocrinally, behaviourally, and cardiovascularly against sudden changes in temperature, uncontrolled hypothermia can lead to severe complications such as rhabdomyolysis, acute renal failure, coma, coagulopathy, malignant cardiac arrhythmia, and cardiac collapse. Herein, we aimed to emphasize hypothermia, its serious complications such as rhabdomyolysis and related acute kidney injury in a 60-year-old male patient exposed to environmental cold.
Downloads
Download data is not yet available.
References
Hanania NA, Zimmerman JL. Accidental hypothermia. Crit Care Clin. 1999 Apr;15(2):235-49. doi: 10.1016/s0749-0704(05)70052-x. PMID: 10331126.
van der Ploeg GJ, Goslings JC, Walpoth BH, Bierens JJ. Accidental hypothermia: rewarming treatments, complications and outcomes from one university medical centre. Resuscitation. 2010 Nov;81(11):1550-5. doi: 10.1016/j.resuscitation.2010.05.023. Epub 2010 Aug 11. PMID: 20702016.
Brown DJ, Brugger H, Boyd J, Paal P. Accidental hypothermia. N Engl J Med. 2012 Nov 15;367(20):1930-8. doi: 10.1056/NEJMra1114208. Erratum in: N Engl J Med. 2013 Jan 24;368(4):394. PMID: 23150960.
Danzl DF, Pozos RS. Accidental hypothermia. N Engl J Med. 1994 Dec 29;331(26):1756-60. doi: 10.1056/NEJM199412293312607. PMID: 7984198.
Biem J, Koehncke N, Classen D, Dosman J. Out of the cold: management of hypothermia and frostbite. CMAJ. 2003 Feb 4;168(3):305-11. PMID: 12566336; PMCID: PMC140473.
Baumgartner EA, Belson M, Rubin C, Patel M. Hypothermia and other cold-related morbidity emergency department visits: United States, 1995-2004. Wilderness Environ Med. 2008 Winter;19(4):233-7. doi: 10.1580/07-WEME-OR-104.1. PMID: 19099327.
Bonnor R, Siddiqui M, Ahuja TS. Rhabdomyolysis associated with near-drowning. The American Journal of the Medical Sciences. 1999 Sep;318(3):201-2. DOI: 10.1097/00000441-199909000-00018.
Chase CD, Smith RA. Hypothermia-induced Rhabdomyolysis: A Case Report. J Emerg Med. 2015 Dec;49(6):e177-8. doi: 10.1016/j.jemermed.2015.07.015. Epub 2015 Sep 26. PMID: 26416131.
Dearing N, Norgard NB. Rhabdomyolysis in a patient receiving high-dose simvastatin after the induction of therapeutic hypothermia. Ann Pharmacother. 2010 Dec;44(12):1994-7. doi: 10.1345/aph.1P352. Epub 2010 Nov 2. PMID: 21045169.
Hung CF, Huang TY, Lin PY. Hypothermia and rhabdomyolysis following olanzapine injection in an adolescent with schizophreniform disorder. Gen Hosp Psychiatry. 2009 Jul-Aug;31(4):376-8. doi: 10.1016/j.genhosppsych.2008.09.009. Epub 2008 Oct 18. PMID: 19555799.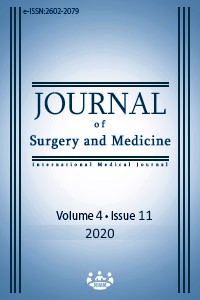 How to Cite
1.
Vural A, Ekiz M, Günaydın M. A case of acute renal failure requiring emergency hemodialysis due to hypothermia-associated rhabdomyolysis. J Surg Med [Internet]. 2020 Nov. 1 [cited 2023 Mar. 20];4(11):1092-4. Available from: https://jsurgmed.com/article/view/741940
License
Copyright (c) 2020 Abdussamed Vural, Mehmet Ekiz, Mücahit Günaydın
This work is licensed under a Creative Commons Attribution-NonCommercial-NoDerivatives 4.0 International License.
#6780