Comparison of laboratory parameters between children with and without febrile convulsion
Keywords:
Febril convulsions, Laboratory parameters, Children, Seizure
Abstract
Background/Aim: Febrile convulsion is the most common central nervous system disease of childhood. The etiology of febrile convulsion is not fully brightened. In this study, we aimed to evaluate the relationship between hemogram, biochemical and hormonal parameters and febrile convulsion, and the roles of laboratory parameters in its etiopathogenesis. Methods: A total of fifty-four patients diagnosed with febrile convulsion in the pediatric neurology outpatient clinic of a tertiary hospital from October 2017 to December 2018 were included in this retrospective cohort study. Age, sex, age of first convulsion, type of convulsion and laboratory parameters of the patients were recorded. ILAE classification system was used for the diagnosis of febrile convulsion. Febrile convulsion patients were included in the study group, while the control group was randomly selected from patients between 6 months and 6 years of age who visited general pediatric outpatient clinic. Results: A total of 54 patients (30 males, 24 females) in the study group and 82 patients (53 males, 29 females) in the control group were included in the study (P=0.288). The mean ages of the patients in the study and control groups were 30.31 (14.64) months and 32.32 (19.70) months, respectively (P=0.524). Mean platelet volume (MPV), platelet count, 25-OH D3, vitamin B12 and phosphorus values were significantly lower in the study group (P<0.001, P=0.013, P=0.017, P=0.020). Conclusion: MPV, platelet count, 25 OH D3, vitamin B12 lower levels may be risk factors for febrile convulsion. Studies related to the etiopathogenesis of febrile convulsion are necessary to enlighten the subject and laboratory results will be the guide in this sense.
Downloads
Download data is not yet available.
References
National Institutes of Health Consensus Statement. Febrile seizures: Long term management in children with fever associated seizures. Pediatrics. 1980;66:1009-112.
Commission on epidemiology and prognosis. International League Against Epilepsy: Guidelines for epidemiologic studies on epilepsy. Epilepsia. 1993;34:592-6. doi: 10.1111/j.1528-1157.1993.tb00433.x.
Paul SP, Rogers E, Wilkinson R, Paul B. Management of febrile convulsion in children. Emerg Nurse. 2015;23:18–25. doi: 10.7748/en.23.2.18.e1431.
Chung S. Febrile seizures. Korean J Pediatr. 2014;57:384–95. doi: 10.3345/kjp.2014.57.9.384.
Naveed-ur-Rehman, Billoo AG. Association between iron deficiency anemia and febrile seizures. Journal of the College of Physicians and Surgeons Pakistan. 2005;15(6):338-40. doi: 06.2005/jcpsp.338340.
Sadeghzadeh M, Asl PK, Mahboubi E. Iron Status and Febrile Seizure-A Case Control Study in Children Less Than 3 Years. Iranian Journal of Child. 2012 Autumn;6(4):27–31. PMID:24665277.
Kobrinsky NL, Yager JY, Cheang MS, Yatscoff RW, Tenenbein M. Does iron deficiency raise the seizure threshold? Journal of Child Neurology. 1995;10(2):105-9. doi: 10.1177%2F088307389501000207.
Derakhshanfar H, Abaskhanian A, Alimohammadi H, ModanlooKordi M. Association between iron deficiency anemia and febrile seizure in children. Medicinski Glasnik. 2012;9(2):239-242. PMID:22926357.
Kwak BO, Kim K, Kim SN, Lee R. Relationship between iron deficiency anemia and febrile seizures in children: A systematic review and metaanalysis. Seizure. 2017;52:27-34. doi: 10.1016/j.seizure.2017.09.009
Waheed N, Butt MA. Iron status: is there a role in febrile seizures? J Ayub Med Coll Abbottabad. 2012;24(3-4):128-30. PMID:24669632.
Andrews RK, Berndt MC. Platelet physiology and thrombosis. Thromb Res. 2004;114:447-53. doi: 10.1016/j.thromres.2004.07.020.
Özkan EA, Khosroshahi HE, Serin Hİ, Ozdemir ZT, Kılıc M, Ekim M. The evaluation of carotid intima-media thickness and mean platelet volume values and correlation with cardiac functions in obese children. Int J Clin Exp Med. 2015;15;8:22557-63.
Zdrojewski Z, Raszeja-Specht A, Kustosz J, Skibowska A. Evaluation of factors influencing platelet aggregation in patients with chronic glomerulonephritis. Przegl Lek. 1996;53:434-8. PMID:8754409.
Tajarernmuang P, Phrommintikul A, Limsukon A, Pothirat C, Chittawatanarat K. The role of mean platelet volume as a predictor of mortality in critically ill patients: a systematic review and metaanalysis. Crit Care Res Pract. 2016;2016:4370834. doi: 10.1155/2016/4370834.
Bath PM. Butterworth RJ. Platelet size: measurement, physiology and vascular disease. Blood Coagulation and Fibrinolysis. 1996;7(2):157-61. PMID:8735807.
Goksugur SB, Kabakus N, Bekdas M, Demircioglu F. Neutrophil-to-lymphocyte ratio and red blood cell distribution width is a practical predictor for differentiation of febrile seizure types. Eur Rev Med Pharmacol Sci. 2014;18:3380–5. PMID:25491611.
Yigit, Y, Yılmaz S, Akdoğan A, Halhallı HC, Ozbek AE, Gencer EG. The role of neutrophil-lymphocyte ratio and red blood cell distribution width in the classification of febrile seizures. Eur Rev Med Pharmacol Sci. 2017;21:554–9. PMID:28239812.
Liu Z, Li X, Zhang M, Huang X, Bai J, Pan Z, et. al. The role of Mean Platelet Volume/ platelet count Ratio and Neutrophil to Lymphocyte Ratio on the risk of Febrile Seizure. Scientific Reports. 2018;8:15123. doi: 10.1038%2Fs41598-018-33373-3"10.1038/s41598-018-33373-3.
Bak M, Çakar S, Ünalp A. Neurological manifestations of vitamin B12 deficiency in 15 infants. Journal of Pediatric Neurology. 2009;07(03):275-8. doi: 10.3233/JPN-2009-0313.
Osifo BO, Lukanmbi FA, Familusi JB.Cerebrospinal fluid folate and cobalamin levels in febrile convulsion. Journal of the Neurological Sciences. 1985;68.2-3:185-90. doi: 10.1016/0022-510X(85)90099-1.
Mahmoodzadeh H, Nasimfar A, Sadeghi E, Macooie A, Gazavi A, Rasouli J, et al. Study of Vitamin D Level in Children with Non-specific Musculoskeletal Pain. International Journal of Pediatrics. 2017;5(3):4533-40. doi: 10.22038/ijp.2016.20988.1756.
Qader E, Alkhateeb N. Vitamin D Status in Children with Iron Deficiency and/or Anemia. International Journal of Pediatrics. 2016;4(9):3571-7. doi: 10.22038/ijp.2016.7482.
Whiting SJ, Clavo MS, Stephensen CB. Current understanding of vitamin D metabolism, nutritional status, and rule in disease prevention. In:Coulston AM, Boushey C (eds). Nutrition in the prevention and treatment of disease. Sandiego, CA: Academic Press, 2008; 807-32.
Fong CY, Kong AN, Poh BK, Mohamed AR, Khoo TB, Ng RL, et al. Vitamin D deficiency and it`s risk factors in Malaysian children with epilepsy. Epilepsia. 2016;57(8):1271-9. doi: 10.1111/epi.13443.
Singh V, Sharma P, Dewan D. Association of vitamin D levels with simple febrile seizures in under five children: a case control study. Int J Contemp Pediatr. 2019;6(2):365-68. doi.org/10.18203/2349-3291.ijcp20190019.
Hoecker CC, Kanegaye JT. Recurrent febrile seizures, unusual presentation of nutritional rickets. J of Emerg Med. 2002;23(4):367-70. doi: 10.1016/S0736-4679(02)00570-X.
Mantadakis E, Deftereos S, Tsouvala E, Thomaidis S, Chatzimichael A. Seizures as initial manifestation of vitamin D-deficiency rickets in a 5-month-old exclusively breastfed infant. Pediatr Neonatol. 2012;53(6):384-6. doi: 10.1016/j.pedneo.2012.08.004.
Depeint F, Bruce WR, Shangari N, Mehta R, O'Brien PJ. Mitochondrial function and toxicity: role of B vitamins on the one-carbon transfer pathways. Chemico Biological Interactions. 2006;163:113-32. doi: 10.1016/j.cbi.2006.05.010.
Hallacogl B, Sassaroli A, Fantini S, Troen AM. Cerebral perfusion and oxygenation are impaired by folate deficiency in rat: absolute measurements with noninvasive near-infrared spectroscopy. J Cereb Blood Flow Metab. 2011;31:1482-92. doi: 10.1038%2Fjcbfm.2011.13.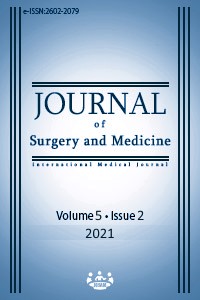 How to Cite
1.
Aydın H, Bucak İbrahim, Bucak İbrahim H. Comparison of laboratory parameters between children with and without febrile convulsion. J Surg Med [Internet]. 2021 Feb. 1 [cited 2023 Dec. 11];5(2):149-52. Available from: https://jsurgmed.com/article/view/740090
License
Copyright (c) 2021 Hilal Aydın, İbrahim Bucak, İbrahim Hakan Bucak
This work is licensed under a Creative Commons Attribution-NonCommercial-NoDerivatives 4.0 International License.
#6862