Gallbladder injury after blunt abdominal trauma: Imaging clues for diagnosis
Keywords:
Blunt abdominal trauma, Gallbladder rupture, Imaging clues
Abstract
Traumatic gallbladder injuries are rare and difficult to diagnose. Even if imaging methods including ultrasonography, computed tomography (CT) and magnetic resonance imaging (MRI) are used, it is highly challenging to detect a defect in the gallbladder wall. In a patient with blunt abdominal trauma, these clues should raise suspicion of gallbladder rupture: Hepatic laceration extending to the gallbladder area, increased abdominal distention and abdominal pain in physical examination, unfilled gallbladder and intra-abdominal increased fluid in imaging. Free fluid sampling should be performed in such patients. We herein presented the diagnostic processes of a 33-year-old woman who underwent laparotomy due to gallbladder rupture with hepatic laceration after a traffic accident.
Downloads
Download data is not yet available.
References
Sharma O. Blunt gallbladder injuries: presentation of twenty-two cases with review of the literature. J Trauma. 1995;39:576-80.
Soderstrom CA, Maekawa K, DuPriest RW Jr, Cowley RA. Gallbladder injuries resulting from blunt abdominal trauma: an experience and review. Ann Surg. 1981;193:60-6.
Coccolini F, Catena F, Moore EE, Ivatury R, Biffl W, Peitzman A, et al. WSES classification and guidelines for liver trauma. World J Emerg Surg. 2016 Oct 10;11:50. doi: 10.1186/s13017-016-0105-2.
Nedrebo T. Diagnosis of blunt trauma to the gallbladder and bile ducts. Eur J Surg. 2000;166:903-7.
Smith SW, Hasting TN. Traumatic rupture of the gallbladder. Ann Surg. 1954;139:517-20.
Salzman S, Lutfi R, Fishman D, Doherty J, Merlotti G. Traumatic rupture of the gallbladder. J Trauma. 2006;61:454-6.
Kim PN, Lee KS, Kim IY, Bae WK, Lee BH. Gallbladder perforation: comparison of US findings with CT. Abdom Imaging. 1994;19:239–42.
Schachter P, Czerniak A, Shemesh E, Avigad I, Lotan G, Wolfstein I. Isolated gallbladder rupture due to blunt abdominal trauma. HPB Surgery. 1989;1:359-62.
De Raet J, Lamote J, Delvaux G. Isolated traumatic gallbladder rupture. Acta Chir Belg. 2010;110:370-5.
Wiener I, Watson LC, Wolma FJ. Perforation of the gallbladder due to blunt abdominal trauma. Arch Surg. 1982;117:805-7.
Kohler R, Millin R, Bonner B, Louw A. Laparoscopic treatment of an isolated gallbladder rupture following blunt abdominal trauma in a schoolboy rugby player. Br J Sports Med 2002;36:378-9.
Aydın O, Tihan N, Sabuncuoğlu M, Dandin Ö, Yeğen F, Balta A, et al. Assessment of lateral to medial dissection of Calot's triangle in laparoscopic cholecystectomy: A case-control study. J Surg Med. 2018;2(1):27-31.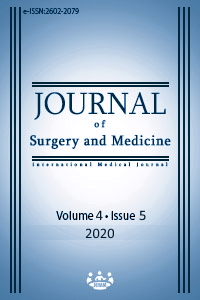 How to Cite
1.
Tiryaki Baştuğ B, Badak B. Gallbladder injury after blunt abdominal trauma: Imaging clues for diagnosis. J Surg Med [Internet]. 2020 May 1 [cited 2023 Dec. 11];4(5):426-8. Available from: https://jsurgmed.com/article/view/735418
License
Copyright (c) 2020 Betül Tiryaki Baştuğ, Bartu Badak
This work is licensed under a Creative Commons Attribution-NonCommercial-NoDerivatives 4.0 International License.
#6633