A rare cause of cholestasis: Congenital right diaphragmatic hernia
Keywords:
obstructive jaundice, acholic feces, cholestasis, Diaphragmatic Hernia
Abstract
An 82-day-old infant, investigated for sudden onset jaundice and acholic feces, was referred to our department, as no gallbladder was observed by abdominal ultrasonography. Her chest x-ray revealed an elevated right diaphragm, and the breath sounds were diminished on the right. Suspicious arteriovenous malformation in the fifth segment of the right lobe accompanied by a rotation anomaly of liver was reported. Tomography scans showed right diaphragmatic hernia where the left lobe of liver and gallbladder herniated to the thoracic space. In this case with right Bochdalek hernia, the bile ducts had kinked in the thoracic cavity, causing obstructive jaundice. If the kinking continues despite relocation of organs into the abdominal cavity, cholecystectomy-hepaticojejunostomy is an effective and reliable surgical method. Myriad pathologies may cause cholestasis, and surgical reasons should be investigated and diagnosed without delay to improve prognosis. For closure of the diaphragmatic defect, primary repair should be the preferred method. With this case, we wanted to emphasize a highly different presentation of Bochdalek hernia and remind that diaphragmatic hernia should be kept in mind in patients presenting with cholestasis and acholic stools.
Downloads
Download data is not yet available.
References
Jain V, Agarwala S, and Bhatnagar V. Recent advances in the management of congenital diaphragmatic hernia. Indian Journal of Pediatrics. 2010;77(6):673–8.
Migliazza L, Bellan C, Alberti D, Auriemma A, Burgio G, Locatelli G, et al. Retrospective study of 111 cases of congenital diaphragmatic hernia treated with early high-frequency oscillatory ventilation and presurgical stabilization. J Pediatr Surg. 2007;42:1526–32.
Kinoshita F, Ishiyama M, Honda S, Matsuzako M, Oikado K, Kinoshita T, et al. Late-presenting posterior transdiaphragmatic (Bochdalek) hernia in adults: prevalence and MDCT characteristics. Journal of Thoracic Imaging. 2009;24(1):17–22.
Jones HG, Kadhim A, Nutt M. Congenital diaphragmatic hernia: an unusual cause of obstructive jaundice. Ann R Coll Surg Engl. 2012;94:8-9.
Sandstrom CK, Stern EJ. "Diaphragmatic hernias: a spectrum of radiographic appearances," Current Problems in Diagnostic Radiology 2011;40(3):95–115.
Becmeur F, Jamali RR, Moog R, Keller L, Christmann D, Donato L, et al. Thoracoscopic treatment for delayed presentation of congenital diaphragmatic hernia in the infant: A report of three cases. Surg Endosc. 2001;15:1163-6.
Bagłaj M. Late-presenting congenital diaphragmatic hernia in children: a clinical spectrum. Pediatr Surg Int. 2004;20:658-69.
Coco D, Leanza S. An Atypical Presentation of a Strangulated Bochdalek Hernia in a 60-Year-Old Man. Macedonian Journal of Medical Sciences. 2019;7(11):1818-20.
Lewis DA, Reickert C, Bowerman R, Hirschl RB. Prenatal ultrasonography frequently fails to diagnose congenital diaphragmatic hernia. J Pediatr Surg. 1997;32:352-6.
Garne E, Haeusler M, Barisic I, Gjergja R, Stoll C, Clementi M. Congenital diaphragmatic hernia: Evaluation of prenatal diagnosis in 20 European regions. Ultrasound Obstet Gynecol. 2002;19:329-33.
Zeina AR, Weiner D, Reindorp N, Kassem E, Klein-Kremer A. Late presentation of congenital right diaphragmatic hernia: clinical and radiological features. Pediatr Int. 2011;53:790-1.
Sutedja B and Muliani Y. Laparoscopic repair of a Bochdalek hernia in an adult woman . Asian J Endosc Surg. 2015;8:354-6.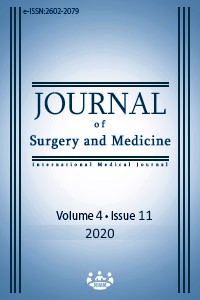 How to Cite
1.
Gülcü Taşkın D, Emre Şenol, Özmen E, Kepil N, Adaletli İbrahim, Kutlu T, Cullu F, Erkan T, Senyuz O. A rare cause of cholestasis: Congenital right diaphragmatic hernia. J Surg Med [Internet]. 2020 Nov. 1 [cited 2023 Nov. 29];4(11):1089-91. Available from: https://jsurgmed.com/article/view/731192
License
Copyright (c) 2020 Didem Gülcü Taşkın, Şenol Emre, Evrim Özmen, Nuray Kepil, İbrahim Adaletli, Tufan Kutlu, Fugen Cullu, Tulay Erkan, Osman Senyuz
This work is licensed under a Creative Commons Attribution-NonCommercial-NoDerivatives 4.0 International License.
#6795