Pediatric ANCA-associated vasculitis presented with various clinical findings mimicking IgA Vasculitis and IgG4-related disease: Two cases
Pediatric ANCA-associated vasculitis
Keywords:
ANCA, vasculitis, IgG4, IgA
Abstract
Granulomatous polyangiitis (GPA) is the most common anti-neutrophil cytoplasmic antibody-associated vasculitis (AAV), characterized by necrotizing inflammation of small and medium-sized vessels. It can affect various organs, particularly the lung, kidneys, upper respiratory tract, ears, and skin. Diagnosis of AAV poses significant challenges due to its diverse clinical features. This report presents two interesting cases of GPA: one with rare ocular involvement, who subsequently developed end-stage kidney disease (ESKD), and the other with palpable purpura mimicking immunoglobulin A vasculitis, who relapsed with mastoiditis while in renal remission. Early and effective treatment can improve patient prognosis, highlighting the importance of increasing disease awareness during initial diagnosis and in pediatric AAV patients experiencing relapses.
Downloads
Download data is not yet available.
References
Almaani S, Fussner LA, Brodsky S, Meara AS, Jayne D. ANCA-associated vasculitis: an update. Journal of Clinical Medicine. 2021;10(7):1446. DOI: https://doi.org/10.3390/jcm10071446
Boncoraglio MT, Prieto-González S, Fernandes-Serodio J, Corral-Molina JM, Solé M, Hernández-Rodríguez J. Simultaneous presentation of granulomatosis with polyangiitis (GPA) and immunoglobulin G4-related disease (IgG4-RD). Leaving an open question: widening the spectrum of a single disease or real overlap? Modern Rheumatology Case Reports. 2021;5(1):108-12. DOI: https://doi.org/10.1080/24725625.2020.1782028
Muller K, Lin JH. Orbital granulomatosis with polyangiitis (Wegener granulomatosis): clinical and pathologic findings. Archives of Pathology and Laboratory Medicine. 2014;138(8):1110-4. DOI: https://doi.org/10.5858/arpa.2013-0006-RS
Drobysheva A, Fuller J, Pfeifer CM, Rakheja D. Orbital granulomatosis with polyangiitis mimicking IgG4-related disease in a 12-year-old male. International journal of surgical pathology. 2018;26(5):453-8. DOI: https://doi.org/10.1177/1066896917754252
Cabral DA, Canter DL, Muscal E, Nanda K, Wahezi DM, Spalding SJ, et al. Comparing presenting clinical features in 48 children with microscopic polyangiitis to 183 children who have granulomatosis with polyangiitis (Wegener's): an ARChiVe cohort study. Arthritis & Rheumatology. 2016;68(10):2514-26. DOI: https://doi.org/10.1002/art.39729
Sacri A-S, Chambaraud T, Ranchin B, Florkin B, Sée H, Decramer S, et al. Clinical characteristics and outcomes of childhood-onset ANCA-associated vasculitis: a French nationwide study. Nephrology Dialysis Transplantation. 2015;30(suppl_1):i104-i12. DOI: https://doi.org/10.1093/ndt/gfv011
Gajic‐Veljic M, Nikolic M, Peco‐Antic A, Bogdanovic R, Andrejevic S, Bonaci‐Nikolic B. Granulomatosis with polyangiitis (Wegener's granulomatosis) in children: report of three cases with cutaneous manifestations and literature review. Pediatric Dermatology. 2013;30(4):e37-e42. DOI: https://doi.org/10.1111/pde.12034
Moussa AE-M, Abou-Elhmd KA. Wegener's granulomatosis presenting as mastoiditis. Annals of Otology, Rhinology & Laryngology. 1998;107(7):560-3. DOI: https://doi.org/10.1177/000348949810700703
Qaisar H, Shenouda M, Shariff M, Cheema A, Tang X, Kaplan A. Granulomatosis with Polyangiitis Manifesting as Refractory Otitis Media and Mastoiditis. Archives of Iranian medicine. 2019;22(7):410-3.
James KE, Xiao R, Merkel PA, Weiss PF. Clinical course and outcomes of childhood-onset granulomatosis with polyangiitis. Clinical and experimental rheumatology. 2017;35(Suppl 103):202.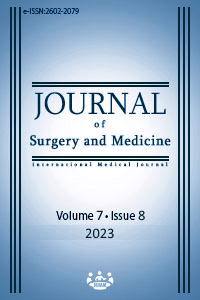 How to Cite
1.
Oktay MA, Akyuz Oktay S, Uzun Kenan B, Sunar Yayla EN, Öğüt B, Büyükkaragöz B, Gezgin Yıldırım D, Bakkaloğlu SA. Pediatric ANCA-associated vasculitis presented with various clinical findings mimicking IgA Vasculitis and IgG4-related disease: Two cases: Pediatric ANCA-associated vasculitis. J Surg Med [Internet]. 2023 Aug. 5 [cited 2023 Sep. 25];7(8):521-3. Available from: https://jsurgmed.com/article/view/7276
License
Copyright (c) 2023 Mehmet Ali Oktay, Selin Akyuz Oktay, Bahriye Uzun Kenan, Emine Nur Sunar Yayla, Betül Öğüt, Bahar Büyükkaragöz, Deniz Gezgin Yıldırım, Sevcan A. Bakkaloğlu
This work is licensed under a Creative Commons Attribution-NonCommercial-NoDerivatives 4.0 International License.
#7276