The assessment of etiology and risk factors of urinary tract infections in geriatric patients admitted to emergency department
Keywords:
Emergency department, Geriatrics, Urinary tract infection
Abstract
Background/Aim: A urinary tract infection (UTI) is one of the most common bacterial infections in the elderly population. This study aimed to evaluate the etiology and risk factors of UTI among patients aged 65 and over who were admitted to the emergency department and then hospitalized. Methods: This study was designed as a descriptive epidemiological study. Data of patients aged 65 and over, who were admitted to the adult emergency department of Kahramanmaraş Sütçü İmam University Medical Faculty and hospitalized between October 2015 and October 2018 with a diagnosis of UTI, were included in the study. Study data were collected through a retrospective scan of the patient files from the automated hospital system. Results: Of the patients, 51% (n = 50) were female, and 49% (n = 48) were male. Of the patients diagnosed with UTI, 68.4% were aged 75 years or older. Fever, flank pain, and dysuria were found to be among the main reasons for patients with UTI to present to the emergency department. The most common risk factors for UTI were found to be the presence of diabetes mellitus and immunosuppression. Benign prostatic hyperplasia and nephrolithiasis were found to be the most common risk factors in males. In 83.7% of the patients, urine cultures were obtained at the initial presentation, and Escherichia coli was found to be the most common microorganism in patients with positive urine cultures. Conclusion: The presence of UTI causes an increase in the risk of mortality in geriatric patients. Therefore, UTI should be considered in the differential diagnosis when the general condition has deteriorated in the geriatric patient even if the patient is asymptomatic. Urine culture samples should be obtained in cases of suspected infection, and antibiotic therapy should be started immediately to decrease mortality and increase recovery rates when the urine results indicate infection.
Downloads
Download data is not yet available.
References
Caner ÖG, Gözün G, Hilwah A, Gökçek M, Arslan D, Basan NM. Yaşlı Dostu Şehirler: Kavramsal Çerçeve ve Örneklerle Değerlendirmeler. Güneş Tıp Kitabevleri, Ankara, 2013.
World Health Organization (WHO). Ageing and health. https://www.who.int/news-room/fact-sheets/detail/ageing-and-health
Türkiye İstatistik Kurumu (TÜİK). İstatistiklerle Yaşlılar, 2018. https://hsgm.saglik.gov.tr/depo/birimler/kronik-hastaliklar-engelli-db/hastaliklar/Yasli_Sagligi/raporlar_istatistikler/TUIK_Yasli_Istatistik_2018.pdf
Denham MJ, Morley JE. Introduction: Historical perspectives. In: Sinclair AJ, Morley JE, Vellas B, eds. Pathy's principles and practice of geriatric medicine (5th Edition). Wiley-Blackwell; 2012. pp. 1-10.
Nicole NE. Epidemiology of Urinary tract infection. Infect Med. 2001;18:153-62.
Kurtaran B, Saltoğlu N, Gökel Y, Köseoğlu Z, Zeydaoğlu G. Acil polikliniğine başvuran yaşlı hastalarda bir infeksiyon prevalans belirleme çalışması. İnfeks Derg. 2004;18:277-81.
Wagenlehner FM, Naber KG, Weidner W. Asymptomatic bacteriuria in elderly patients: significance and implications for treatment. Drugs Aging 2005;22(10):801-7.
Swart W, Soler C, Holman J. Uncomplicated UTIs in elderly patients: How best to treat. Consultant. 2004;44(14):1805-9.
Juthani-Mehta M, Drickamer MA, Towle V, Zhang Y, Tinetti ME, Quagliarello VJ. Nursing home practitioner survey of diagnostic criteria for urinary tract infections. J Am Geriatr Soc. 2005;53(11):1986-90.
Tanyel E, Taşdelen Fışgın N, Tülek N, Leblebicioğlu H. Yaşlı Hastalardaki Üriner Sistem İnfeksiyonlarının Değerlendirilmesi. Turkish Journal of Infection. 2006;20(2):87-91.
Saltoğlu N. Toplum kökenli üriner sistem enfeksiyonlarına yaklaşım. Toplumdan edinilmiş enfeksiyonlara pratik yaklaşımlar sempozyumu dizisi no:61 Şubat 2008; pp. 139-50.
Ülger Z, Arıoğul S. Yaşlılarda üriner sistem infeksiyonları. İç Hastalıkları Dergisi. 2008;15(2):81-7.
Ginde AA, Rhee SH, Katz ED. Predictors of outcome in geriatric patients with urinary tract infections. J Emerg Med. 2004;27:101-8.
Uluğ M, Gül İ. Investigation of the Results of Urine Cultures and Approaches to Empirical Antibiotic Treatment of Community-Acquired Urinary Tract Infections in Elderly Patients. Klimik Dergisi. 2012;25(2):71-6.
Uluğ M, Çelen MK, Geyik MF, Hoşoğlu S, Ayaz C. Geriatrik İnfeksiyonların Değerlendirilmesi: Dicle Deneyimi. Nobel Med. 2010;6(3):28-33.
Tüzün T, Kutlu M, Kutlu SS, Uçar M, Özdemir Ö, Turgut H. Yaşlı Hastalardaki Enfeksiyonların Geriye Dönük Değerlendirmesi. Türk Mikrobiyol Cem Derg. 2018;48(2):112-6.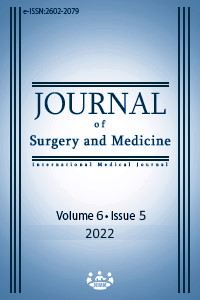 How to Cite
1.
Nazik S, Hakkoymaz H. The assessment of etiology and risk factors of urinary tract infections in geriatric patients admitted to emergency department. J Surg Med [Internet]. 2022 May 1 [cited 2023 Apr. 1];6(5):547-51. Available from: https://jsurgmed.com/article/view/726628
License
Copyright (c) 2022 Selçuk Nazik, Hakan Hakkoymaz
This work is licensed under a Creative Commons Attribution-NonCommercial-NoDerivatives 4.0 International License.
#7239