Is Pitanguy's ligament a true ligament? A prospective cohort study
Keywords:
Pitanguy's ligament, Dermocartilaginous ligament, M. depresor septi nasi, Superficial musculoaponeurotic system, Histopathology
Abstract
Aim: Facial region anatomically differs from other parts of the body by various structures it contains, for example, the superficial musculoaponeurotic system (SMAS). Among these structures, the most discussed is the dermocartilaginous ligament (DCL). There are some researchers who claim that this ligament is the continuity of the SMAS as well as those who consider it to be a separate ligament. Our aim is to determine whether the DCL, known as Pitanguy's ligament, is a true ligament based on histopathologic findings.
Methods: Open technique rhinoplasty was performed to all 52 patients with nasal obstruction and deformity complaints. During the operation, specimens were excised from the tissues thought to be the DCL in all patients for histopathological examination, which was performed by pathologists.
Results: Gross findings during the operation revealed that in most of the 52 patients, white dense fibrotic tissue, considered the DCL, was observed in the middle part of the nose. During histopathological examination, vascularized fibromuscular tissue fragments were observed in one patient and edematous connective tissue components were seen in the others.
Conclusion: Based on our results and literature research, the presence of fibrous tissue components in the intermedial crural area demonstrates that the DCL is a true ligament, but the absence of regular dense fibrous tissue components in our histopathologic findings requires further histological studies. In addition, we believe that DCL should be preserved to obtain natural and functional noses in open technic rhinoplasties.

Downloads
Download data is not yet available.
References
Letourneau A, Daniel RK. The superficial musculoaponeurotic system of the nose. Plastic and Reconstructive Surgery. 1988;82(1):48-57.
Smith O, Goodman W. Open rhinoplasty: its past and future. The Journal of Otolaryngology. 1993;22(1):21-5.
Bruintjes TD, van Olphen AF, Hillen B, Weijs WA, T. Electromyography of the human nasal muscles. European Archives of Oto-rhino-laryngology. 1996;253(8):464-9.
Pitanguy I. Surgical importance of a dermocartilaginous ligament in bulbous noses. Plastic and Reconstructive Surgery. 1965;36(2):247-53.
Saban Y, Andretto Amodeo C, Hammou JC, Polselli R. An anatomical study of the nasal superficial musculoaponeurotic system: surgical applications in rhinoplasty. Archives of Facial Plastic Surgery. 2008;10(2):109-15. doi: 10.1001/archfaci.10.2.109.
Cakir B, Oreroğlu AR, Doğan T, Akan M. A complete subperichondrial dissection technique for rhinoplasty with management of the nasal ligaments. Aesthetic Surgery Journal. 2012.;32(5):564-74. doi: 10.1177/1090820X12445471.
Han SK, Lee DG, Kim JB, Kim WK. An anatomic study of nasal tip supporting structures. Ann Plast Surg. 2004;52(2):134-9.
Bruintjes TD, van Olphen AF, Hillen B, Huizing EH. A functional anatomic study of the relationship of the nasal cartilages and muscles to the nasal valve area. The Laryngoscope. 1998;108(7):1025-32.
Krause CJ, Pastorek N. Aesthetic Facial Surgery. 1st Ed. 1991; Philadelphia, Lippincott.
Clark MP1, Greenfield B, Hunt N, Hall-Craggs M, McGrouther DA. Function of the nasal muscles in normal subjects assessed by dynamic MRI and EMG: its relevance to rhinoplasty surgery. Plastic and Reconstructive Surgery. 1998;101(7):1945-55.
Stoddard DG, Pallanch JF, Hamilton GS. The effect of vibrissae on subjective and objective measures of nasal obstruction. American Journal of Rhinology & Allergy. 2015;29(5):373-7. doi: 10.2500/ajra.2015.29.4209.
Figallo EE, Acosta JA. Nose muscular dynamics: the tip trigonum. Plastic and Reconstructive Surgery. 2001;108(5):1118-26. Doi: 10.1097/00006534-200110000-00003.
Pitanguy I, Salgado F, Radwanski HN, Bushkin SC. The surgical importance of the dermocartilaginous ligament of the nose. Plast Reconstr Surg. 1995;95(5):790-794.
Pitanguy I. Revisiting the dermocartilaginous ligament. Plastic and Reconstructive Surgery. 2001;107(1):264-66.
Hwang K, Kim DJ, Hwang G. Relationship between depressor septi nasi muscle and dermocartilagenous ligament; anatomic study and clinical application. Journal of Craniofacial Surgery. 2006;17(2):286-90.
Junqueira L, Carneiro J. Basic histology: text & atlas. McGraw-Hill Professional; 2005.
Britannica. T.E.O.E. Ligament. 25.04.2019-10.10.2019. https://www.britannica.com/science/ligament.
Han S-K. Anatomy of the Dermocartilaginous Ligament of the Nose, in Advanced Aesthetic Rhinoplasty. Springer. 2013. pp. 25-32.
Park DJ, Han SK, Jeong SH, Kim WK. Anatomy of Pitanguy's Dermocartilaginous Ligament. J Korean Soc Plast Reconstr Surg. 2007;34(2):176-80.
Letourneau A, Daniel RK. The superficial musculoaponeurotic system of the nose. Plast Reconstr Surg. 1988;82(1):48-57.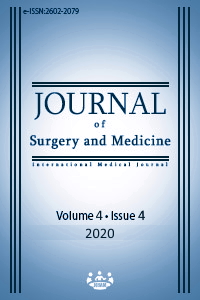 How to Cite
1.
Seyed Resuli A. Is Pitanguy's ligament a true ligament? A prospective cohort study. J Surg Med [Internet]. 2020 Apr. 1 [cited 2023 Sep. 26];4(4):251-4. Available from: https://jsurgmed.com/article/view/711748
License
Copyright (c) 2020 Ali Seyed Resuli
This work is licensed under a Creative Commons Attribution-NonCommercial-NoDerivatives 4.0 International License.
#6608