Evaluation of primary lateral neck mass in adults: Cross sectional study
Keywords:
primary lateral neck mass, lateral neck mass, head and neck tumors
Abstract
Aim: Primary Lateral neck mass (PLNM) is a disease that expresses a pathology in neck, excluding thyroid and skin tumors. The spectrum ranges from "lumps, mass or tumors," congenital tumors, inflammatory diseases, and benign neoplasm to malignant neoplasm. The current Skandalakis algorithm excludes thyroid pathology. Correct anamnesis and physical examination are especially important for data collection. We herein analyzed the methods of study in PLNM. Methods: This cross-sectional study was performed with review of medical records from January 2010 to July 2019. All patients with diagnoses of PLMN and older than 15 years of age were analyzed. We excluded patients with "classic" and unknown lateral neck masses. Standardized protocols for data collection were implemented to minimize or avoid bias. The statistical analysis was carried out with STATA v 14.0. Results: A total of 78 patients were studied. Age and time of evolution were the most crucial factors in presumptive diagnoses. The most frequent location was the anterior triangle in the neck (77%). Murmurs and thrills were clinically defined as vascular pathologies. Mobility on all axes without fixation to deep planes were clinically defined as Lipoma. The pathological examinations were more frequently reported as lymphomas (32), which were followed by Branchial Cleft Cysts. Ultrasound was a complementary study useful in congenital malformations to determine cystic characteristics. The presence of "B symptoms" and FNA (fine needle aspiration) are useful in primary Lymphoproliferative adenopathy. MRI (Magnetic resonance image) and Angio-MRI are useful in tumors of nervous origin (schwannomas, neurofibromas, and paragangliomas tumors). Malignant soft tissue tumors (sarcomas) need complementary studies and imaging for surgical planning. Conclusion: Differential diagnoses of the primary lateral neck masses challenge surgeons. Anamnesis and physical examination are the most crucial factors for the presumptive diagnoses. Complementary studies and imaging should be requested with selective criteria.
Downloads
Download data is not yet available.
References
Skandalakis JE, Gray SW. Tumours of the Head and Neck. Surgery. 1960;48:377-84.
Larheim TA, Westesson PL. Maxillofacial Imaging. Ed Springer. Berlin. 2006;13:376-90.
Rahmat O, Prepageran N. Image-Based Case Studies In ENT and Head & Neck Surgery. Jaypee Brothers Medical Publishers. New Delhi, India. 2013; 3:77-102.
Koischwitz D, Gritzmann N. Ultrasound of the neck. Radiol Clin North Am. 2000;38:1029-45.
Haberal I, Çelik H, Göçmen H, Akmansu H, Yörük M, Özeri C. Which is important in the evaluation of metastatic lymph nodes in head and neck cancer: Palpation, ultrasonography, or computed tomography? Otolaryngol Head Neck Surg. 2004;130:197-201.
Bondt RBJ, Nelemans PJ, Hofman PAM, Casselman JW, Kremer B, van Engelshoven JMA, et al. Detection of lymph node metastases in head and neck cancer: A meta-analysis comparing US, USgFNAC, CT and MR imaging. Eur J Radiol. 2007;64:266-72.
San Román J, Dovasio F, Llera J, Kreindel T, Kucharzcyk M. Neck masses. Arch Argent Pediatr. 2007;105:461-5.
Castro Pérez F, Rodríguez González R, Flores JM, Álvarez Díaz V, Cordero Ledesma M. Brachial cyst: a case report. Rev. Ciencias Médicas. 2010;14:4-20.
Chauhan A, Tiwari S, Pathak N. Primary branchiogenic carcinoma: Report of a case and a review of the literature. J Can Res Ther. 2013;9:135-7.
Turkington J, Paterson A, Sweeney L. Neck masses in children. The British Journal of Radiology. 2005;78:75-85.
Boyd PA, Anthony MY, Manning N, Rodriguez CL, Wellesly DG, Chamberlain P. Antenatal diagnosis of cystic hygroma or nuchal pad—report of 92 cases with follow up of survivors. Arch Dis Child Fetal Neonatal Ed. 1996;74:38–42.
Burt A, Huang B. Imaging review of lipomatous musculoskeletal lesions. SICOT J. 2017;3:34-45.
Kransdorf MJ, Bancroft LW, Peterson JJ, Murphey MD, Foster WC, Temple HT. Imaging of fatty tumors: distinction of lipoma and well-differentiated liposarcoma. Radiology. 2002;224:99–104.
Munk PL, Lee MJ, Janzen D, Connell DG. Lipoma and liposarcoma: evaluation using CT and MR imaging. Am J Roentgenol. 1997;169:589–94.
Iguchi H, Wada T, Matsushita N, Oishi M, Yamane H. Anatomic distribution of hematolymphoid malignancies in the head and neck: 7 years of experience with 122 patients in a single institution. Acta Otolaryngol. 2012;132:1224–31.
Etemad-Moghadam S, Tirgary F, Keshavarz S, Alaeddini M. Head and neck non-Hodgkin's lymphoma: a 20-year demographic study of 381 cases. Int J Oral Maxillofac Surg. 2010;39:869–72.
Kulungowski AM, Fishman SJ. Management of combined vascular malformations. Clin Plast Surg. 2011;38:107-20.
Boon LM, Ballieux F, Vikkula M. Pathogenesis of vascular anomalies. Clin Plast Surg. 2011;38:7-19.
Enjolras O, Soupre V, Picard A. Classification of superficial vascular anomalies. Presse Med. 2010;39:457-64.
Liu XW, Wang L, Li H, Zhang R, Geng ZJ, Wang DL. A modified method for locating parapharyngeal space neoplasms on magnetic resonance images: implications for differential diagnosis. Chin J Cancer. 2014;33:511-20.
Stambuk HE, Patel SG. Imaging of the Parapharyngeal Space. Otolaryngol Clin N Am. 2008;41:77–101.
Papaspyrou K, Mann WJ, Amedee RG. Management of head and neck paragangliomas: review of 120 patients. Head Neck. 2009;31:381-7.
Aljabab, AS, Nason RW, Kazi R, K. A. Pathak, KA. Head and Neck Soft Tissue Sarcoma. Indian J Surg Oncol. 2011;2:286–90.
Gorsky M, Epstein JB. Craniofacial osseous and chondromatous sarcomas in British Columbia, a review of 34 cases. Oral Oncol. 2000;36:27–31.
Sturgis EM, Potter BO. Sarcomas of the head and neck region. Curr Opin Oncol. 2003;15:239–52.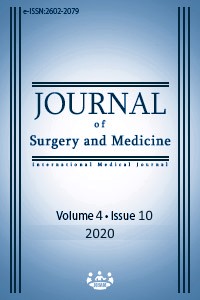 How to Cite
1.
Limardo AC, Blanco L, Menendez J, Ortega A. Evaluation of primary lateral neck mass in adults: Cross sectional study. J Surg Med [Internet]. 2020 Oct. 1 [cited 2023 Jun. 6];4(10):891-7. Available from: https://jsurgmed.com/article/view/703630
License
Copyright (c) 2020 Andres Constantino Limardo, Luis Blanco, Jose Menendez, Adrian Ortega
This work is licensed under a Creative Commons Attribution-NonCommercial-NoDerivatives 4.0 International License.
#6754