A case of sebaceous carcinoma in the eyelid: The results of chemoradiotherapy after recurrence
Keywords:
Sebaceous carcinoma, Radiotherapy, Eyelid
Abstract
Sebaceous carcinoma of the eyelid, a rare and locally aggressive malignant neoplasm, can metastasize via the lymphatic and hematogenous route. The diagnosis and treatment can be delayed because of the similarity of the tumors with benign lesions. We herein present a 65-year-old male patient who was diagnosed with sebaceous carcinoma of the left upper eyelid 7 years ago, after which surgical resection was performed. Regional recurrence developed in left cervical nodes two years later. Left neck dissection was performed and adjuvant radiotherapy was administered. The patient has no evidence of recurrence or metastasis after radiotherapy during 5 years of follow-up.
Downloads
Download data is not yet available.
References
Shields JA, Demirci H, Marr BP, Eagle RC Jr, Shields CL. Sebaceous carcinoma of the eyelids: personal experience with 60 cases. Ophthalmology 2004;111:2151–7.
Lam SC, Li EYM, Yuen HKL.Br J. 14-year case series of eyelid sebaceous gland carcinoma in Chinese patients and review of management. Ophthalmol. 2018 Feb 19; bjophthalmol-2017-311533.
Takahashi Y, Takahashi E, Nakakura S, Kitaguchi Y, Mupas-Uy J, Kakizaki H. Risk Factors for Local Recurrence or Metastasis of Eyelid Sebaceous Gland Carcinoma After Wide Excision With Paraffin Section Control Am J Ophthalmol. 2016 Nov;171:67-74.
Boniuk M, Zimmerman LE. Sebaceous carcinoma of the eyelid, eyebrow, caruncle, and orbit. Trans Am Acad Ophthalmol Otolaryngol. 1968;72:619–42.
Izumi M, Mukai K, Nagai T, Matsubayashi J, Iwaya K, Chiu CS, et al. Sebaceous carcinoma of the eyelids: thirty cases from Japan. Pathol Int. 2008;58:483–8.
Nijhawan N, Ross MI, Diba R, Ahmadi MA, Esmaeli B. Experience with sentinel lymph node biopsy for eyelid and conjunctival malignancies at a cancer center. Ophthal Plast Reconstr Surg. 2004;20(4):291–5.
Tan KC, Lee ST, Cheah ST. Surgical treatment of sebaceous carcinoma of eyelids with clinico-pathological correlation. Br J Plast Surg. 1991;44(2):117–21.
Snow SN, Larson PO, Lucarelli MJ, Lemke BN, Madjar DD. Sebaceous carcinoma of the eyelids treated by mohs micrographic surgery: report of nine cases with review of the literature. Dermatol Surg. 2002;28(7):623–31.
Pardo FS, Borodic G. Long-term follow-up of patients undergoing definitive radiation therapy for sebaceous carcinoma of the ocular adnexae. Int J Radiat Oncol Biol Phys. 1996;34:1189–90.
Deo SV, Shukla NK, Singh M, Jha D, Khanna P, Kallianpur A. Locally advanced sebaceous cell carcinoma (T3) of eyelid: incidence and pattern of nodal metastases and combined modality management approach. Orbit. 2012;31:150–4.
Shields JA, Saktanasate J, Lally SE, Carrasco JR, Shields CL. Sebaceous carcinoma of the ocular region: the 2014 Professor Winifred Mao Lecture. Asia Pac J Ophthalmol (Phila). 2015;4:221–7.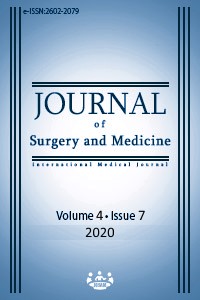 How to Cite
1.
Şirin Özdemir B, İlhan HD, Korcum A, Genç M. A case of sebaceous carcinoma in the eyelid: The results of chemoradiotherapy after recurrence. J Surg Med [Internet]. 2020 Jul. 1 [cited 2023 Jun. 1];4(7):611-2. Available from: https://jsurgmed.com/article/view/690586
License
Copyright (c) 2020 Beyza Şirin Özdemir, Hatice Deniz İlhan, Aylin Korcum, Mine Genç
This work is licensed under a Creative Commons Attribution-NonCommercial-NoDerivatives 4.0 International License.
#6685