Rectal Flap Experience in High Transsphincteric Cryptoglandular Anal Fistula
Keywords:
Complicated anal fistula, Rectal advancement flap
Abstract
Aim: Despite many treatment modalities, anal fistula disease remains an important problem. High recurrence rates have been reported in the surgical treatment of complicated anal fistulas. We hereby present complicated anal fistula patients treated with rectal advancement flaps.
Methods: Patients who underwent rectal advancement flap surgery by a single surgeon between 2009 and 2019 were analyzed in this retrospective cohort study. Demographic data, number of previous operations, recurrence rate and complications were recorded.
Results: Twenty patients (15 males and 5 females) underwent surgery with the rectal advancement flap technique. Nine patients had more than one previous operation. Seton, partial fistulectomy and curettage were the most performed operative techniques in their previous surgeries. The mean follow-up period was 31 months (3-74). Among 13 patients with follow up periods longer than 12 months, 3 patients had recurrences (23%), all of which had been previously operated twice or more. 
Conclusion: Although rectal advancement flap is not the first choice in the treatment of complicated and high transsphincteric fistulas, it still maintains its importance. Experienced surgeons prefer this method due to its sphincter-sparing nature. In our study we detected a recurrence rate of 23% and incontinence rate of 5%, which was thought to be related to previous surgeries.
Downloads
Download data is not yet available.
References
De Parades V, Zeitoun JD, Atienza P. Cryptoglandular anal fistula. Journal of Visceral Surgery. 2010;147.4:e203-e215.
Parks A G, Gordon PH, Hardcastle JD. A classification of fistula in ano. Br J Sur. 1976;63:1-12.
Khafagy W, Omar W, El Nakeeb A, Fouda E, Yousef M, Farid M. Treatment of anal fistulas by partial rectal wall advancement flap or mucosal advancement flap: a prospective randomized study. International Journal of Surgery. 2010;8(4):321-5.
Cirocchi R, Farinella E, La Mura F, Cattorini L. Fibrin glue in the treatment of anal fistula: a systematic review. Ann Surg Innov Res. 2009;3:12-15.
Sentovich SM. Fibrin glue for anal fistulas: long-term results. Dis Colon Rectum. 2003 Apr;46(4):498-502.
Ritchie RD, Sackier JM, Hodde JP. Incontinence rates after cutting seton treatment for anal fistula. Colorectal Dis. 2009 Jul;11(6):564-71. doi: 10.1111/j.1463-1318.2008.01713.x.
Christensen A, Nilas L, Christiansen J. Treatment of transsphincteric anal fistulas by the seton technique. Dis Colon Rectum. 1986 Jul;29(7):454-5.
Garcia-Aguilar J, Belmonte C, Wong WD, Goldberg SM, Madoff RD. Anal fistula surgery. Factors associated with recurrence and incontinence. Dis Colon Rectum.1996 Jul;39(7):723-9.
Safar B, Jobanputra S, Sands D, Weiss EG, Nogueras JJ, Wexner SD. Anal fistula plug: initial experience and outcomes. Dis Colon Rectum. 2009 Feb;52(2):248-52.
Ky AJ, Sylla P, Steinhagen R, Steinhagen E, Khaitov S, Ly EK. Collagen fistula plug for the treatment of anal fistulas. Dis Colon Rectum. 2008 Jun;51(6):838-43.
Mennigen R, Laukötter M, Senninger N, Rijcken E. The OTSC(®) proctology clip system for the closure of refractory anal fistulas. Tech Coloproctol. 2015 Apr;19(4):241-6. doi: 10.1007/s10151-015-1284-7.
Prosst RL, Herold A, Joos AK, Bussen D, Wehrmann M, Gottwald T, Schurr MO. The anal fistula claw: the OTSC clip for anal fistula closure. Colorectal Dis. 2012 Sep;14(9):1112-7. doi: 10.1111/j.1463-1318.2011.02902.x.
Sangwan YP, Rosen L, Riether RD, Stasik JJ, Sheets JA, Khubchandani IT. Is simple fistula-in-ano simple? Dis Colon Rectum. 1994;37(9):885-9.
Davies M, Harris D, Lohana P, Chandra Sekaran TV, Morgan AR, Beynon J, et al. The surgical management of fistula-in-ano in a specialist colorectal unit. Int J Colorectal Dis. 2008;23(9):833-8.
Noble G. New operation for complete laceration of the perineum designed for the purpose of eliminating danger of infection from the rectum. Trans Am Gynecol Soc. 1902;27:357–63.
Balciscueta Z, Uribe N, Balciscueta I, Andreu-Ballester JC, García-Granero E. Rectal advancement flap for the treatment of complex cryptoglandular anal fistulas: a systematic review and meta-analysis. Int J Colorectal Dis. 2017 May;32(5):599-609. doi: 10.1007/s00384-017-2779-7.
Akiba RT, Rodrigues FG, da Silva G. Management of Complex Perineal Fistula Disease. Clin Colon Rectal Surg. 2016 Jun;29(2):92-100. doi: 10.1055/s-0036-1580631.
Marchesa P, Hull TL, Fazio VW. Advancement sleeve flaps for treatment of severe perianal Crohn's disease. Br J Surg. 1998;85(12):1695–8.
Jorge JM, Wexner SD. Etiology and management of fecal incontinence. Dis Colon Rectum. 1993 Jan;36(1):77-97.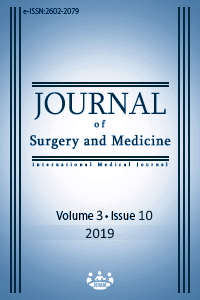 How to Cite
1.
Kılıç A, Tilev SM, Başak F, Şişik A. Rectal Flap Experience in High Transsphincteric Cryptoglandular Anal Fistula. J Surg Med [Internet]. 2019 Oct. 1 [cited 2023 Sep. 24];3(10):746-8. Available from: https://jsurgmed.com/article/view/636918
License
Copyright (c) 2019 Ali Kılıç, Sırma Mine Tilev, Fatih Başak, Abdullah Şişik
This work is licensed under a Creative Commons Attribution-NonCommercial-NoDerivatives 4.0 International License.
#6491