Intermammary pilonidal sinus: A case report of a 23-year-old girl
Keywords:
Intermammary, Pilonidal sinus, Inflammation, Excision
Abstract
Pilonidal sinus is a chronic inflammatory disease of the skin and subcutaneous tissue, a cyst filled with a ball of hair, characterized by a discharging sinus and abscess. The disease is typically seen in the sacrococcygeal region. However, it can occur in other areas, such as the occiput, nose, neck, intermammary (sternal) area, axilla, finger (interdigital area), groin or external genital area. In this case report, an intermammary (sternal) pilonidal sinus, which is rarely seen, was presented along with the literature.

Downloads
Download data is not yet available.
References
Lion-Cachet J. Inter-mammary pilonidal sinus. S Afr J Surg. 1971;9(3):141–2.
Oueidat D, Rizkallah A, Dirani M, Assi TB, Shams A, Jurjus A. 25 years' experience in the management of pilonidal sinus disease. Open J Gastroenterol. 2014;4(1):1–5.
Keighley MR. Pilonidal sinus. In: Keighley MRB, Williams N (eds) Surgery of the anus, rectum and colon, 1999, p 539–563
Dwight, RW, Maloy, JK. Pilonidalis sinus experience with 449 cases. N Engl J Med. 1953;249(23):926-30.
Hull TL, Wu J. Pilonidal disease. Surg Clin North Am. 2002;82(6):1169-85.
Surrell JA. Pilonidal disease. Surg Clin North Am. 1994;74(6):1309-15.
Chintapatla S, Safarani N, Kumar S, Haboubi N. Sacrococcygeal pilonidal sinus: Historical review, pathological insight and surgical options. Tech Coloproctol. 2003;7(1):3-8.
Søndenaa K, Andersen E, Nesvik I, Søreide JA. Patient characteristics and symptoms in chronic pilonidal sinus disease. Int J Colorectal Dis. 1995;10(1):39-42..
Karydakis, GE. Easy and successful treatment of pilonidal sinus after explanation of its causative process. Aust N Z J Surg. 1992;62(5):385-9.
Bascom J. Pilonidal disease: origin from follicles of hairs and results of follicle removal as treatment. Surgery. 1980;87(5):567-72.
Shareef SH, Hawrami TA, Salih AM, Kakamad FH, Rahim HM, Hassan HA et al. Intermammary pilonidal sinus: The first case series. Int J Surg Case Rep. 2017;41:265-268.
Gupta S, Kumar A, Khanna AK, Khanna S. Pilonidal sinus epidermoid carcinoma: a clinicopathologic study and a collective review. Curr Surg. 1981;38(6):374-81.
Lineaweaver WC, Brunson MB, Smith JF, Franzini DA, Rumley TO. Squamous carcinoma arising in a pilonidal sinus. J Surg Oncol. 1984;27(4):239-42.
Canoui-Poitrine F, Revuz JE, Wolkenstein P, Viallette C, Gabison G, Pouget F et al. Clinical characteristics of a series of 302 French patients suffering from hidradenitis suppurativa, with an analysis of factors associated with disease severity. J Am Acad Dermatol. 2009;61(1):51-7.
Ahmad Zaidi A , Mat Saad A . Novel usage of superficial liposuction in hidradenitis suppurativa. J Surg Med. 2019;3(2):189-90.
Steele SR, Perry WB, Mills S, Buie WD. Practice parameters for the management of pilonidal disease. Dis Colon Rectum. 2013;56(9):1021-7.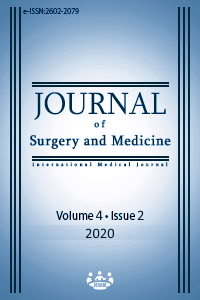 How to Cite
1.
Yiğit B, Yetkin SG, Çitgez B, Eken KG, Özşahin H. Intermammary pilonidal sinus: A case report of a 23-year-old girl. J Surg Med [Internet]. 2020 Feb. 1 [cited 2023 Sep. 24];4(2):170-2. Available from: https://jsurgmed.com/article/view/635659
License
Copyright (c) 2020 Banu Yiğit, Sıtkı Gürkan Yetkin, Bülent Çitgez, Kamile Gülçin Eken, Hamdi Özşahin
This work is licensed under a Creative Commons Attribution-NonCommercial-NoDerivatives 4.0 International License.
#6566