Spinal cord intramedullary hemorrhage (hematomyelia) after use of sildenafil: A very rare complication
Keywords:
Intramedullary hemorrhage, Hematomyelia, Cervical cord, Sildenafil
Abstract
Sildenafil's complications include intracranial hemorrhage along with others, however, spinal cord intramedullary hemorrhage (Hematomyelia) after using sildenafil has not been previously reported. We herein present the case of a 50-year-old male patient who was referred to the Neurology department with pain and numbness radiating to the left arm after use of sildenafil. He was diagnosed with hematomyelia after various diagnostic tests. Other pathologies that might have caused hematomyelia were ruled out.

Downloads
Download data is not yet available.
References
Ballard SA, Gingell CJ, Tang K, Turner LA, Price ME, Naylor AM. Effects of sildenafil on the relaxation of human corpus cavernosum tissue in vitro and on the activities of cyclic nucleotide phosphodiesterase isozymes. J Urol. 1998;159:2164–71.
Morales A, Gingell C, Collins M, Wicker PA, Osterloh IH. Clinical safety of oral sildenafil citrate (VIAGRA) in the treatment of erectile dysfunction. Int J Impot Res. 1998;10:69–73.
Morgan JC, Alhatou M, Oberlies J, Johnston KC. Transient ischemic attack and stroke associated with sildenafil (Viagra) use. Neurology. 2001;57:1730–1.
Alpsan MH, Bebek N, Ciftci FD, Coban O, Bahar S, Tuncay R. Intracerebral hemorrhage associated with sildenafil use: a case report. J Neurol. 2008;255:932–3.
Buxton N, Flannery T, Wild D, Bassi S. Sildenafil (Viagra)-induced spontaneous intracerebral haemorrhage. Br J Neurosurg. 2001;15:347–9.
Monastero R, Pipia C, Camarda LK, Camarda R. Intracerebral haemorrhage associated with sildenafil citrate. J Neurol. 2001;248:141–2.
Irazoque-Palazuelos F, Sosa-Espinosa PV, Andrade-Ortega L. Hematomyelia in systemic lupus erythematosus and secondary antiphospholipid syndrome: case report. Reumatol Clin. 2008;4:34-6.
Richardson JC. Spontaneous hematomyelia: a short review and a case report illustrating intramedullary angioma and syphilis of the spinal cord as possible causes. Brain. 1938;61:17-36.
Pobiel RS, Schellhas KP, Eklund JA, Golden MJ, Johnson BA, Chopra S, et al. Selective cervical nerve root blockade: prospective study of immediate and longer term complications.AJNR Am J Neuroradiol. 2009;30(3):507-11.
Miyakoshi N, Hongo M, Kasukawa Y, Ando S, Shimada Y. Thoracic disk herniation with hematoma-case report. Neurol Med Chir (Tokyo). 2008; 48(9):414-7.
Zusman RM, Morales A, Glasser DB, Osterloh IH. Overall cardiovascular profile of sildenafil citrate. Am J Cadiol. 1999;83:35–44.
Berkels R, Klotz T, Sticht G, Englemann U, Klaus W. Modulation of human platelet aggregation by the phosphodiesterase type 5 inhibitor sildenafil. J Cardiovasc Pharmacol. 2001;37:413–21.
Leep Hunderfund AN, Wijdicks EF. Intramedullary spinal cord hemorrhage (hematomyelia) Rev Neurol Dis. 2009;6:E54–61.
Heldner MR, Arnold M, Nedeltchev K, Gralla J, Beck J, Fischer U. Vascular diseases of the spinal cord: a review. Curr Treat Options Neurol. 2012;14:509–20. doi: 10.1007/s11940-012-0190-9.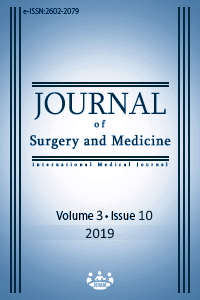 How to Cite
1.
Taşkent İsmail, Yıldırım H. Spinal cord intramedullary hemorrhage (hematomyelia) after use of sildenafil: A very rare complication. J Surg Med [Internet]. 2019 Oct. 1 [cited 2023 Sep. 24];3(10):782-4. Available from: https://jsurgmed.com/article/view/635056
License
Copyright (c) 2019 İsmail Taşkent, Hanefi Yıldırım
This work is licensed under a Creative Commons Attribution-NonCommercial-NoDerivatives 4.0 International License.
#6492