Right amelia in a patient with neurofibromatosis type 1
Keywords:
Neurofibromatosis type 1, Amelia, Neurofibromin
Abstract
Neurofibromatosis type 1 (NF1) affects many different systems such as the skeletal, endocrine, gas-trointestinal systems, as well as the skin, peripheral and central nervous systems (CNS). The NF-1 gene, located in the 11p12 region of chromosome 17, encodes a tumor suppressor protein, called neurofibromin, and is expressed in a diverse range of cell and tissue types. Neurofibromin negatively regulates the activity of an intracellular signaling molecule, p21ras (Ras), acting as a GTPase-activating protein (Ras-GAP). The Ras-GAP function of neurofibromin has been associated with various NF1-related clinical symptoms. We aimed to present a case of clinically and genetically diagnosed neurofibromatosis type 1 with a developmental anomaly in the right hand (right hand amelia). Our knowledge about whether the coexistence of these two conditions is coincidental or a result of neurofibromatosis is limited. We wanted to present this case since the coexistence of amelia and neurofibromatosis is a first.

Downloads
Download data is not yet available.
References
Neurofibromatosis. Conference statement. National Institutes of Health Consensus Development Conference. Arch Neurol. 1988;45:575–8.
Viskochil D. Genetics of neurofibromatosis 1 and the NF1 gene. J Child Neurol. 2002;17:562–70.
Elefteriou F, Kolanczyk M, Schindeler A, Viskochil DH, Hock JM, Schorry EK. Skeletal abnormalities in neurofibromatosis type 1: approaches to therapeutic options. Am J Med Genet. 2009;149a:2327-38.
Georgescu EF, Stanescu L, Georgescu AC, Dumitrescu D, Foarfa C, Calin G. Bone abnormalities occurring in the follow-up of the patients with neurofibromatosis type 1. Romanian Journal of Morphology and Embryology. 2007;48(3):249–56.
Kristiansen LP, Steen H, Terjesen T. Residual challenges after healing of congenital pseudarthrosis in the tibia. Clin Orthop. 2003;414:228-37.
Schindeler A, Little DG. Recent insights into bone development, homeostasis, and repair in type 1 neurofibromatosis (NF1). Bone. 2008;42:616–22.
Yang FC, Chen S, Robling AG, Yu X, Nebesio TD, Yan J, et al. Hyperactivation of p21 and PI3K cooperate to alter murine and human neurofibromatosis type 1-haploinsufficient osteoclast functions. J Clin Invest. 2006;116:2880–91.
Kimes KL, Han MJ, Brown PJ. Polydactyly in neurofibromatosis type I: a potential clue to diagnosis. Dermatol Online J. 2016;22(11):7–11.
Chaudhary R, Singh K. A Rare Fetal Congenital Anomaly: Meromelia. Journal of Gynecology. 2018;1(13):1-5.
Yesender M, Anjum A, Saritha S, Rao SB, Ramani TV, Ericson P. Limb defects: a spectrum of correlated study. International Journal of Anatomy and Research. 2016;4(1):1810-8.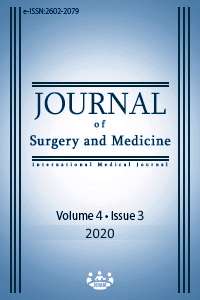 How to Cite
1.
Aydın H. Right amelia in a patient with neurofibromatosis type 1. J Surg Med [Internet]. 2020 Mar. 1 [cited 2023 Apr. 1];4(3):240-2. Available from: https://jsurgmed.com/article/view/630597
License
Copyright (c) 2020 Hilal Aydın
This work is licensed under a Creative Commons Attribution-NonCommercial-NoDerivatives 4.0 International License.
#6589