An unusual complication of septic sacroiliitis: Hepatic and splenic infarction after iliac vein thrombosis
Keywords:
Splenic infarct, Hepatic infarct, Septic sacroiliitis, Magnetic resonance imaging
Abstract
Septic sacroiliitis typically presents with non-specific symptoms such as limping gait, radiating pain in the hip and lumbar region and fever. Differential diagnoses include pelvic abscess, lumbar disc herniation or septic arthritis of the hip, and misdiagnosis is common. Magnetic resonance imagining (MRI) greatly enhanced the ability to determine the extent of infection arising from the sacroiliac joint. We hereby present a rare case of hepatic and splenic infarction secondary to septic thrombophlebitis in a patient with sacroiliitis.

Downloads
Download data is not yet available.
References
Llop Vilaltella M, Maldonado Romero V, Guillén Astete C, de la Puente Bujidos C, de Casanova Peña C. Sacroiliitis and gluteal abscess secondary to Staphylococcus aureus infection. Reumatol Clin. 2015 Nov-Dec;11(6):398-400.
Kim S, Lee KL, Baek HL, et al. A case of acute pyogenic sacroiliitis and bacteremia caused by community-acquired methicillin-resistant staphylococcus aureus. Infect Chemother. 2013;45:441–5.
Roca B, Torres V. Pyomyositis of the iliacus muscle complicated with septic sacroiliitis. QJM. 2008;101:983–4.
An S, Li B, Cui R, et al. Unusual complication of multiple splenic abscesses arising from a feeding jejunostomy tube subsequent to total gastrectomy: A case report and literature review. Oncol Lett. 2015;9:2398–400.
Lardo S, Ariane A, Chen K. Septic Pulmonary embolism following appendectomy surgery. Acta Med Indones. 2015;47:234–7.
Zimmermann B, Mikolich DJ, Lally EV. Septic sacroiliitis. Semin Arthritis Rheum. 1996;26:592–604.
Taydas O, Kantarci M, Bayraktutan U, Ogul H. Supradiaphragmatic origin of the renal artery; frequency on contrast-enhanced MR imaging. Clin Imaging. 2018;52:152-6.
Ulhaci N, Meteoglu I, Kacar F, Ozbas S. Abscess of the spleen. Pathol Oncol Res. 2004;10:234–6.
Lee WS, Choi ST, Kim KK. Splenic abscess: a single institution study and review of the literature. Yonsei Med J. 2011;52:288–92.
Luaces Mendez M, Vilacosta I, Sarria C, et al. Hepatosplenic and renal embolisms in infective endocarditis. Rev Esp Cardiol. 2004;57:1188–96.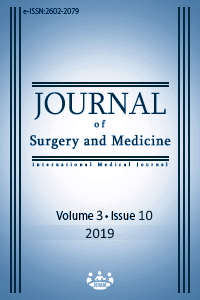 How to Cite
1.
Danışan G, Taş N, Polat G, Oğul H. An unusual complication of septic sacroiliitis: Hepatic and splenic infarction after iliac vein thrombosis. J Surg Med [Internet]. 2019 Oct. 1 [cited 2023 Oct. 4];3(10):769-71. Available from: https://jsurgmed.com/article/view/629561
License
Copyright (c) 2019 Gürkan Danışan, Nurmuhammet Taş, Gökhan Polat, Hayri Oğul
This work is licensed under a Creative Commons Attribution-NonCommercial-NoDerivatives 4.0 International License.
#6497