Unilateral vocal cord paralysis following maxillofacial deformity correction
Keywords:
Unilateral Vocal Cord Paralysis, Orthognathic surgery, Complication, Maxillofacial deformity
Abstract
General anesthesia has a low morbidity and mortality rate and is considered a safe procedure. Moderate hoarseness and sore throat are considered acceptable during the early postoperative period due to minor trauma even after first attempt noninvasive intubation. Vocal cord paralysis is an infrequent complication of endotracheal intubation. It also presents with hoarseness and that is why early diagnosis is difficult, especially if it appears after the orthognathic surgery procedure. There is only one case report of this complication after orthognathic surgery. In this case report, a 33-year-old healthy female patient who had unilateral vocal cord paralysis after bimaxillary orthognathic surgery is presented. Although hoarseness was the first symptom, it was considered as mild hoarseness due to intubation and could not be diagnosed in the early postoperative phase until the video-laryngoscopic examination was performed. Vocal cord paralysis lasted for five months and resolved spontaneously. Although very unusual, surgeons or anesthesiologists should be aware of this unpleasant complication and pay attention to vocal cord functions after orthognathic surgery. If there is no risk of aspiration, at least six months is required before performing any interventions.
Downloads
Download data is not yet available.
References
Maktabi MA, Smith RB, Todd MM. Is routine endotracheal intubation as safe as we think or wish? Anesthesiology. 2003;99:247–8.
Kikura M, Suzuki K, Itagaki T, Takada T, Sato S. Age and comorbidity as risk factors for vocal cord paralysis associated with tracheal intubation. Br J Anaesth. 2007;98:524–30. doi:10.1093/bja/aem005.
Hurtado Nazal C, Araneda Vilches A, Vergara Marín C, García Contreras K, Napolitano Valenzuela C, Badía Ventí P. Vocal cord paralysis after endotracheal intubation: an uncommon complication of general anesthesia. Brazilian J Anesthesiol (English Ed. 2018;68:637–40. doi:10.1016/j.bjane.2017.12.007.
Beebe DS. Complications of tracheal intubation. Semin Anesth Perioper Med Pain. 2001;20:166–72.
Complications of the endotracheal tube following initial placement: Prevention and management in adult intensive care unit patients - UpToDate. https://www.uptodate.com/contents/complications-of-the-endotracheal-tube-following-initial-placement-prevention-and-management-in-adult-intensive-care-unit-patients. Accessed 12 Jan 2020.
Ellis SF, Pollak AC, Hanson DG, Jiang JJ. Videolaryngoscopic evaluation of laryngeal intubation injury: Incidence and predictive factors. Otolaryngol - Head Neck Surg. 1996;114:729–31.
Fauzdar S, Kraus J, Papageorge M. Vocal cord paralysis following orthognathic surgery intubation. Ann Maxillofac Surg. 2011;1:166.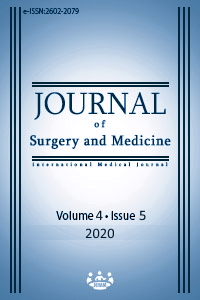 How to Cite
1.
Ak KB, Özen Akay M, Uçkan S. Unilateral vocal cord paralysis following maxillofacial deformity correction. J Surg Med [Internet]. 2020 May 1 [cited 2023 Sep. 26];4(5):414-6. Available from: https://jsurgmed.com/article/view/615486
License
Copyright (c) 2020 Kıvanç Berke Ak, Mine Özen Akay, Sina Uçkan
This work is licensed under a Creative Commons Attribution-NonCommercial-NoDerivatives 4.0 International License.
#6629