Neuroplay method combined with home-based Ayres sensory integration for autism: A case report
Keywords:
Autism, Early intervention, Social interaction, Neuroplay method, Ayres sensory integration therapy
Abstract
Autism is a neurodevelopmental disease that occurs in early childhood. As the frequency of early detection of autism findings increases, intervention programs involving families become common. We herein present a boy who was diagnosed with autism at 19 months of age and followed up with Neuroplay Method integrated with home-based Ayres Sensory Integration intervention, which significantly improved his autism findings.

Downloads
Download data is not yet available.
References
Lord C, Elsabbagh M, Baird G, Veenstra-Vanderweele J. Autism spectrum disorder. Lancet. 2018 Aug 11;392(10146):508-20.
Stanley GC, Konstantareas MM. Symbolic Play in Children with Autism Spectrum Disorder. Journal of Autismand Developmental Disorders 2006;37:1215–23.
Billeci L, Calderoni S, Conti E, Gesi C, Carmassi C, Dell'Osso L, et al. The Broad Autism [Endo] Phenotype: Neurostructural and Neurofunctional Correlates in Parents of Individuals with Autism Spectrum Disorders. Frontiers in Neuroscience. 2016;10:346.
McCormick C, Hepburn S, Young GS, Rogers SJ. Sensory symptoms in children with autism spectrum disorder, other developmental disorders and typical development: A longitudinal study. Autism. 2016;20:572-9.
Ayres AJ. Sensory integration and the child. Los Angeles: Western Psychological Services. 2005
Green J, Pickles A, Pasco G, Bedford R, Wan MW, Elsabbagh M, Slonims V, et al. British Autism Study of Infant Siblings [BASIS] Team. Randomised trial of a parent-mediated intervention for infants at high risk for autism: longitudinal outcomes to age 3 years. J ChildPsychol Psychiatry. 2017;58:1330-40.
Weitlauf AS, McPheeters ML, Peters B, et al. Therapies for children with autism spectrum disorder: behavioral interventions update. Comparative Effectiveness Review No. 137. Rockville, MD: Agency for Healthcare Research and Quality, 2014.
Pisula E, Ziegart-Sadowska K. Broader Autism Phenotype in Siblings of Children with ASD—A Review. Butler MG, ed. International Journal of Molecular Sciences. 2015;16[6]:13217-13258.
Taylor MJ, Gustafsson P, Larsson H, Gillberg C, Lundström S, Lichstenstein P. Examining the Association Between Autistic Traits and Atypical Sensory Reactivity: A Twin Study. J Am Acad Child Adolesc Psychiatry. 2018 Feb;57(2):96-102.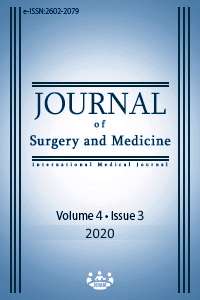 How to Cite
1.
Ekici B, Konuk FK, Dursun Şerife S, Unay Öykü S, Tatlı B. Neuroplay method combined with home-based Ayres sensory integration for autism: A case report. J Surg Med [Internet]. 2020 Mar. 1 [cited 2023 Nov. 29];4(3):246-7. Available from: https://jsurgmed.com/article/view/613563
License
Copyright (c) 2020 Barış Ekici, Feyza Kutlu Konuk, Şerife Sezen Dursun, Öykü Su Unay, Burak Tatlı
This work is licensed under a Creative Commons Attribution-NonCommercial-NoDerivatives 4.0 International License.
#6596