Antibiotic susceptibility pattern of Enterococcus isolates in a five year period at a tertiary care hospital
Keywords:
Enterococcus faecalis, Enterococcus faecium, Enterecoccus antibiotic resistance, Enterococcal infection
Abstract
Aim: Enterococci are present as a part of the normal gut flora which can cause many community- and hospital-acquired infections. It is essential to determine the antibiotic resistance profile in treatment of Enterococcus spp. In this study we aimed to determine the sub-species of Enterococcus spp and their antibiotic resistance profiles isolated from a tertiary hospital in a five-year period.
Methods: The antibiotic resistance profiles of 2995 Enterococcus spp isolated from various clinical specimens of patients between January 2014 and December 2018 were reviewed in this retrospective cohort study. 
Results: Ampicillin resistance was very low (5.6%) in E. faecalis, but it was very high in E. faecium (91.8%). High level gentamycin, high level streptomycin and levofloxacin resistances were very high in all Enterococcus species and especially in E. faecium. Linezolid, tigecycline or daptomycin resistance was not determined in any Enterococcus isolates. Nitrofurantoin resistance (61.9%) and parenteral penicillin resistance (82.4%) were also very high in E. faecium isolates. Teicoplanin resistance was very low in E.faecalis (1.5%) isolates but approximately half (44.9%) of the E. faecium isolates were resistant to Teicoplanin. Vancomycin resistance was determined in 1.5% of E.faecalis isolates and in 45.5% of E. faecium isolates. 
Conclusion: In conclusion, we determined high resistance rates to many antibiotics in both E. faecalis and E. faecium isolates. Tigecyclin, linezolid and daptomycin resistance was not determined in any Enteroccus isolates. Vancomycin resistance was determined in 1.5% of E. faecalis isolates and in 45.5% of E. faecium isolates. This high rate of vancomycin resistance should be taken into account and studies should be conducted to eliminate this resistance.
Downloads
Download data is not yet available.
References
Sood S, Malhotra M, Das BK, Kapil A. Enterococcal infections antimicrobial resistance. Indian J Med Res. 2008;128(2):111-21.
Cheah ALY, Spelman T, Liew D. Peel T, Howden BP, D. Spelman, et al. Enterococcal bacteraemia: Factors influencing mortality, length of stay and costs of hospitalization Clin Microbiol Infect Year: 2013;19(4):E181-9.
Bayjanov JR, Baan J, Rogers MRC, Troelstra A, Willems RJL, van Schaik W. Enterococcus faecium genome dynamics during long-term asymptomatic patient gut colonization. Microb Genom. 2019;5(7): e000277.
Arias CA, Contreras GA, Murray BE. Management of multidrug-resistant enterococcal infections. Clin Microbiol Infect. 2010;16(6):555-62.
Kang ZZ, Lei CW, Kong LH, Wang YL, Ye XL, Ma BH, at al. Detection of transferable oxazolidinone resistance determinants in enterococcus faecalis and enterococcus faecium of swine origin in Sichuan Province, China. J Glob Antimicrob Resist. 2019;25: doi: 10.1016/j.jgar.2019.05.021.
EUCAST. EUCAST Clinical Breakpoint Table Version 6.0, Valid From 2016-01-01. Basel: EUCAST, 2016. http://www.eucast.org/clinical_breakpoints/.
Clinical and Laboratory Standards Institute. Performance standards for antimicrobial susceptibility testing. Twenty-fourth informational supplement update. CLSI document M100-S24. Clinical and Laboratory Standards Institute, Wayne, PA (2014).
Karna A, Baral R, Khanal B. Characterization of clinical isolates of enterococci with special reference to glycopeptide susceptibility at a tertiary care center of Eastern Nepal. Int J Microbiol. 2019;7936156.
Sattari-Maraji A, Jabalameli F, Node Farahani N, Beigverdi R, Emaneini M. Antimicrobial resistance pattern, virulence determinants and molecular analysis of enterococcus faecium isolated from children infections in Iran. BMC Microbiol. 2019;19(1):156.
Liu C, Yoon EJ, Kim D, Shin JH, Shin JH, Shin KS, et al. Antimicrobial resistance in South Korea: A report from the Korean global antimicrobial resistance surveillance system (Kor-GLASS) for 2017. J Infect Chemother. 2019; pii: S1341-321X(19)30197-7.
Mamtora D, Saseedharan S, Bhalekar P, Katakdhond S. Microbiological profile and antibiotic susceptibility pattern of Gram-positive isolates at a tertiary care hospital. J Lab Physicians. 2019;11(2):144-8.
Zalipour M, Esfahani BN, Havaei SA. Phenotypic and genotypic characterization of glycopeptide, aminoglycoside and macrolide resistance among clinical isolates of Enterococcus faecalis: a multicenter based study. BMC Res Notes. 2019;12(1):292.
Unal N, Askar S, Yıldırım M. Antibiotic resistance profile of Enterococcus faecium and enterococcus faecalis isolated from broiler cloacal samples. Turk J Vet Anim Sci. 2017;41:199-203.
Asadollahi P, Razavi SH, Asadollahi KH, Pourshafie MR, Talebi M. Rise of antibiotic resistance in clinical enterococcal isolates during 2001-2016 in Iran: a review. New Microbes New Infect. 2018;26:92–9.
Huang L, Zhang R, Hu Y, Zhou H, Cao J, Lv H, et al. Epidemiology and risk factors of methicillin-resistant staphylococcus aureus and vancomycin-resistant enterococci infections in Zhejiang China from 2015 to 2017. Antimicrob Resist Infect Control. 2019;30:8:90.
Praharaj I, Sujatha S, Parija SC. Phenotypic & genotypic characterization of vancomycin resistant enterococcus isolates from clinical specimens. Indian J Med Res. 2013;138(4):549-56.
Matheeussen V, Loens K, Scott C, Di Lorenzo C, McCulloch E, Donoso et al. Quality of molecular detection of vancomycin resistance in enterococci: results of 6 consecutive years of Quality Control for Molecular Diagnostics (QCMD) external quality assessment. Eur J Clin Microbiol Infect Dis. 2019;28:doi:10.1007/s10096-019-03591-2.
Kumar S, Bandyoapdhyay M, Chatterjee M, Mukhopadhyay P, Poddar S, Banerjee P. The first linezolid-resistant Enterococcus faecium in India: High level resistance in a patient with no previous antibiotic exposure. Avicenna J Med. 2014;4(1):13-6.
Kumar N, Agrawal SK, Govindaswamy A, Bajpai V, Bahadur T. Linezolid-resistant enterococcus faecalis in leukemia patients: Rare cases with review of literature. J Family Med Prim Care. 2019;8(4):1508-10.
Levitus M, Perera TB. Vancomycin-Resistant Enterococci (VRE). Stat Pearls [Internet]. Treasure Island (FL): Stat Pearls Publishing; 2019.
Lee T, Pang S, Abraham S, Coombs GW. Antimicrobial-resistant CC17 Enterococcus faecium: The past, the present and the future. J Glob Antimicrob Resist. 2018;16:36-47.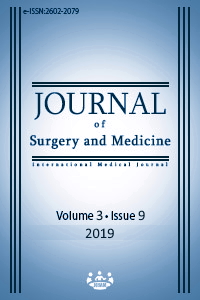 How to Cite
1.
Kutlu O, Arabacı Çiğdem. Antibiotic susceptibility pattern of Enterococcus isolates in a five year period at a tertiary care hospital. J Surg Med [Internet]. 2019 Sep. 1 [cited 2023 Sep. 25];3(9):644-7. Available from: https://jsurgmed.com/article/view/612854
License
Copyright (c) 2019 Orkide Kutlu, Çiğdem Arabacı
This work is licensed under a Creative Commons Attribution-NonCommercial-NoDerivatives 4.0 International License.
#6470