Perinephric abscess as a rare cause of acute abdomen: A case report
Keywords:
Perinephric abscess, Renal abscess, Secondary peritonitis, Acute abdomen
Abstract
Renal and perinephric abscesses are usually confined within the Gerota's fascia and treated with conservatively. We herein present a case with peritonitis caused by the spillage of perinephritic abscess into the abdomen through the Gerota's fascia, which is clinical outcome. A 41-year-old female patient was admitted to emergency room with complaints of abdominal pain, bloating, fever, and fatigue. During the operation, an abscess of approximately 20x15cm in size was observed to extend into the abdominal cavity through the Gerota's fascia, causing secondary peritonitis. On the 20th postoperative day, the patient was uneventfully discharged. Delay in diagnosis of renal and perinephric abscesses can lead to fatal complications. Laparotomy is a life-saving approach in cases that cannot be treated with percutaneous drainage, when the abscess is large and causes complications such as strictures, fistulas, or secondary peritonitis, by extension through the Gerota's fascia, as in our case.

Downloads
Download data is not yet available.
References
Willard BT, Lynn J, Steinbecker K. Renal Corticomedullary Abscess. eMedicine. Eds. Jong M. Choe 27 Jul. 2004. Medscape. 13 Jan. 2005.
Lee SH, Jung HJ, Mah SY, Chung BH. Renal abscesses measuring 5 cm or less: outcome of medical treatment without therapeutic drainage. Yonsei Med J. 2010;(51)4:569-73.
Noble MJ. Perinephric abscess. AUA update Series. 2002;21(10):74-9.
Trusedale BH, Rous SN, Nelson RP. Perinephric abscess: A review of 26 cases. J Urol. 1977;118:910-1.
Sheinfeld J, Erturk E, Spataro RF, Cockett AT. Perinephric abscess: Current concepts. J Urol. 1987;137:191-4.
Sivarama Krishna G, Vijayalakshmidevi B, Lakshmi AY, Mutheswaraiah B, Sivakumar V. Perinephric abscess with extension into mediastinum and epidural space Indian Journal of Nephrology. 2012;22(3):225-7.
Asgin N, Satilmis S. Which antibiotics should we prefer empirical treatment of urinary tract infections in elderly patients? J Surg Med. 2019;3(12):856-60.
Varisli AN, Hazirolan GC, Celikbas AG, Aksoy A. Resistance patterns of gram negative bacteria in urinary tract infections and efficacy of empirical treatment in noncomplicated cases: Retrospective cohort study of 2180 women. J Surg Med. 2018;2(2):99-104.
Gardiner RA, Gwynne RA, Roberts SA. Perinephric abscess. Bju International. 2011;107(3):20-3.
Rubilotta E, Balzarro M, Lacola V, Sarti A, Porcaro AB, Artibani W. Current cilinical management of renal and perinephric abscesses. Urologia. 2014;81(3):144-7.
Sung BJ, Chung JM, Choi S, Rhew HY, Lee SD. Renal and perinephric abscesses: ten years experience at a single center. Korean J Urol. 2008;49(10):923-30.
Salvatierra O Jr, Bucklew WB, Morrow JW. Perinephric abscess: a report of 71 cases. J Urol. 1967;98(3):296-302.
Thorley JD, Jones SR, Sanford JP. Perinephric abscess. Medicine. 1974;53(6):441-51.
Dalla Palma L, Pozzi Mucelli F, Ene V. Medical treatment of renal and perirenal abscesses: CT evaluation. Clin. Radiol. 1999;54(12):792-7.
Hung CH, Liou JD, Yan MY, Chang CC. Immediate percutaneous drainage compared with surgical drainage of renal abscess. Int Urol Nephrol. 2007;39(1):51-5.
Siegel JF, Smith A, Moldwin R. Minimally invasive treatment of renal abscess. J Urol. 1996;155(1):52-5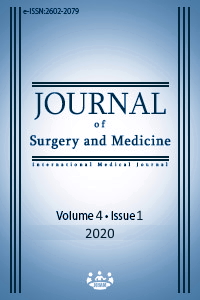 How to Cite
1.
Güler Y, Şengül S, Çalış H, Uçar M, Özen Özkan. Perinephric abscess as a rare cause of acute abdomen: A case report. J Surg Med [Internet]. 2020 Jan. 2 [cited 2023 Sep. 26];4(1):102-4. Available from: https://jsurgmed.com/article/view/608975
License
Copyright (c) 2020 Yilmaz Güler, Serkan Şengül, Hasan Çalış, Murat Uçar, Özkan Özen
This work is licensed under a Creative Commons Attribution-NonCommercial-NoDerivatives 4.0 International License.
#6549