The two new surgical techniques for vaginal cuff prolapse and uterine prolapse
Keywords:
Pelvic organ prolapse, Vaginal cuff prolapse, Sacrospinous colpopexy
Abstract
Pelvic organ prolapse and vaginal cuff prolapse are clinical conditions that affect women's quality of life and require surgical treatment. In this study, we aimed to present apical vaginal prolapse and uterine descensus treatment with two new techniques. The classical sacrospinous ligament fixation technique fixes only one or two corners of the vaginal apex to the sacrospinous ligament, but it does not support the upper anterior and posterior vaginal fascia. Since it expands the upper part of the vagina with a suture put on the sides of the vaginal apex, it may not only expose the anterior and posterior vaginal walls to greater intraabdominal pressure and cause cystocele and enterocele development, but lead to sexual problems, as well. Apart from this, if sacrospinous colpopexy is performed to one side only, the vaginal apex is deviated towards the fixation, thus spoiling the vaginal anatomy. With our following methods, we imitate the physiological anatomy: Transapical circular Sacrospinous colpopexy (TACSAC) and Transcervical apical circular Sacrospinous uteropexy (TACSU). TACSAC: Bilateral side walls of the vaginal apex are marked with a color pencil 2 cm medially to the right and left ischial spine and 2 cm in length. Vaginal apex walls are bilaterally and vertically incised until the submucosa layer. Two submucosal tunnels are opened by using a right-angle clamp between the tips of two vertical incisions on the vaginal apex. The vaginal apex is fixed with a TOT mesh through these channels. In TACSU, the same procedure is followed for the cervix. These methods are more likely to mimic normal anatomy, easier to perform, and lower risk of complications.

Downloads
Download data is not yet available.
References
Zimmerman CW. Pelvic organ prolapse: Basic principles. In: Rock JA, Jone III HW (eds): Te Linde's Operative Gynecology. Philadelphia: Lippicott Williams and Wilkins. 2008, pp 854-873.
Chen HW, Guess MK, Connell KA, Bercik RS. Ischiorectal abscess and ischiorectal-vaginal fistula as delayed complications of posterior intravaginal slingplasty: a case report. J Reprod Med. 2009 Oct;54(10):645-8.
Strohbehn K, Richter HE. Operative Management of Pelvic Organ Prolapse. In: Gibbs, RS.; Karlan, BY.; Haney, AF.; Nygaard, IE. (eds): Danforth's Obstetrics and Gynecology, 10th Edition. Philadelphia: Lippincott Williams & Wilkins 2008;840-866.
Richter HE, Varner RE. Pelvic Organ Prolapse. In: Berek, JS (eds). Berek & Novak's Gynecology, 14th Edition. Philadelphia: Lippicott Williams and Wilkins. 2007;898-935.
Maher CF, Qatawneh AM, Dwyer PL, Carey MP, Cornish A, Schluter PJ. Abdominal sacral colpopexy or vaginal sacrospinous colpopexy for vaginal vault prolapse: a prospective randomized study. Am J Obstet Gynecol. 2004 Jan;190(1):20-6.
Fatton B, Amblard J, Debodinance P, Cosson M, Jacquetin B. Transvaginal repair of genital prolapse: preliminary results of a new tension-free vaginal mesh(Prolift technique)--a case series multicentric study. Int Urogynecol J Pelvic Floor Dysfunct. 2007 Jul;18(7):743-52.
Gadonneix P, Ercoli A, Scambia G, Villet R. The use of laparoscopic sacrocolpopexy in the management of pelvic organ prolapse. Curr Opin Obstet Gynecol.2005;17:376–380.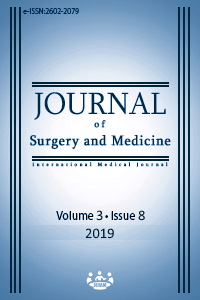 How to Cite
1.
Bıldırcın FD, Özdemir A, Karlı P, Kökçü A. The two new surgical techniques for vaginal cuff prolapse and uterine prolapse. J Surg Med [Internet]. 2019 Aug. 1 [cited 2023 Sep. 25];3(8):619-22. Available from: https://jsurgmed.com/article/view/605975
License
Copyright (c) 2019 Fatma Devran Bıldırcın, Ayşe Özdemir, Pervin Karlı, Arif Kökçü
This work is licensed under a Creative Commons Attribution-NonCommercial-NoDerivatives 4.0 International License.
#6453