Bilateral hydronephrosis subsequent to a giant lymphocele after robotic radical prostatectomy
Keywords:
Hydronephrosis, Lymphocele, Prostate carcinoma, Robotic surgery
Abstract
Lymphocele, one the most common complications after pelvic lymph node dissection, is usually observed between postoperative 2nd-12th months as a subclinical complication. We aimed to present a bilateral hydronephrosis case resulting from a giant lymphocele which developed during the early postoperative period after robot assisted radical prostatectomy (RARP) and pelvic lymph node dissection. Cystography was performed on the 7th postoperative day following RARP and extended lymph node dissection. Due to the left sided deviation of the bladder in cystographic images, non-contrast computed tomography (CT) was obtained, which revealed bilateral hydronephrosis and a giant lymphocele in the right pelvic region. The clinical status improved dramatically after percutaneous catheter drainage of the lymphocele. To the best of our knowledge, this is the first bilateral hydronephrosis case in the literature, which developed due to a giant lymphocele that occurred during the early postoperative period after transperitoneal surgery and had an asymptomatic clinical course despite increased creatinine levels. The findings improved dramatically by percutaneous catheter drainage.

Downloads
Download data is not yet available.
References
Kölükçü E, Beyhan M, Atılgan D. Factors affecting complications of transrectal ultrasound-guided prostate biopsy: A cohort study with 403 patients in a single center. J Surg Med. 2018;3(2):183-6.
Williams SK, Rabbani F. Complications of lymphadenectomy in urologic surgery. Urol Clin North Am. 2011;38(4):507-18.
Carbone JM, Nadler RB, Bullock AD, Basler JW. Delayed infection of a pelvic lymphocele following pelvic lymphadenectomy. Urology. 1996;47(1):140-2.
Ploussard G, Briganti A, de la Taille A, Haese A, Heidenreich A, Menon M, et al. Pelvic lymph node dissection during robot-assisted radical prostatectomy: efficacy, limitations, and complications-a systematic review of the literature. Eur Urol. 2014;65(1):7-16.
Orvieto MA, Coelho RF, Chauhan S, Palmer KJ, Rocco B, Patel VR. Incidence of lymphoceles after robot-assisted pelvic lymph node dissection. BJU Int. 2011;108(7):1185-90.
Keskin MS, Argun ÖB, Öbek C, Tufek I, Tuna MB, Mourmouris P, et al. The incidence and sequela of lymphocele formation after robot-assisted extended pelvic lymph node dissection. BJU Int. 2016;118(1):127-31.
Lee JY, Diaz RR, Cho KS, Yu HS, Chung JS, Ham WS, et al. Lymphocele after extraperitoneal robot-assisted radical prostatectomy: a propensity score-matching study. Int J Urol. 2013;20(12):1169-76.
Davis JW, Shah JB, Achim M. Robot-assisted extended pelvic lymph node dissection at the time of radical prostatectomy: a video-based illustration of technique, results, and unmet patient selection needs. BJU Int. 2011;108(6 Pt 2):993-8.
Briganti A, Chun FK, Salonia A, Suardi N, Gallina A, Da Pozza LF, et al. Complications and other surgical outcomes associated with extended pelvic lymphadenectomy in men with localized prostate cancer. Eur Urol. 2006;50(5):1006-13.
Naselli A, Andreatta R, Introini C, Fontana V, Puppo P. Predictors of symptomatic lymphocele after lymph node excision and radical prostatectomy. Urology. 2010;75(3):630-5.
Karcaaltincaba M, Akhan O. Radiologic imaging and percutaneous treatment of pelvic lymphocele. Eur J Radiol. 2005;55(3):340-54.
WY Khoder, C Gratzke, N Haseke, Herlemann A, Stief CG, Becker AJ. Laparoscopic marsupialisation of pelvic lymphoceles in different anatomic locations following radical prostatectomy. Eur Urol. 2012;62(4):640-8.
Kim HY, Kim JW, Kim SH, Kim YT, Kim JH. An analysis of the risk factors and management of lymphocele after pelvic lymphadenectomy in patients with gynecologic malignancies. Cancer Res Treat. 2004;36(6):377-83.
Zikan M, Fischerova D, Pinkavova I, Slama J, Weinberger V, Dusek L, et al. A prospective study examining the incidence of asymptomatic and symptomatic lymphoceles following lymphadenectomy in patients with gynecological cancer. Gynecol Oncol. 2015;137(2):291-8.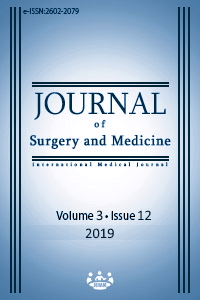 How to Cite
1.
Koç E, Gök B, Kamacı D, Asil E, Atmaca AF. Bilateral hydronephrosis subsequent to a giant lymphocele after robotic radical prostatectomy. J Surg Med [Internet]. 2019 Dec. 3 [cited 2022 Oct. 7];3(12):900-2. Available from: https://jsurgmed.com/article/view/601013
License
Copyright (c) 2019 Erdem Koç, Bahri Gök, Davut Kamacı, Erem Asil, Ali Fuat Atmaca
This work is licensed under a Creative Commons Attribution-NonCommercial-NoDerivatives 4.0 International License.
#6532