Complete scintigraphic resolution of a bone metastasis after androgen-deprivation therapy
Keywords:
Whole body scan, Prostate cancer, Metastasis, Tomography
Abstract
99mTc-methylene diphosphonate (MDP) whole body bone scintigraphy is a frequently used imaging method for the evaluation of the bone metastases of prostate cancer. Nuclear medicine imaging modalities are very valuable in terms of functional assessment and treatment response assessment of the malign lesions that cannot be detected by anatomic imaging methods. However, it is known that some scintigraphic studies may have a relatively limited role in defining resolution and anatomical details of the lesion, compared to some radiological imaging modalities. Androgen-deprivation therapy (ADT) alone is rarely effective for the treatment of bone metastases, on that account combined systemic therapies are often preferred. Here we present a rare case of prostate cancer with radiologically undetectable bone metastasis evident on scintigraphy that has disappeared after 18 months of ADT.

Downloads
Download data is not yet available.
References
Van den Wyngaert T, Strobel K, Kampen WU, Van den Wyngaert T, Strobel K, Kampen WU, et al. The EANM practice guidelines for bone scintigraphy. Eur J Nucl Med Mol Imaging. 2016;43:1723-38.
Bozkurt MF, Dede Z, Burak Z, Ak I, Bekis R, Degirmenci B, et al. Procedure Guideline For Bone Scintigraphy. Turk J Nucl Med. 2001;10:97-102.
Kölükçü E, Beyhan M, Atılgan D. Factors affecting complications of transrectal ultrasound-guided prostate biopsy: A cohort study with 403 patients in a single center. J Surg Med. 2019;3(2):183-6.
Jemal A, Siegel R, Xu J, Ward E. Cancer statistics, 2010. CA Cancer J Clin. 2010;60:277-300.
O'Sullivan JM, Norman AR, Cook GJ, Fisher C, Dearnaley DP. Broadening the criteria for avoiding staging bone scans in prostate cancer: a retrospective study of patients at the Royal Marsden Hospital. BJU Int. 2003;92:685-9.
Huggins C, Hodges CV. Studies on prostatic cancer. I. The effect of castration, of estrogen and of androgen injection on serum phosphatases in metastatic carcinoma of the prostate. Cancer Res. 1941;1:293-7.
Cornford P, Bellmunt J, Bolla M, Briers E, De Santis M, Gross T, et al. EAU-ESTRO-SIOG Guidelines on Prostate Cancer. Part II: Treatment of Relapsing, Metastatic, and Castration-Resistant Prostate Cancer. Eur Urol. 2017;71:630-42.
Mcleod DG, Iversen P, See WA, Morris T, Armstrong J, Wirth MP, et al. Bicalutamide 150 mg plus standard care vs standard care alone for early prostate cancer. BJU International. 2006;97:247-54.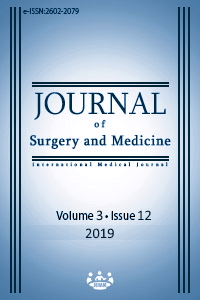 How to Cite
1.
Çayır D, Bozkurt M, Gültekin SS, Turan A. Complete scintigraphic resolution of a bone metastasis after androgen-deprivation therapy. J Surg Med [Internet]. 2019 Dec. 3 [cited 2023 Sep. 26];3(12):898-9. Available from: https://jsurgmed.com/article/view/598062
License
Copyright (c) 2019 Derya Çayır, Mehmet Bozkurt, Salih Sinan Gültekin, Aynur Turan
This work is licensed under a Creative Commons Attribution-NonCommercial-NoDerivatives 4.0 International License.
#6527