Anterior chest wall reconstruction for cutaneous involvement of Hodgkin's lymphoma
Keywords:
Hodgkin lymphoma, Cutaneous, Anterior chest wall, Reconstruction
Abstract
Hodgkin lymphoma with initial thoracic involvement is common and it is more frequently localized in the mediastinum, followed by lung parenchyma and the pleura. However, skin involvement of Hodgkin's lymphoma is extremely rare. We report this case to illustrate a rare and unique presentation of a potentially curable disease, with resistance to standard treatment. Free tissue transfer was used as an adjunct to provide a better quality of life for the patient with Hodgkin lymphoma complicated with extensive anterior chest wall ulceration exposing lung and pericardium.

Downloads
Download data is not yet available.
References
Elder DE, Elenitsas R, Rosenbach M, Murphy GF, Rubin AI, Xu X. Levers Histopathology of the Skin. Wolters Kluwer; 2015
Introcaso CE, Kantor J, Porter DL, Junkins-Hopkins JM. Cutaneous Hodgkins disease. Journal of the American Academy of Dermatology. 2008;58(2):295–8.
Nishiyama N, Inoue K, Nakatani S, Hamba H, Kinoshita H. Malignant lymphoma presenting as a large mass in the anterior chest wall. Osaka City Medical Journal. 2000 Dec;46(2):105-10.
Erkılıç S, Erbağcı Z, Koçer NE, Bayazıt YA, Camcı C. Cutaneous involvement in Hodgkin's lymphoma: report of two cases. The Journal of Dermatology. 2004 Apr;31(4):330-4.
Gobbi PG, Ferreri AJ, Ponzoni M, Levis A. Hodgkin lymphoma. Critical Reviews in Oncology/Hematology. 2013 Feb 1;85(2):216-37.
Hsia CC, Howson-Jan K, Rizkalla KS. Hodgkin lymphoma with cutaneous involvement. Dermatology Online Journal. 2009 May 1;15(5).
Townsend W, Linch D. Hodgkin's lymphoma in adults. The Lancet. 2012 Sep 1;380(9844):836-47.
Rich BS, McEvoy MP, Honeyman JN, La Quaglia MP. Hodgkin lymphoma presenting with chest wall involvement: a case series. Journal of Pediatric Surgery. 2011 Sep 1;46(9):1835-7.
Dhull AK, Soni A, Kaushal V. Hodgkin's lymphoma with cutaneous involvement. BMJ Case Reports. 2012 Nov 29;2012:bcr2012007599.
Losken A, Thourani VH, Carlson GW, Jones GE, Culbertson JH, Miller JI, Mansour KA. A reconstructive algorithm for plastic surgery following extensive chest wall resection. British Journal of Plastic Surgery. 2004 Jun 1;57(4):295-302.
Cohen M, Ramasastry SS. Reconstruction of complex chest wall defects. The American Journal of Surgery. 1996 Jul 1;172(1):35-40.
Skoracki RJ, Chang DW. Reconstruction of the chest wall and thorax. Journal of Surgical Oncology. 2006 Nov 1;94(6):455-65.
de Claro RA, McGinn K, Kwitkowski V, Bullock J, Khandelwal A, Habtemariam B, et al. US Food and Drug Administration approval summary: brentuximab vedotin for the treatment of relapsed Hodgkin lymphoma or relapsed systemic anaplastic large-cell lymphoma. Clinical Cancer Research. 2012 Nov 1;18(21):5845-9.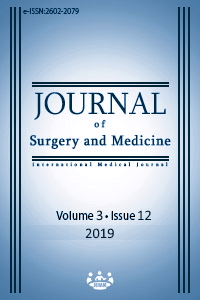 How to Cite
1.
Ishak A, Mat Saad AZ, Wan Sulaiman WA, Husin A, Halim AS. Anterior chest wall reconstruction for cutaneous involvement of Hodgkin's lymphoma. J Surg Med [Internet]. 2019 Dec. 3 [cited 2023 Dec. 2];3(12):888-90. Available from: https://jsurgmed.com/article/view/592917
License
Copyright (c) 2019 Ariffuddin Ishak, Arman Zaharil Mat Saad, Wan Azman Wan Sulaiman, Azlan Husin, Ahmad Sukari Halim
This work is licensed under a Creative Commons Attribution-NonCommercial-NoDerivatives 4.0 International License.
#6524