Congenital isolated asplenia accidentally discovered during acute peritonitis
Keywords:
Congenital isolated asplenia, Adult peritonitis
Abstract
An extremely rare condition, congenital asplenia has 2 distinct types: heterotaxy syndromes and isolated congenital asplenia (ICA). Ivemark syndrome is one of the heterotaxy syndromes characterized by asplenia, malformations of the heart, and malposition of internal organs in the chest and abdomen. ICA cases are also fatal in childhood, but there are reported living adult cases. Those affected are typically at increased risk for fulminant sepsis and carry a higher risk of noninfectious complications, such as thrombocytosis and mesenteric thrombosis. We herein report the unusual case of a patient with congenital asplenia, which was discovered fortuitously during an emergency laparotomy for peritonitis due to ulcer perforation.

Downloads
Download data is not yet available.
References
Ahmed SA, Zengeya S, Kini U, Pollard AJ. Familial isolated congenital asplenia: Case report and literature review. Eur J Pediatr. 2010;169(3):315–8.
Arnautovic JZ, Mazhar A, Tereziu S, Gupta K. A Rare Association of Congenital Asplenia with Jejunal Arteriovenous Malformation. The American Journal of Case reports. 2017;18:1118.
Gilbert B, Menetrey C, Belin V, Brosset P, de Lumley L, Fisher A. Familial isolated congenital asplenia: a rare, frequently hereditary dominant condition, often detected too late as a cause of overwhelming pneumococcal sepsis. Report of a new case and review of 31 others. Eur J Pediatr. 2002;161:368–72.
Schutze GE, Mason EO, Jr Barson WJ, Kim KS, Wald ER, Givner LB, et al. Invasive pneumococcal infections in children with asplenia. Pediatr Infect Dis J. 2002;21:278–82.
Halbertsma FJJ, Neeleman C, Weemaes CM, Van Deuren, M. The absent and vanishing spleen: congenital asplenia and hyposplenism—two case reports. Acta Paediatrica. 2005;94(3):369-71.
Mahlaoui N, Minard-Colin V, Picard C, et al. Isolated congenital asplenia: A French nationwide retrospective survey of 20 cases. J Pediatr. 2011;158(1):142–8.
Bolze A, Mahlaoui N, Byun M et al. Ribosomal protein SA haploinsufficiency in humans with isolated congenital asplenia. Science. 2013;340:976–8.
Ferlicot S, Emile JF, Le Bris JL, et al. L'asplenie congenitale: Un deficit im- munitaire de l'enfant de decouverte souvent trop tardive. Ann Path. 1997;17:44–6.
Gonzalez M, Collaud S, Gervaz P, Morel, P. Asplenie congenitale (syndrome d'Ivemark) revelee par une thrombose veineuse mesenterique chez un malade de 77 ans. Gastroenterologie Clinique et Biologique. 2007;31(10):860-2.
Ferlicot S, Emile JF, Le Bris JL, Cheron G, Brousse N. Congenital asplenia. A childhood immune deficit often detected too late. Ann Pathol. 1997;17:44-6.
Myerson RM, Koelle WA: Congenital absence of the spleen in an adult: Report of a case associated with recurrent Waterhouse-Friderichsen syndrome. N Engl J Med. 1956;254(24):1131-2.
Vincentelli C, Molina EG, Robinson MJ. Fatal pneumococcal Waterhouse- Friderichsen syndrome in a vaccinated adult with congenital asplenia. Am J Emerg Med. 2009;27(751):e3–5.
Rose C, Quesnel B, Facon T, et al. Congenital asplenia, a different dignosis of essential thrombocythemia. Presse Med. 1993;22(34):1748.
Lindor NM, Smithson WA, Ahumada CA et al: Asplenia in two father-son pairs. Am J Med Genet, 1995; 56(1):10-1.
Takahashi F, Uchida K, Nagaoka T, et al. Isolated congenital spleen agenesis: A rare cause of chronic thromboembolic pulmonary hypertension in an adult. Respirology. 2008; 13:913-5.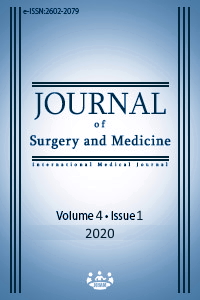 How to Cite
1.
Abdelouhab E, Azız K, Ouzzanı E-T, Zerhounı A, Souıkı T, Ibn Majdoub El Hassanı K, Mazaz K, Toughraı I. Congenital isolated asplenia accidentally discovered during acute peritonitis. J Surg Med [Internet]. 2020 Jan. 2 [cited 2023 Dec. 2];4(1):93-5. Available from: https://jsurgmed.com/article/view/588198
License
Copyright (c) 2020 Elmarouni Abdelouhab, Karam Azız, Et-Tayeb Ouzzanı, Ahmed Zerhounı, Tarik Souıkı, Karim Ibn Majdoub El Hassanı, Khalid Mazaz, Imane Toughraı
This work is licensed under a Creative Commons Attribution-NonCommercial-NoDerivatives 4.0 International License.
#6550