Effects of the stone density on the outcome of percutaneous nephrolithotomy in pediatric population
Keywords:
Hounsfield unit, Kidney stone, Percutaneous nephrolithotomy, Pediatrics
Abstract
Aim: The measurement of the stone densities of urinary system calculi in Hounsfield units (HU) using non-contrast computed tomography (NCCT) provides information regarding the composition and hardness of the stones. This study aims to evaluate the effects of stone HU values on the percutaneous nephrolithotomy (PCNL) outcomes in pediatric stone disease patients. 
Methods: In this retrospective cohort study, the records of 57 pediatric patients, who had undergone PCNL between 2010 January and 2018 May, were evaluated. Demographic data, stone characteristics, peroperative changes, outcomes, and complications were obtained from patient records. The patients were divided into two groups based on their HU values: the low HU group (HU ≤1000) and the high HU group (HU >1000). 
Results: A total of 61 PCNL operations were performed on 57 pediatric patients. Overall median stone size was 420 mm2 – 475 mm2 (78-2475) and simple/complex stone rate was (52.4%) / 29 (47.5%). A total of 38 patients were examined using NCCT prior to the operation. Twenty-two of the patients had an HU value ≤1000, whereas 16 had an HU value>1000. There were no statistically significant differences between the low and the high HU groups in terms of the duration of procedure, fluoroscopy time, success rates, and complications.
Conclusion: PCNL surgery is an effective method for the treatment of large and complex stones in the pediatric population. We determined that in pediatric patients who were evaluated using NCCT prior to PCNL the stone HU values of did not influence PCNL success.
Downloads
Download data is not yet available.
References
Muslumanoglu AY, Binbay M, Yuruk E, Akman T, Tepeler A, Esen T, et al. Updated epidemiologic study of urolithiasis in Turkey. I: changing characteristics of urolithiasis. Urol Res. 2011 Aug;39(4):309-14. doi: 10.1007/s00240-010-0346-6.
Newman DM, Coury T, Lingeman JE, Mertz JH, Mosbaugh PG, Steele RE, et al.Extracorporeal shock wave lithotripsy experience in children. J Urol. 1986 Jul;136(1 Pt 2):238-40.
Radmayr C, Bogaert G, Dogan HS, Kocˇvara R, Nijman JM, Stein R, et al. Guidelines on paediatric urology. European Association of Urology 2018. Available at http://uroweb. org/guideline/paediatric-urology. Accessed December 10, 2018.
Mahmud M, Zaidi Z. Percutaneous nephrolithotomy in children before school age: experience of a Pakistani centre. BJU Int. 2004 Dec;94(9):1352-4.
Nouralizadeh A, Basiri A, Javaherforooshzadeh A, Soltani MH, Tajali F. Experience of percutaneous nephrolithotomy using adult-size instruments in children less than 5 years old. J Pediatr Urol. 2009 Oct;5(5):351-4. doi: 10.1016/j.jpurol.2008.12.009.
Patel SR, Haleblian G, Zabbo A, Pareek G. Hounsfield units on computed tomography predict calcium stone subtype composition. Urol Int. 2009;83(2):175-80. doi: 10.1159/000230020.
Joseph P, Mandal AK, Singh SK, Mandal P, Sankhwar SN, Sharma SK. Computerized tomography attenuation value of renal calculus: can it predict successful fragmentation of the calculus by extracorporeal shock wave lithotripsy? J Urol. 2002 May;167(5):1968-71.
Gupta NP, Ansari MS, Kesarvani P, Kapoor A, Mukhopadhyay S. Role of computedtomography with no contrast medium enhancement in predicting the outcome of extracorporeal shockwave lithotripsy for urinary calculi. BJU Int. 2005 Jun;95(9):1285-8.
El-Assmy A, El-Nahas AR, Harraz AM, El Demerdash Y, Elsaadany MM, El-Halwagy S, et al. Clinically Insignificant Residual Fragments: Is It an Appropriate Term in Children? Urology. 2015 Sep;86(3):593-8. doi: 10.1016/j.urology.2015.06.017.
McAdams S, Kim N, Dajusta D, Monga M, Ravish IR, Nerli R, et al. Preoperative Stone attenuation value predicts success after shock wave lithotripsy in children. J Urol. 2010 Oct;184(4 Suppl):1804-9. doi: 10.1016/j.juro.2010.03.112.
Ito H, Kawahara T, Terao H, Ogawa T, Yao M, Kubota Y, et al. Predictive value ofattenuation coefficients measured as Hounsfield units on noncontrast computed tomography during flexible ureteroscopy with holmium laser lithotripsy: a single-center experience. J Endourol. 2012 Sep;26(9):1125-30. doi: 10.1089/end.2012.0154.
Gücük A, Uyetürk U, Oztürk U, Kemahli E, Yildiz M, Metin A. Does the Hounsfield unit Value determined by computed tomography predict the outcome of percutaneous nephrolithotomy? J Endourol. 2012 Jul;26(7):792-6. doi: 10.1089/end.2011.0518.
Gok A, Polat H, Cift A, Yucel MO, Gok B, Sirik M, et al. The hounsfield unit valuecalculated with the aid of non-contrast computed tomography and its effect on the outcome of percutaneous nephrolithotomy. Urolithiasis. 2015 Jun;43(3):277-81. doi: 10.1007/s00240-015-0766-4.
Nguyen HT, Herndon CD, Cooper C, Gatti J, Kirsch A, Kokorowski P et al. The Society for Fetal Urology consensus statement on the evaluation and management of antenatal hydronephrosis. J Pediatr Urol. 2010 Jun;6(3):212-31. doi: 10.1016/j.jpurol.2010.02.205.
Tefekli A, Ali Karadag M, Tepeler K, Sari E, Berberoglu Y, Baykal M, et al. Classification of percutaneous nephrolithotomy complications using the modified Clavien grading system: looking for a standard. Eur Urol. 2008 Jan;53(1):184-90.
Lao M, Kogan BA, White MD, Feustel PJ. High recurrence rate at 5-year followup in children after upper urinary tract stone surgery. J Urol. 2014 Feb;191(2):440-4. doi: 10.1016/j.juro.2013.09.021.
Demirkesen O, Tansu N, Yaycıoglu O, Onal B, Yalcin V, Solok V. Extracorporeal shockwave lithotripsy in the pediatric population. J Endourol. 1999 Apr;13(3):147-50.
Nazli O, Cal C, Ozyurt C, Gunaydin G, Cureklibatur I, Avcieri V, et al. Results of extracorporeal shock wave lithotripsy in the pediatric age group. Eur Urol. 1998;33(3):333-6.
Ozden E, Sahin A, Tan B, Doğan HS, Eren MT, Tekgül S. Percutaneous renal surgery in children with complex stones. J Pediatr Urol. 2008 Aug;4(4):295-8. doi: 10.1016/j.jpurol.2008.01.212.
Desai MR, Kukreja RA, Patel SH, Pabat SD. Percutaneous nephrolithotomy for complex pediatric renal calculus disease. J Endourol. 2004 Feb;18(1):23-7.
Zeren S, Satar N, Bayazit Y, Bayazit AK, Payasli K, Ozkeceli R. Percutaneous nephrolithotomy in the management of pediatric renal calculi. J Endourol. 2002 Mar;16(2):75-8.
Çakıcı MC, Sarı S, Özok H, Karakoyunlu N, Hepşen E, Sağnak, et al. Comparison of Retrograde Intrarenal Surgery and Percutaneous Nephrolithotomy in the Treatment of 2-3 cm Multi Calyceal Kidney Stones. Journal of Urological Surgery, 2018;5(4):143-148. doi: 10.4274/jus.1993.
Woodside JR, Stevens GF, Stark GL, Borden TA, Ball WS. Percutaneous stone removal in children. J Urol. 1985 Dec;134(6):1166-7.
Thiruchelvam N, Mostafid H, Ubhayakar G. Planning percutaneous nephrolithotomy using multidetector computed tomography urography, multiplanar reconstruction and three- dimensional reformatting. BJU Int. 2005 Jun;95(9):1280-4.
Gedik A, Tutus A, Kayan D, Yılmaz Y, Bircan K. Percutaneous nephrolithotomy in pediatric patients: is computerized tomography a must? Urol Res. 2011 Feb;39(1):45-9. doi: 10.1007/s00240-010-0272-7.
Jackman SV, Hedican SP, Peters CA, Docimo SG. Percutaneous nephrolithotomy in infants and preschool age children: experience with a new technique. Urology. 1998 Oct;52(4):697-701.
Dede O, Sancaktutar AA, Dağguli M, Utangaç M, Baş O, Penbegul N. Ultra-mini- percutaneous nephrolithotomy in pediatric nephrolithiasis: Both low pressure and high efficiency. J Pediatr Urol. 2015 Oct;11(5):253.e1-6. doi: 10.1016/j.jpurol.2015.03.012.
Celik H, Camtosun A, Altintas R, Tasdemir C. Percutaneous nephrolithotomy in children with pediatric and adult-sized instruments. J Pediatr Urol. 2016 Dec;12(6):399.e1-399.e5. doi: 10.1016/j.jpurol.2016.04.053.
Choong S, Whitfield H, Duffy P, Kellett M, Cuckow P, Van't Hoff W, et al. The management of paediatric urolithiasis. BJU Int. 2000 Nov;86(7):857-60.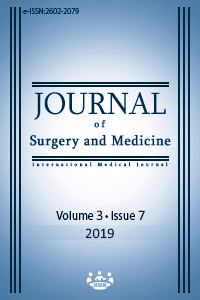 How to Cite
1.
Kısa E, Uçar M, Yücel C, Süelözgen T, İlbey Y Özlem. Effects of the stone density on the outcome of percutaneous nephrolithotomy in pediatric population. J Surg Med [Internet]. 2019 Jul. 29 [cited 2023 Sep. 26];3(7):498-502. Available from: https://jsurgmed.com/article/view/587965
License
Copyright (c) 2019 Erdem Kısa, Murat Uçar, Cem Yücel, Tufan Süelözgen, Yusuf Özlem İlbey
This work is licensed under a Creative Commons Attribution-NonCommercial-NoDerivatives 4.0 International License.
#6436