Spontaneous splenic hematoma due to anticoagulant treatment: A case report
Keywords:
Spleen, Oral anticoagulant, Non-traumatic spleen hematoma
Abstract
Splenic injury is mostly associated with trauma, but spontaneous splenic injury has been associated in various systemic diseases. A 46-year-old male patient was admitted to the emergency department with epigastric pain and tenderness in the left upper quadrant. There was no history of trauma, but he was using oral anticoagulant treatment. Contrast-enhanced computed tomography imaging revealed a subcapsular hematoma of the spleen. Oral anticoagulation was antagonized with vitamin K and the patient was discharged in good condition after 3 days of clinical observation. Non-traumatic splenic rupture is a rare complication of oral anticoagulation.
Downloads
Download data is not yet available.
References
Vallabhaneni S, Scott H, Carter J, Treseler P, Machtinger EL. Atraumatic splenic rupture: an unusual manifestation of acute HIV infection. AIDS Patient Care STDS. 2011;25:461-4.
Orloff MJ, Peskin GW. Spontaneous rupture of the normal spleen, a surgical enigma. Int Abstr Surg. 1958;106:1-11.
Renzulli P, Hostettler A, Schoepfer AM, Gloor B, Candinas D. Systematic review of atraumatic splenic rupture. Br J Surg. 2009;96:1114-21.
Gedik E, Girgin S, Aldemir M, Keles C, Tuncer MC, Aktas A. Non-traumatic splenic rupture: report of seven cases and review of the literature. World J Gastroenterol. 2008;14:6711-6.
Ozsoy MF, Oncul O, Pekkafali Z, Pahsa A, Yenen OS. Splenic complications in malaria: report of two cases from Turkey. J Med Microbiol. 2004;53:1255-8.
Jimenez BC, Navarro M, Huerga H, Lopez-Velez R. Spontaneous splenic rupture due to Plasmodium vivax in a traveler: case report and review. J Travel Med. 2007;14:188-91.
Çelikbaş AK, Ergönül Ö, Baykam N, Eren Ş, Güven T, Dokuzoguz B. Türkiye'de sıtma ve 14 yıllık klinik deneyimimiz. Mikrobiyoloji Bülteni. 2006:40:237-43.
Toubia NT, Tawk MM, Potts RM, Kinasewitz GT. Cough and spontaneous rupture of a normal spleen. Chest. 2005;128:1884-6.
Çalışkan YK, Kınacı E, Dinçel O, Kaygusuz A. Case Report: Nontravmatic Spontaneus Splenic Rupture. IMJ 2007;8(2):27-9.
Topçu A, Başak F. Splenic trauma in a patient with portal hypertension and splenomegaly: A case report. J Surg Med. 2017;1(2):38-9.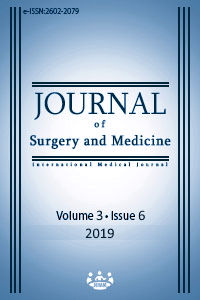 How to Cite
1.
Çalışkan YK, Karakullukcu HK, Ülgür H Şeyda, Temiz B, Özsezen OS, Başak F. Spontaneous splenic hematoma due to anticoagulant treatment: A case report. J Surg Med [Internet]. 2019 Jun. 28 [cited 2023 Nov. 29];3(6):462-3. Available from: https://jsurgmed.com/article/view/581653
License
Copyright (c) 2019 Yahya Kemal Çalışkan, Haluk Kerim Karakullukcu, Hanife Şeyda Ülgür, Büşra Temiz, Osman Sinan Özsezen, Fatih Başak
This work is licensed under a Creative Commons Attribution-NonCommercial-NoDerivatives 4.0 International License.
#6419