Laparoscopic cholecystectomy in left-sided gallbladder detected during operation
Keywords:
Gallbladder, Variation, Laparoscopic cholecystectomy
Abstract
The case where the gallbladder was located on the lower face of the left lateral segment of the liver was defined as a left-sided gallbladder. It is a rare hereditary anomaly and can be seen with the right-sided ligamentum teres. Vascular and biliary anomalies can be seen in the cases of placement anomaly. Full dissection of the calot's triangle applied as a standard in laparoscopic cholecystectomy is important for the safety of the cases in anomaly cases. In this study, we aimed to present a laparoscopic cholecystectomy performed in a case of a left-sided gallbladder detected during surgery.
Downloads
Download data is not yet available.
References
Idu M, Jakimowicz J, Iuppa A, Cuschieri A. Hepatobiliary anatomy in patients with transposition of the gallbladder: implications for safe laparoscopic cholecystectomy. Br J Surg. 1996;83:1442-3.
Nagai M, Kubota K, Kawasaki S, Takayama T, Bandai Y, Makuuchi M. Are left-sided gallbladders really located on the left side? Ann Surg. 1997;225:274-80.
Maetani Y, Itoh K, Kojima N, et al. Portal vein anomaly associated with deviation of the ligamentum teres to the right and malposition of the gallbladder. Radiology. 1998;207:723-8.
Hsu SL, Chen TY, Huang TL, et al. Left-sided gallbladder: its clinical significance and imaging presentations. World J Gastroenterol. 2007;13:6404-9.
Wong LS, Rusby J, Ismail T. Left-sided Gall Bladder: A Diagnostic and Surgical Challenge. ANZ J Surg. 2001;71:557–8.
Kubo S, Lee S, Yamamoto T, Edagawa A, Kinoshita H. Left-sided Gallbladder Associated with Anomalous Branching of the Portal Vein Detected by Sonography. J Osaka Cty Med Cntr. 2000;46:95-8.
Matsumura N, Tokumura H, Yasumoto A, et al. Laparoscopic cholecystectomy and common bile duct exploration for cholecystocholedocholithiasis with a left-sided gallbladder: report of a case. Surg Today. 2009;39:252e255.
Hasbahceci M, Erol C, Seker M, Basak F, Alimoglu O. Standard laparoscopic cholecystectomy for malposition of the gallbladder caused by right-sided ligamentum teres. J Minim Access Surg. 2013 Oct;9(4):177-9.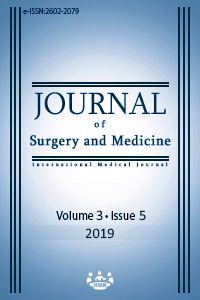 How to Cite
1.
Çalışkan YK, Başak F, Şişik A. Laparoscopic cholecystectomy in left-sided gallbladder detected during operation. J Surg Med [Internet]. 2019 May 28 [cited 2023 Nov. 29];3(5):419-20. Available from: https://jsurgmed.com/article/view/570899
License
Copyright (c) 2019 Yahya Kemal Çalışkan, Fatih Başak, Abdullah Şişik
This work is licensed under a Creative Commons Attribution-NonCommercial-NoDerivatives 4.0 International License.
#6407