Risk factors for nasal septal perforation after septoplasty operation
Keywords:
Nasal septal perforation, Septoplasty, Suturation, Smoking
Abstract
Aim: Nasal septal perforation is the most common complication in the long term after septoplasty. Nasal septal perforation is the partial opening of the wall between both nasal cavities. In this study, we will evaluate the causes of septal perforation after septoplasty.
Methods: 400 patients aged between 18 and 50 years who underwent septoplasty operation in Otorhinolaryngology clinic between 2016 and 2019 were evaluated. The study was performed as a retrospective cohort. These patients were divided into groups with and without perforation. Patients with perforation were evaluated in terms of age, gender, alcohol and cigarette use, and stabilization technique used in surgery.
Results: There were 280 male and 120 female patients in the study. 378 patients had no postoperative septal perforation. 22 had perforation after surgery. 19 of the patients in the perforated group were male and 3 were female. Male sex ratio was significantly dominant in perforated patients (19/3) (P=0.022). 21 of the patients were smoking and 1 patient was not drinking. (P=0.012). 11 of these patients were drinking alcohol and 10 of them did not drink alcohol. To stabilize the septum in patients with perforation while transseptal suturation + nasal splint was used in 14 patients, only nasal splint was used in 8 patients. The perforation rate after surgery was 22/400 (1.3%) (21/1) (P=0.012). There was no significant difference in the perforation rate among the patients with alcohol intake (P=0.082). There was significant difference between the methods used to stabilize the septum. The rate of perforation was significantly increased in patients who underwent transseptal suturation (P=0.023). 
Conclusion: Patients with perforation after septoplasty were found to increase the risk of perforation by male sex, smoking and surgical technique as transseptal suturing technique.
Downloads
Download data is not yet available.
References
Pereira C, Santamaría A, Langdon C, López-Chacón M, Hernández-Rodríguez J, Alobid I. Nasoseptal Perforation: from Etiology to Treatment. Curr Allergy Asthma Rep. 2018 Feb 5;18(1):5.
Lanier B, Kai G, Marple B, Wall GM. Pathophysiology and progression of nasal septal perforation. Ann Allergy Asthma Immunol. 2007;99(6):473-80.
Tastan E, Aydogan F, Aydin E, et al. Inferior turbinate composite graft for repair of nasal septal perforation. Am J Rhinol Allergy. 2012;26:237-42.
Kaya E, Cingi C, Olgun Y, et al. Three layer interlocking: a novel technique for repairing a nasal septum perforation. Ann Otol Rhinol Laryngol. 2015;124:212-5.
Cassano M. Endoscopic repair of nasal septal perforation. Acta Otorhinolaryngol Ital. 2017;37(6):486.
Lumsden A, Shakeel M, Ah-See KL, Supriya M, Ah-See KW, Ram B. Management of Nasal Septal Perforation: Grampian Experience. Austin J Otolaryngol. 2015;2(4):1041.
Sapmaz E, Toplu Y, Somuk BT. A new classification for septal perforation and effects of treatment methods on quality of life. Braz J Otorhinolaryngol. 2018. Doi: 10.1016/j.bjorl.2018.06.003
Kridel, Russell WH. Considerations in the etiology, treatment, and repair of septal perforations. Facial Plast Surg Clin North Am. 2004;12(4):435-50.
Ribeiro JS, Silva GS. Technical advances in the correction of septal perforation associated with closed rhinoplasty. Arch Facial Plast Surg. 2007;9:321–7.
Re M, Paolucci L, Romeo R, Mallardi V. Surgical treatment of nasal septal perforations. Our experience. Acta Otorhinolaryngol Ital 2006;26:102-9.
Bohluli B, et al. Management of perforations of the nasal septum: can extracorporeal septoplasty be an effective option?. J Oral Maxillofac Surg. 2014;72(2):391-5.
Ozdemir S, Celik H, Cengiz C, Zeybek ND, Bahador E, Aslan N. Histopathological effects of septoplasty techniques on nasal septum mucosa: an experimental study. Eur Arch Otorhinolaryngol. 2019;276(2):421-7.
Yazici ZM, Sayin I, Erdim I, Gunes S, Kayhan FT. The effect of tobacco smoking on septoplasty outcomes: a prospective controlled study. Hippokratia. 2015;19(3):219.
Cetiner, H., Cavusoglu, I., Duzer, S.The effect of smoking on perforation development and healing after septoplasty. American journal of Rhinology & Allergy. 2017;31(1):63-5.
Dadgarnia M, Meybodian M, Karbasi A, Baradaranfar M, Atighechi S, Zand V, Vaziribozorg S. Comparing nasal packing with trans-septal suturing following septoplasty: a randomized clinical trial. Eur Arch Otorhinolaryngol. 2017 Sep;274(9):3513-8.
Kayahan B, Ozer S, Suslu AE, Ogretmenoglu O, Onerci M. The comparison of the quality of life and intranasal edema between the patients with or without nasal packing after septoplasty. Eur Arch Otorhinolaryngol. 2017;274(3):1551-5.
Deniz M, Çiftçi Z, Işık A, Demirel OB, Gültekin E. The impact of different nasal packings on postoperative complications. Am J Otolaryngol. 2014;35(5):554-7.
Chen, PG, Floreani S, Wormald PJ. The utility of enlarging symptomatic nasal septal perforations. Ear Nose Throat J. 2018;97(3):E41-3.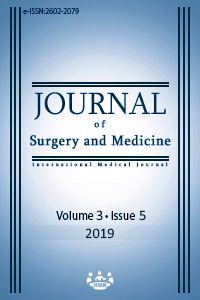 How to Cite
1.
Yıldız E, Ulu Şahin, Kahveci OK. Risk factors for nasal septal perforation after septoplasty operation. J Surg Med [Internet]. 2019 May 28 [cited 2023 Dec. 11];3(5):390-2. Available from: https://jsurgmed.com/article/view/567210
License
Copyright (c) 2019 Erkan Yıldız, Şahin Ulu, Orhan Kemal Kahveci
This work is licensed under a Creative Commons Attribution-NonCommercial-NoDerivatives 4.0 International License.
#6414