Extraovarian granulosa cell tumor: A case report
Keywords:
Extraovarian, Granulosa cell tumor, Histological diagnosis
Abstract
Granulosa cell tumor (GCT) of the ovary is a rare tumor representing 2 to 5% of all ovarian neoplasms. It can reproduce or metastasize several years after the initial treatment. In rare cases, CGT can develop on an extra-ovarian site, which is thought to originate from ectopic gonadal tissue along the embryonic genital ridge. We herein present a case of extraovarian granulosa tumor, the clinical and therapeutic aspects, and our approach.

Downloads
Download data is not yet available.
References
Schumer ST, Cannistra SA. Granulosa cell tumour of the ovary. J Clin Oncol. 2003;21:1180-9.
Serov SF, Scully RE, Sobin LH: International Histological Classification of Tumours, No. 9. Histological Typing of Ovarian Tumors. Geneva, World Health Organization, 1973
Kim SH, Park HJ, Linton JA, Shin DH, Yang WI, Chung WY, et al. Extraovarian granulosa cell tumour. Yonsei Med J. 2001;42:360-3.
Cronjι HS, Niemand I, Bam RH, Woodruff JD. Review of the ¬granulosa-theca cell tumors from the emil Novak ovarian tumor registry. Am J Obstet Gynecol. 1999;180:323-7.
Reddy DB, Rao DB, Sarojini JS. Extraovarian granulosa cell tumour. J Indian Med Assoc. 1963;41:254-7.
Sakai Y. Granulosa cell tumor arising in the wall of müllerian cyst of the broad ligament: Report of a case and immunohistochemical study. Arch Gynecol Obstet. 2007;275:145-8.
Motta PM, Makabe S. Germ cells in the ovarian surface during fetal development in humans. J Submicrosc Cytol 1986;18:271-90.
Lal A, Bourtsos EP, Nayar R, DeFrias DV. Cytologic features of granulosa cell tumours in fluids and fine needle aspiration specimens. Acta Cytol. 2004;48:315-20.
Stenwig JT, Hazekamp JT, Beecham JB. Granulosa cell tumours of the ovary: A clinico-pathological study of 118 cases with long term follow-up. Gynecol Oncol. 1979;7:136-52.
Lappφhn RE, Burger HG, Bouma J, Bangah M, Krans M, de Bruijn HW. Inhibin as a marker for granulosa-cell tumors. N Engl J Med. 1989;321:790-3.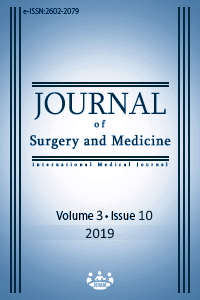 How to Cite
1.
El Marouni A, Aziz K, Toghrai İmane, Mazaz K, Ibn Majdoub K. Extraovarian granulosa cell tumor: A case report. J Surg Med [Internet]. 2019 Oct. 1 [cited 2023 Mar. 31];3(10):772-3. Available from: https://jsurgmed.com/article/view/560112
License
Copyright (c) 2019 Abdelouhab El Marouni, Karam Aziz, İmane Toghrai, Khalid Mazaz, Karim Ibn Majdoub
This work is licensed under a Creative Commons Attribution-NonCommercial-NoDerivatives 4.0 International License.
#6495