A different perspective on the correlation between histopathological type and PET-CT SUVmax in non-small cell lung cancer: A retrospective cohort study
Keywords:
Lung cancer, PET-CT, Radiopharmaceuticals
Abstract
Aim: In recent years, alternative therapies targeting directly cancer cells and targeted agents have been developed. The aim of this study is to develop a new perspective on alternative therapies on local targets, as identify the correlation between positron emission tomography-computed tomography (PET-CT) SUVmax and histological type of the tumor in non-small cell lung cancers. 
Methods: This study is based on the retrospective examination of patients who underwent PET-CT for preoperative staging with non-small cell lung cancer between January 2012 and May 2015. Statistical analyses are made between SUVmax values and histopathological types.
Results: The study is including 448 patients who underwent surgery for non-small cell lung cancer. The average size of the mass was 4.5 cm and the average SUVmax value was calculated as 13.3. The patients were classified into five groups according to their histopathological diagnosis. PET-CT fluorodeoxyglucose (FDG) involvement has been classified for different histopathological types. Statistically significant correlation was identified between the tumor size and histopathological diagnosis. It was found that the difference between SUVmax values of the adenocarcinoma tumors and other types are found statistically significant. SUVmax values have been found mostly between 5-10 in patients with adenocarcinoma and 10-15 in others.
Conclusion: Considering that there are statistically significant differences between PET-CT SUVmax values of tumor cell types, we argue that radiopharmaceuticals which could provide different and local treatment should be used in cancer treatment, they should be combined with alternative therapies such as loco-regional treatment methods, and the studies in that direction should continue in line with the technological developments.
Downloads
Download data is not yet available.
References
Shields TW. Carcinoma of the lung. Shields TW; General Thoracic Surgery. Lippincott, Williams and Wilkins.2000 fifth edition. P1215-1442.
Pearson FG. Lung Cancer. Pearson FG; Thoracic Surgery. Churchill Livingstone. 2002 second edition. P 772-924.
Jemal A, Thomas A, Murray T, Thun. Cancer statistics 2002. CA Cancer J Clin. 2002;52(1):23-47.
Hendriks JM, Van Putte BP, Grootenboers M, Van Boven WJ, Schramel F, Van Schil PE. Isolated lung perfusion for pulmonary metastases. Thorac Surg Clin. 2006;16(2):185-98.
Ranney DF. Drug targeting to the lungs. Biochem Pharmacol. 1986;35(7):1063-9.
Lardinois D, Weder W, Hany TF, Kamel EM, Korom S, Seifert B, et al. Staging of non-small cell lung cancer with integrated positron-emission tomography and computed tomography. N Engl J Med. 2003;348(25):2500-7.
Meller J, Sahlmann CO, Scheel AK. 18F-FDG PET and PET/CT in fever of unknown origin. J Nucl Med. 2007;48(1):3545.
Arslan N. Onkolojik PET çalışmaları. PET El Kitabı. 2008;12-18.
Den Hengst WA,Van Putte BP, Hendriks JM, Stockman B, Van Boven WJ, Weyler J, et al. Long-term survival of a phase I clinical trial of isolated lung perfusion with melphalan for resectable lung metastases. Eur J Cardiothorac Surg. 2010;38(5):621-7.
Brown RS, Leung JY, Kison PV, Zasadny KR, Flint A, Wahl RL. Glucose transporters and FDG uptake in untreated primary human non-small cell lung cancer. J Nucl Med. 1999;40(4):556-65.
Aquino SL, Halpern EF, Kuester LB, Fischman AJ. FDG-PET and CT features of non-small cell lung cancer based on tumor type. Int J Mol Med. 2007;19(3):495- 9.
Eschmann SM, Friedel G, Paulsen F, Reimold M, Hehr T, Budach W et al. Is standardised (18)F-FDG uptake value an outcome predictor in patients with stage III non-small cell lung cancer? Eur J Nucl Med Mol Imaging. 2006;33(3):263-9.
Yalcınkaya E, Anar C, Yavuz YM, Unsal I, Guldaval F, Kocakuşak D, et al. Prognostic Importance of SUVmax Value in PET/CT and Correlation SUVmax Value Between Lymph Node, Distant Metastasis in Non-Small Cell Lung Cancer. Izmir Gogus Hastanesi Dergisi. 2015;24(3):127-37.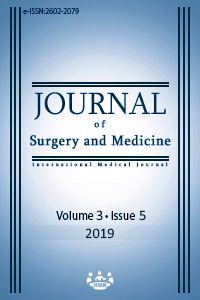 How to Cite
1.
Yıldız Özgur Ömer, Aytekin Çelik İlknur. A different perspective on the correlation between histopathological type and PET-CT SUVmax in non-small cell lung cancer: A retrospective cohort study. J Surg Med [Internet]. 2019 May 28 [cited 2023 Dec. 2];3(5):357-60. Available from: https://jsurgmed.com/article/view/558971
License
Copyright (c) 2019 Özgur Ömer Yıldız, İlknur Aytekin Çelik
This work is licensed under a Creative Commons Attribution-NonCommercial-NoDerivatives 4.0 International License.
#6398