The management of clinically early ovarian cancer patients who have not undergone staging surgery
Keywords:
Staging surgery, Chemotherapy, Ovarian carcinoma, Observation, Incomplete surgery
Abstract
Four-thirds of patients with epithelial ovarian cancer are diagnosed at an advanced stage, and the main choice of treatment is primary cytoreductive surgery followed by adjuvant platinum-based chemotherapy, or interval surgery after neoadjuvant chemotherapy in patients who are not eligible for optimal cytoreductive surgery. In patients with disease clinically confined to the ovary, The International Federation of Gynecology and Obstetrics (FIGO) recommends comprehensive staging to detect the real stage of the disease, but some these patients do not undergo staging during operation. Retrospective studies in the literature report that re-operation, adjuvant chemotherapy without re-operation or observation are some of the management options during the postoperative period for patients with clinically early stage disease. In this article, the management of these patients was reviewed in light of the current literature.

Downloads
Download data is not yet available.
References
Ferlay J, Soerjomataram I, Dikshit R, Eser S, Mathers C, Rebelo M, et al. Cancer incidence and mortality worldwide: Sources, methods and major patterns in GLOBOCAN 2012. Int J Cancer. 2015;136(5):359–86.
Ferlay J, Soerjomataram I, Ervik M, Dikshit R, Eser S, Mathers C, et al. GLOBOCAN 2012 v1.0, Cancer Incidence and Mortality Worldwide: IARC CancerBase. No. 11 [Internet]. Vol. 11, Lyon, France: International Agency for Research on Cancer. 2013. p. http://globocan.iarc.f.
Hennessy BT, Coleman RL, Markman M. Ovarian cancer. Lancet. 2009 Oct 17;374(9698):1371-82. doi: 10.1016/S0140-6736(09)61338-6
Heintz AP, Odicino F, Maisonneuve P, Quinn MA, Benedet JL, Creasman WT N, HY, Pecorelli S BU. Carcinoma of the ovary. FIGO 26th Annual Report on the Results of Treatment in Gyne-cological Cancer. Int J Gynaecol Obs. 2006;95(1):S161-92.
Levanon K, Crum C, Drapkin R. New insights into the pathogenesis of serous ovarian cancer and its clinical impact. J Clin Oncol. 2008;26(32):5284–93.
Prat J. Ovarian carcinomas: Five distinct diseases with different origins, genetic alterations, and clinicopathological features. Vol. 460, Virchows Archiv. 2012. p. 237–49.
Przybycin CG, Soslow RA. Typing of ovarian carcinomas: An update. Diagnostic Histopathol. 2011;17(4):165–77.
Soslow R. Histologic subtypes of ovarian carcinoma: an overview. Int J Gynecol Pathol. 2008;27(2):161–74.
Prat J, Hodeib M, Chang J, Bristow R, Kurtz A, McNeil B. Staging classification for cancer of the ovary, fallopian tube, and peritoneum. Int J Gynecol Obstet. 2014;124(1):1–5.
Covens AL. A critique of surgical cytoreduction in advanced ovarian cancer. Gynecol Oncol. 2000;78(3 Pt 1):269–74.
Chang SJ, Hodeib M, Chang J, Bristow RE. Survival impact of complete cytoreduction to no gross residual disease for advanced-stage ovarian cancer: A meta-analysis. Gynecol Oncol. 2013;130(3):493–8.
12.Shih KK, Chi DS. Maximal cytoreductive effort in epithelial ovarian cancer surgery. J Gynecol Oncol. 2010 Jun;21(2):75-80. doi: 10.3802/jgo.2010.21.2.75
Kaban A, Topuz S, Saip P, Sözen H, Salihoğlu Y. Prognostic Factors in Patients Undergoing Primary Cytoreductive Surgery for FIGO Stage IIIC Ovarian, Tubal or Peritoneal Cancer. J Obs Gynaecol Can. 2017;39(12):1163–70.
Vergote I, Tropé CG, Amant F, Kristensen GB, Ehlen T, Johnson N, et al. Neoadjuvant chemo-therapy or primary surgery in stage IIIC or IV ovarian cancer. N Engl J Med. 2010;363(10):943–53.
Le T, Adolph A, Krepart G V, Lotocki R, Heywood MS. The benefits of comprehensive surgical staging in the management of early-stage epithelial ovarian carcinoma. Gynecol Oncol. 2002;85(2):351–5.
Ayhan A, Gultekin M, Taskiran C, Salman MC, Celik NY, Yuce K, et al. Routine appendectomy in epithelial ovarian carcinoma: Is it necessary? Obstet Gynecol. 2005;105(4):719–24.
Ayhan A, Tuncer ZS, Tuncer R, Yüce K, Ayhan A. Is routine appendectomy beneficial in the management of ovarian cancer? Eur J Obstet Gynecol Reprod Biol. 1994;57(1):29–31.
Zapardiel I, Diestro MD AG. Conservative treatment of early stage ovarian cancer: oncological and fertility outcomes. Eur J Surg Oncol. 2014;40(4):387–93.
Heitz F, Harter P, du Bois A. Staging laparoscopy for the management of early-stage ovarian cancer: a metaanalysis. Am J Obstet Gynecol. 2013 Dec;209(6):592-3. doi: 10.1016/j.ajog.2013.06.035
Park J-Y, Kim D-Y, Suh D-S, Kim J-H, Kim Y-M, Kim Y-T, et al. Comparison of laparoscopy and laparotomy in surgical staging of early-stage ovarian and fallopian tubal cancer. Ann Surg Oncol. 2008;15(7):2012–9.
Falcetta FS, Lawrie TA, Medeiros LR, da Rosa MI, Edelweiss MI, Stein AT, Zelmanowicz A, Moraes AB, Zanini RR, Rosa DD. Laparoscopy versus laparotomy for FIGO stage I ovarian cancer. Cochrane Database Syst Rev. 2016 Oct 13;10:CD005344.
Ghezzi F, Cromi A, Uccella S, Bergamini V, Tomera S, Franchi M, et al. Laparoscopy versus laparotomy for the surgical management of apparent early stage ovarian cancer. Gynecol Oncol. 2007;105(2):409–13.
Lee M, Kim SW, Paek J, Lee SH, Yim GW, Kim JH, et al. Comparisons of surgical outcomes, complications, and costs between laparotomy and laparoscopy in early-stage ovarian cancer. Int J Gynecol Cancer. 2011;21(2):251–6.
Koo YJ, Kim JE, Kim YH, Hahn HS, Lee IH, Kim TJ, et al. Comparison of laparoscopy and laparotomy for the management of early-stage ovarian cancer: Surgical and oncological outcomes. J Gynecol Oncol. 2014;25(2):111–7.
Iglesias DA, Ramirez PT. Role of minimally invasive surgery in staging of ovarian cancer. Curr Treat Options Oncol. 2011;12(3):217–29.
Timmers PJ, Zwinderman AH, Coens C, Vergote I, Trimbos JB. Understanding the problem of inadequately staging early ovarian cancer. Eur J Cancer. 2010;46(5):880–4.
Skírnisdóttir I, Sorbe B. Lymph node sampling is of prognostic value in early stage epithelial ovarian carcinoma. Eur J Gynaecol Oncol. 2005;26(2):181–5.
Trimbos JB, Schueler JA, van Lent M, Hermans J, Fleuren GJ. Reasons for incomplete surgical staging in early ovarian carcinoma. Gynecol Oncol. 1990;37(3):374–7.
Carney ME, Lancaster JM, Ford C, Tsodikov A, Wiggins CL. A population-based study of patterns of care for ovarian cancer: who is seen by a gynecologic oncologist and who is not? Gy-necol Oncol. 2002;84(1):36–42.
Young RC, Decker DG, Wharton JT, Piver MS, Sindelar WF, Edwards BK, et al. Staging lapa-rotomy in early ovarian cancer. JAMA. 1983;250(22):3072–6.
Garcia-Soto AE, Boren T, Wingo SN, Heffernen T, Miller DS. Is comprehensive surgical staging needed for thorough evaluation of early-stage ovarian carcinoma? Am J Obstet Gynecol. 2012 Mar;206(3):242.e1-5. doi: 10.1016/j.ajog.2011.08.022
Ayhan A, Gultekin M, Celik NY, Dursun P, Taskiran C, Aksan G, et al. Occult metastasis in early ovarian cancers: risk factors and associated prognosis. Am J Obstet Gynecol. 2007;196(1).
Bogani G, Tagliabue E, Ditto A, Signorelli M, Martinelli F, Casarin J, et al. Assessing the risk of pelvic and para-aortic nodal involvement in apparent early-stage ovarian cancer: A predictors- and nomogram-based analyses. Gynecol Oncol. 2017;147(1):61–5.
Tam KF, Lam KW, Chan KK NH. Natural history of pelvic lymphocysts as Ultrasound, observed by ultrasonography after bilateral pelvic lymphadenectomy. Obs Gynecol. 2008;32(1):87–9.
Kuroda K, Yamamoto Y, Yanagisawa M, Kawata A, Akiba N, Suzuki K NK. Risk factors and a prediction model for lower limb lymphedema following lymphadenectomy in gynecologic cancer: a hospital-based retrospective cohort study. BMC Womens Heal. 2017;17(1):50.
Snider DD, Stuart GC, Nation JG RD. Evaluation of surgical staging in stage I low malignant po-tential ovarian tumors. Gynecol Oncol. 1991;40(2):129–32.
Signorelli M, Guerra L, Pirovano C, Crivellaro C, Fruscio R, Buda A, et al. Detection of nodal metastases by 18F-FDG PET/CT in apparent early stage ovarian cancer: a prospective study. Gynecol Oncol. 2013;131(2):395–9.
Driscoll DO, Halpenny D, Johnston C, Sheehy N KM. 18F-FDG-PET/CT is of limited value in primary staging of early stage cervical cancer. Abdom Imaging. 2015;40(1):127–33.
Lv K, Guo H, Lu Y, Wu Z, Zhang K, Han J. Role of 18F-FDG PET/CT in detecting pelvic lymph-node metastases in patients with early-stage uterine cervical cancer: comparison with MRI findings. Nucl Med Commun. 2014;35(12):1204–11.
Chung HH, Kang KW, Cho JY, Kim JW, Park NH, Song YS, et al. Role of magnetic resonance imaging and positron emission tomography/computed tomography in preoperative lymph node detection of uterine cervical cancer. Am J Obstet Gynecol. 2010;203(2).
Kitajima K, Murakami K, Yamasaki E, Kaji Y, Sugimura K. Accuracy of integrated FDG-PET/contrast-enhanced CT in detecting pelvic and paraaortic lymph node metastasis in patients with uterine cancer. Eur Radiol. 2009;19(6):1529–36.
Lee HJ, Park JY, Lee JJ, Kim MH, Kim DY, Suh DS, et al. Comparison of MRI and 18F-FDG PET/CT in the preoperative evaluation of uterine carcinosarcoma. Gynecol Oncol. 2016;140(3):409–14.
Kleppe M, Van Gorp T, Slangen BF, Kruse AJ, Brans B, Pooters IN, Van de Vijver KK, Kruitwagen RF. Sentinel node in ovarian cancer: study protocol for a phase 1 study. Trials. 2013 Feb 15;14:47. doi: 10.1186/1745-6215-14-47
Morgan RJ, Armstrong DK, Alvarez RD, Bakkum-Gamez JN, Behbakht K, Chen L-M, et al. Ovarian Cancer, Version 1.2016, NCCN Clinical Practice Guidelines in Oncology. J Natl Compr Canc Netw. 2016;14(9):1134–63.
Trimbos B, Timmers P, Pecorelli S, Coens C, Ven K, Van Der Burg M, et al. Surgical staging and treatment of early ovarian cancer: Long-term analysis from a randomized trial. J Natl Cancer Inst. 2010;102(13):982–7.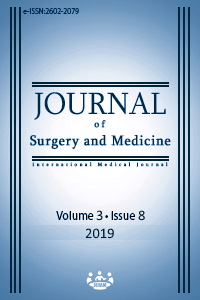 How to Cite
1.
Kaban A, Ferlengez AG, Kaban İşık. The management of clinically early ovarian cancer patients who have not undergone staging surgery. J Surg Med [Internet]. 2019 Aug. 1 [cited 2023 Oct. 4];3(8):605-8. Available from: https://jsurgmed.com/article/view/557818
License
Copyright (c) 2019 Alpaslan Kaban, Ayşe Gül Ferlengez, İşık Kaban
This work is licensed under a Creative Commons Attribution-NonCommercial-NoDerivatives 4.0 International License.
#6449