Multiple enterogluteal fistulas, Crohn's disease: A case report
Keywords:
Crohn's disease, Fistulas, Ileocecal resection
Abstract
Crohn's disease is a type of chronic inflammatory bowel disease (IBD) of unknown etiology that may affect any part of the gastrointestinal tract from mouth to anus and shows extra-intestinal involvement. It characteristically shows skip lesions. This case report reported in 2018 describes a 40 years old Moroccan female not known to have documented evidence of significant Crohn's disease. She was diagnosed with multiple fistulas that are a rare entity of patients with Crohn's disease, which is itself a rare disease in African countries.

Downloads
Download data is not yet available.
References
Klein S, Kinney J, Jeejeebhoy K, Alpers D, Hellerstein M, Murray M, Twomey P, et al. Nutrition support in clinical practice: review of published data and recommendations for future research directions. Am J Clin Nut. 1997;66(3):683–706.
Lee Kang M, Ji ML. Crohn's disease in Korea: past, present, and future. Korean J Intern Med. 2014;29(5):558–70.
James Samuel D, Wise Paul E, Zuluaga-Toro Tania. Identification of pathologic features associated with "ulcerative colitis-like" Crohn's disease. World J Gastroenterol. 2014;20(36):13139–45.
Sica GS, Di Carlo S, Tema G, Montagnese F, Del Vecchio Blanco G, Fiaschetti V, Maggi G, Biancone L. Treatment of peri-anal fistula in Crohn's disease. World J Gastroenterol. 2014 Oct 7;20(37):13205-10.
Ott C, Takses A, Obermeier F. Smoking increases the risk of extraintestinal manifestations in Crohn's disease. World J Gastroenterol. 2014;20(34):12269–76.
Magalhães J, Castro FD, Carvalho PB, Moreira MJ, Cotter J. Quality of life in patients with inflammatory bowel disease: importance of clinical, demographic and psychosocial factors. Arq Gastroenterol. 2014;51(3):192–7.
Singh G, Kaur B, Gupta S. Gluteal fistula—an unusual manifestation of carcinoma colon. Indian Journal of Gastroenterology. 2001;11(4):171.
Hussien M, Mudd DG. Crohn's disease presenting as left gluteal abscess," International Journal of Clinical Practice. 2001;55(3):217–8.
Alexander ES, Weinberg S, Clark RA, Belkin RD. Fistulas and sinus tracts: radiographic evaluation, management, and outcome. Gastrointest Radiol. 1982;7(2):135-40.
Nicholson T, Born MW, Garber E. Spontaneous cholecystocutaneous fistula presenting in the gluteal region. J Clin Gastroenterol. 1999 Apr;28(3):276-7.
Buchanan GN, Halligan S, Bartram CI, Williams AB, Tarroni D, Cohen CR. Clinical examination, endosonography, and MR imaging in preoperative assessment of fistula in ano: comparison with outcome-based reference standard. Radiology. 2004 Dec;233(3):674-81.
Baskan O, Koplay M, Sivri M, Erol C. Our Experience with MR Imaging of Perianal Fistulas. Pol J Radiol. 2014 Dec 24;79:490-7. doi: 10.12659/PJR.892098
Nixon PP, Healey AE. Treatment of a branchial sinus tract by sclerotherapy. Dentomaxillofac Radiol. 2011 Feb;40(2):130-2.
Duman L, Karnak I, Akinci D, Tanyel FC. Extensive cervical-mediastinal cystic lymphatic malformation treated with sclerotherapy in a child with Klippel-Trenaunay syndrome. J Pediatr Surg. 2006 Jan;41(1):e21-4.
Erikçi V, Hoşgör M, Yıldız M, Örnek Y, Aksoy N, Okur Ö, Demircan Y, Genişol İ. Intralesional bleomycin sclerotherapy in childhood lymphangioma. Turk J Pediatr. 2013 Jul-Aug;55(4):396-400.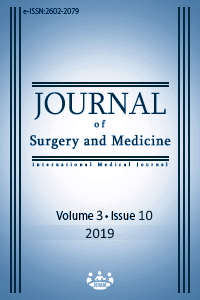 How to Cite
1.
Aziz K, El Marouni A, Belghali H, Souiki T, Ibn Majdoub K, Toughrai İmane, Mazaz K, Zerhouni A. Multiple enterogluteal fistulas, Crohn's disease: A case report. J Surg Med [Internet]. 2019 Oct. 1 [cited 2023 Dec. 5];3(10):763-5. Available from: https://jsurgmed.com/article/view/547091
License
Copyright (c) 2019 Karam Aziz, Abdelouhab El Marouni, Houssam Belghali, Tarik Souiki, Karim Ibn Majdoub, İmane Toughrai, Khalid Mazaz, Ahmed Zerhouni
This work is licensed under a Creative Commons Attribution-NonCommercial-NoDerivatives 4.0 International License.
#6502