Congenital transmesenteric internal hernia; A rare cause of bowel ischemia in adults: A case report
Keywords:
Congenital transmesenteric defect, Internal hernia, Bowel ischemia
Abstract
Congenital transmesenteric hernias represent a very small group of internal hernias which are uncommon and are a rare cause of bowel obstruction and bowel ischemia in adults with few reported cases in published literature. Preoperative diagnosis of the condition is difficult, early intervention and surgical correction goes a long way in preventing high morbidity and mortality associated with cases of internal hernia. We present a case of true congenital transmesenteric hernia in a 31-year-old woman with no previous surgical history or trauma who presented with history of severe abdominal pain and the cessation of both feces and flatus. The abdominal CT scan could not confirm the diagnosis. The patient was operated upon on account of increasing abdominal pain and distention associated with shock. An exploratory laparotomy revealed a congenital transmesenteric defect through which loops of bowel had herniated and become gangrenous, resulting in resection and a stomy type Bouilly Volkmann.

Downloads
Download data is not yet available.
References
Malit M, Burjonrappa S. Congenital mesenteric defect: description of a rare cause of distal intestinal obstruction in a neonate. International Journal of Surgery and Case Report. 2012;3:121–3.
Gyedu A, Damah M, Baidoo PK, Yorke J. Congenital transmesenteric defect caus¬ing bowel strangulation in an adult. Hernia. 2010;14:643–5.
Akyildiz H, Artis T, Sozuer E, Akcan A, Kucuk C, Sensoy E, et al. Internal hernia: complex diagnostic and therapeutic problem. International Journal of Surgery. 2009;7:334–7.
Martin L, Merkle E, Thompson W. Review of internal hernias: radiographic and clinical findings. American Journal of Roentgenology. 2006;186:703–17.
Nouira F, Dhaou BM, Charieg A, Ghorbel S, Jlidi S, Chaouachi B. Small bowel obstruction caused by congenital transmesenteric defect. Afr J Paediatr Surg. 2011;8:75–8.
Filip JE, Mattar SG, Bowers SP, Smith CD. Internal hernia formation after laparo¬scopic Roux-en-Y gastric bypass for morbid obesity. Am Surg. 2002;68:640–3.
Blachar A, Federle MP, Pealer KM, Ikramuddin S, Schauer PR. Gastrointestinal complications of laparoscopic Roux-en-Y gastric bypass surgery: clinical and imaging findings. Radiology. 2002;223:625–32.
Meyers MA. Dynamic radiology of the abdomen: normal and pathologic anatomy. 4th ed. New York, NY: Springer-Verlag; 1994.
Renvall S, Niinikoski J. Internal hernia after gastric operations. Eur J Surg. 1999;157:575–7.
Hashimoto D, Hirota M, Sakata K, Yagi Y, Baba H. Adult transmesenteric hernia: report of two cases. Surg Today. 2012;41:489–92.
Jung P, Kim MD, Ryu TH, Choi SH, Kim HS, Lee KH, et al. Transmesocolic hernia with strangulation in a patient without surgical history: case report. World J Gastroenterol. 2013;19:1997–9.
Gomez R, Rodrigues J. Spontaneous adult transmesenteric hernia with bowel gangrene. Hernia. 2011;15:343–5.
Page MP, Ricca RL, Resnick AS, Puder M, Fishman SJ. Newborn and toddler intestinal obstruction owing to con¬genital mesenteric defects. J Pediatr Surg. 2008;43:755–8.
Zerrweck C, Sanchez HA, Posada JA, Cervantes J. Giant con¬gential mesenteric hernia in the adult. Act Chir Belg. 2009;109:620–2.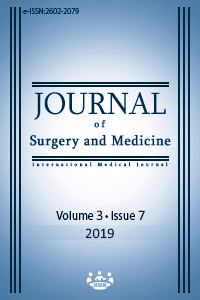 How to Cite
1.
Hasnaoui H, Mouaqit O, Beillahi ML, Bouhaddouti HE, Benjelloun EB, Ousadden A, Taleb KA. Congenital transmesenteric internal hernia; A rare cause of bowel ischemia in adults: A case report. J Surg Med [Internet]. 2019 Jul. 29 [cited 2023 Dec. 1];3(7):539-41. Available from: https://jsurgmed.com/article/view/543160
License
Copyright (c) 2019 Hamza Hasnaoui, Ouadii Mouaqit, Mohamed Lemine Beillahi, Hicham El Bouhaddouti, El Bachir Benjelloun, Abdelmalek Ousadden, Khalid Ait Taleb
This work is licensed under a Creative Commons Attribution-NonCommercial-NoDerivatives 4.0 International License.
#6432