Biphasic synovial sarcoma: A rare cause of axillary mass
Keywords:
Synovial sarcoma, Lymphadenopathy, Breast cancer
Abstract
Synovial sarcoma is a subtype of soft tissue sarcoma which mostly affects the lower extremities, especially in young adults. Axillary involvement of the synovial sarcoma is a rarely seen clinical condition. A 68-year-old female applied with a rapidly grown palpable 4x4cm conglomerated mass in her right axilla. Except for the palpable axillary mass, her physical examination was regular. She was scanned for any distant metastasis with thoracoabdominal computerized tomography and breast ultrasonography with mammography. Tru-cut biopsy was performed on the palpable conglomerated axillary mass, and the pathological examination of the tru-cut biopsy specimen was reported as biphasic malignancy. In order to obtain a detailed examination and definite diagnosis, the mass was dissected and resected from axilla with extensive resection. Postoperative pathological examination was reported as a biphasic SS, and the surgical margins were clear. During the post-operative period, the patient had adjuvant chemoradiotherapy. There was no tumor relapse, both clinically and radiologically fourteen months after the surgery. Elder patients presenting with axillary lymphadenopathy, atypical, rare synovial sarcoma should be kept in mind. Total surgical excision should be performed, and clear margins should be obtained for the treatment of localized synovial sarcoma of the axilla.

Downloads
Download data is not yet available.
References
Ferrari A, Gronchi A, Casanova M, Meazza C, Gandola L, Collini P, et al. Synovial sarcoma: a retrospective analysis of 271 patients of all ages treated at a single institution. Cancer. 2004;101:627–34.
Kransdorf MJ. Malignant soft-tissue tumors in a large referral population: distribution of diagnoses by age, sex, and location. Am J Roentgenol. 1995;164:129–34. doi: 10.2214/ajr.164.1.7998525.
Palmerini E, Staals EL, Alberghini M, Zanella L, Ferrari C, Benassi MS, et al. Synovial sarcoma: retrospective analysis of 250 patients treated at a single institution. Cancer. 2009;115:2988–98. doi: 10.1002/cncr.24370.
Wu Y, Bi W, Han G, Jia J, Xu M. Influence of neoadjuvant chemotherapy on prognosis of patients with synovial sarcoma. World J Surg Oncol. 2017;15:101. doi: 10.1186/s12957-017-1165-9.
Arco CD , Aceñero MJF. Biphasic axillary synovial sarcoma diagnosed by preoperative fine-needle aspiration cytology, Diagnostic Cytopathology. 2017 September;45(9):857-60.
Bergh P, Meis-Kindblom JM, Gherlinzoni F, Berlin O, Bacchini P, Bertoni F, et al. Synovial sarcoma. Identification of low and high risk groups. Cancer. 1999;85:2596-607.
Thway K, Fisher C. Synovial sarcoma: defining features and diagnostic evolution. Ann Diagn Pathol. 2014;18:369–80.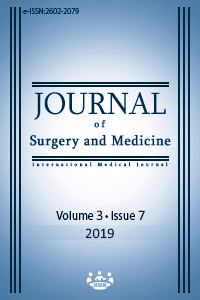 How to Cite
1.
Demirli Atıcı S, Yeşilyurt D, Dikmeer E, Salimoğlu S, Ayaz D, Aydın C. Biphasic synovial sarcoma: A rare cause of axillary mass. J Surg Med [Internet]. 2019 Jul. 29 [cited 2023 Jun. 7];3(7):533-5. Available from: https://jsurgmed.com/article/view/538808
License
Copyright (c) 2019 Semra Demirli Atıcı, Değercan Yeşilyurt, Emre Dikmeer, Semra Salimoğlu, Duygu Ayaz, Cengiz Aydın
This work is licensed under a Creative Commons Attribution-NonCommercial-NoDerivatives 4.0 International License.
#6427