Spontaneous inguinal enterocutaneous fistula, as an exceptional complication of incarcerated Richter's hernia: A case report
Keywords:
Enterocutaneous fistula, Inguinal, Richter's hernia, Femoral ring, Spontaneous
Abstract
Richter's hernia may be defined as an abdominal hernia in which only part of the circumference of the bowel wall is entrapped and strangulated in the hernial orifice. It occurs at various positions with femoral ring being the most common. As the bowel continuity is maintained, the patients usually do not have intestinal obstruction. The spontaneous enterocutaneous fistula is a rare complication of inguinal Richter's hernia. We report a case of a 75 year old female patient with enterocutaneous fistula which occurred spontaneously in the right inguinal region. Abdominal computed tomography scan confirmed the diagnosis of enterocutaneous fistula. We performed a right celiotomy with resection and primary anastomosis of the fistulous bowel. Patient recovered uneventfully without any complications or recurrence.

Downloads
Download data is not yet available.
References
Steinke W, Zellweger R. Richter's hernia and Sir Frederick Treves: an original clinical experience, review, and historical overview. Ann Surg. 2000;232 :710–18.
Ahi KS, Moudgil A, Aggarwal K, Sharma C, Singh K. A rare case of spontaneous inguinal faecal fistula as a complication of incarcerated Richter's hernia with brief review of literature. BMC Surg. 2015;15:67.
Elenwo SN, Igwe PO, Jamabo RS, Sonye US. Spontaneous entero-labial fistula complicating Richters hernia: Report of a case. Int J Surg Case Rep. 2016;20:27-9.
Hajong R, Khongwar D, Komut O, Naku N, Baru K. Spontaneous Enterocutaneous Fistula Resulting from Richter's Hernia. J Clin Diagn Res. 2017;11(8):5-6.
Talukder S, Gupta A, Singh BN, Kaman L, Reddy PA. Fistulating Richter's Hernia of Groin with Necrotizing Soft Tissue Infection: A Lethal Combination. J Clin Diagn Res. 2017;11(7):5-7.
Yeboah MO. Entero-scrotal fistula in a Ghanaian adult: a case report of the Spontaneous rupture of a neglected strangulated inguinal hernia. Hernia 2011;15(4):455–7.
Koshariya M, Naik S, Rai A. Incarcerated inguinal hernia presenting as Spontaneous scrotal faecal fistula. Hernia. 2006;10(5):434–5.
Malik P, Rathi M, Kumar K, et al. Scrotal enterocutaneous fistula: a rare initial presentation of inguinal hernia. J Surg Case Rep. 2014;2014(6):56.
Rajamanickam S, Yadav A, Singh D, Sonkar AA. A complicated true sliding hernia presenting as a spontaneous enteroscrotal fistula in adults. J Emerg Trauma Shock. 2010;3:62–5.
Horbach JM. Invagination for Richter-type strangulated hernias. Trop Doct. 1986;16:163–8.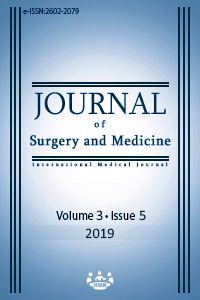 How to Cite
1.
Aliou ZO, Mourad B, Tarek S, Karim İbn M, Imane T, Khalid M. Spontaneous inguinal enterocutaneous fistula, as an exceptional complication of incarcerated Richter's hernia: A case report. J Surg Med [Internet]. 2019 May 28 [cited 2023 Sep. 26];3(5):417-8. Available from: https://jsurgmed.com/article/view/537893
License
Copyright (c) 2019 Zabeirou Oudou Aliou, Badri Mourad, Souiki Tarek, İbn Majdoub Karim, Toughrai Imane, Mazaz Khalid
This work is licensed under a Creative Commons Attribution-NonCommercial-NoDerivatives 4.0 International License.
#6413