Thymic mucoepidermoid carcinoma: A case report
Keywords:
Thymus, Mucoepiderdoid carcinoma, Mediastinum
Abstract
Mucoepidermoid carcinoma of the thymus is a rare malignant neoplasm of the anterior mediastinum. There are less than 30 cases described in the English literature. We report a case of a 77-year- old man with right chest pain. Thorax-CT scan showed a lobulated cystic mass having a focal solid portion with direct invasion of the adjacent pericardium in the anterior mediastinum. He underwent surgical resection for his anterior mediastinal mass via right thoracoscopic surgery without any complication. He had an uneventful recovery and was discharged on the sixth postoperative day.

Downloads
Download data is not yet available.
References
Colby T, Koss M, Travis W. Tumors of salivary gland type. In: Tumors of the Lower Respiratory Tract. Atlas of Tumor Pathology; third series, fascicle 13. Washington, DC: Armed Forces Institute of Pathology; 1995.pp.65–89.
Jung KJ, Lee KS, Han JH, Kim JG, Kim TS, Kim EA. Malignant thymic epithelial tumors: CT-pathologic correlation. Am J Roentgenol. 2001;176:433–9.
Goode RK , El-Naggar AK. Mucoepidermoid carcinoma. In WHO classification of head and neck tumors. Edited by Barnes L, Eveson JW, Reichart P, Sidransky D. Lyon: IARC Press; 2005.pp.219-220.
Rosai J. Histological typing of tumors of the thymus. Second edition. Heidelberg: Springer-Verlag, 1999.pp.13–15.
Ritter JH, Wick MR. Primary carcinomas of the thymus gland. Semin Diagn Pathol. 1999;16:18–31.
Suster S, Rosai J. Thymic carcinoma. A clinicopathologic study of 60 cases. Cancer. 1991;67:1025–32.
Hsu CP, Chen CY, Chen CL, et al. Thymic carcinoma. Ten years experience in twenty patients. J Thorac Cardiovasc Surg. 1994;107:615–20.
Wick MR, Scheithauer BW, Weiland LH, Bernatz PE. Primary thymic carcinomas. Am J Surg Pathol. 1982;6:613–30.
Hartmann CA, Roth C, Minck C, Niedobitek G. Thymic carcinoma. Report of five cases and review of the literature. J Cancer Res Clin Oncol. 1990;116:69–82.
Moran CA, Suster S. Mucoepidermoid carcinomas of the thymus. A clinicopathologic study of six cases. Am J Surg Pathol. 1995;19:826–34.
Nonaka D, Klimstra D, Rosai J. Thymic mucoepider- moid carcinomas: a clinicopathologic study of 10 cases and review of the literature. Am J Surg Pathol. 2004;28:1526–31.
Takahashi K, Yoshida J, Nishimura M, Nagai K.Thymic carcinoma. Outcome of treatment including surgical resection. Jpn J Thorac Cardiovasc Surg. 2000;48:494–8.
Yano T, Hara N, Ichinose Y, Asoh H, Yokoyama H, Ohta M. Treatment and prognosis of primary thymic carcinoma. J Surg Oncol. 1993;52:255–8.
Hernandez-Ilizaliturri FJ, Tan D, Cipolla D, Connolly G, Debb G, Ramnath N. Multimodality therapy for thymic carcinoma (TCA): results of a 30-year single- institution experience. Am J Clin Oncol. 2004;27:68–72.
Lucchi M, Mussi A, Basolo F, Ambrogi MC, Fontanini G, Angeletti CA. The multimodality treatment of thymic carcinoma. Eur J Cardiothorac Surg. 2001;19:566–9.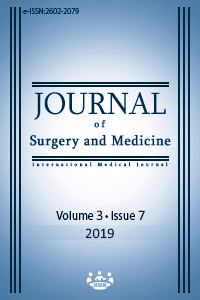 How to Cite
1.
Temiz G, Yıldız Özgür Ömer, Gülyüz Ömer C, Karaoğlanoğlu N. Thymic mucoepidermoid carcinoma: A case report. J Surg Med [Internet]. 2019 Jul. 29 [cited 2023 Dec. 11];3(7):536-8. Available from: https://jsurgmed.com/article/view/537043
License
Copyright (c) 2019 Göktan Temiz, Özgür Ömer Yıldız, Ömer Cenap Gülyüz, Nurettin Karaoğlanoğlu
This work is licensed under a Creative Commons Attribution-NonCommercial-NoDerivatives 4.0 International License.
#6444