Outcomes of intravenous thrombolytic and adjuvant surgery in acute limb ischemia: Review of 23 patients
Keywords:
Acute limb ischemia, Intravenous thrombolytic, Adjuvant surgery
Abstract
Aim: Today, combined thrombolytic and surgical adjuvant embolectomy is known to have positive results in acute limb ischemia (ALI) treatment. In thrombolytic therapy, the intra-arterial method is generally used. In our study, we performed an intravenous thrombolytic and / or adjuvant surgical embolectomy in patients with failed bypass or diffuse aorta vascular disease who were unable to perform catheter directed thrombolytic therapy (CDT) due to technical difficulties. We evaluated the mortality and morbidity results of the patients.
Methods: Retrospective cohort study was planned. This study consists of patients treated for ALI between January 2014 and September 2018. First, the intravenous thrombolytic treatment was performed. The patients who failed this treatment were additionally treated with surgical embolectomy. The patients were in Rutherford Class IIa and IIb.
Results: A total of 23 ALI patients were included in the study. Thrombolytic treatment was performed on all of the patients. Twelve (52%) patients who failed thrombolytic treatment were also treated with surgical adjuvant embolectomy. In the first month, two patients (8.7%) required major amputation. In follow-up period of one year, a total three patients (13%) required major amputation and one patient (4.3%) had intracranial hemorrhage.
Conclusions: ALI, despite all the developments in its treatment, is still a life threatening disease. This study suggests that our rate of amputation, hemorrhage and extremity rescue are similar or a little lower than the large series of intra-arterial thrombolytic treatments in the literature. Today, the thrombolytic treatment methods have one thing in common which is the use of intra-arterial route. Yet we reckon that as in our study; the patients who cannot be treated with intra-arterial catheterization the intravenous thrombolytic therapy and/or surgical adjuvant embolectomy can be helpful in rescuing those patient's life and extremity.
Downloads
Download data is not yet available.
References
Grip O, Kuoppala M, Acosta S, Wanhainen A, Åkeson J, Björck M. Outcome and complications after intra‐arterial thrombolysis for lower limb ischaemia with or without continuous heparin infusion. British Journal of Surgery. 2014;101:1105-12.
Hastaoğlu İO, Parlar H, Toköz H, Fırat A, Bilgen F. Kateter destekli trombektomi. Turk Gogus Kalp Dama. 2014;22:656-60.
Rutherford RB. Clinical staging of acute limb ischemia as the basis for choice of revascularization method: when and how to intervene. Semin Vasc Surg. 2009;22:5-9.
Knowles M, Timaran CH. Epidemiology of acute critical limb ischemia. Crit. Limb Ischemia, Cham: Springer International Publishing. 2017;1-7.
Davies B, Braithwaite BD, Birch PA, Poskitt KR, Heather BP, Earnshaw JJ. Acute leg ischaemia in Gloucestershire. British journal of surgery. 1997;84:504-8.
Campbell WB, Ridler BMF, Szymanska TH. Current management of acute leg ischaemia: results of an audit by the Vascular Surgical Society of Great Britain and Ireland. British journal of surgery. 1998;85:1498-503.
Eliason J, Wainess R, Proctor M, Dimick J, Cowan JG. et al. A national and single institutional experience in the contemporary treatment of acute lower extremity ischemia. Ann Surg. 2003;238:382–9.
Byrne RM, Taha AG, Avgerinos E, Marone LK, Makaroun MS, Chaer RA.Contemporary outcomes of endovascular interventions for acute limb ischemia. J Vasc Surg. 2014;59:988-95.
Taha AG, Byrne RM, Avgerinos ED, Marone LK, Makaroun MS, Chaer RA. Comparative effectiveness of endovascular versus surgical revascularization for acute lower extremity ischemia. J Vasc Surg. 2015;61:147–54.
Butt T, Gottsäter A, Apelqvist J, Engström G, Acosta S. Outcome of intra-arterial thrombolysis in patients with diabetes and acute lower limb ischemia: a propensity score adjusted analysis. Journal of thrombosis and thrombolysis.2017;4:475-480.
Kessel DO, Berridge DC, Robertson I. Infusion techniques for peripheral arterial thrombolysis. Cochrane Database Syst Rev. 2004;(1):CD000985.
Grip O, Wanhainen A, Acosta S, Björck M. Long-term Outcome after Thrombolysis for Acute Lower Limb Ischaemia. European Journal of Vascular and Endovascular Surgery. 2017;53:853.
Saroukhani A, Ravari H, Pezeshki RM. Effects of intravenous and catheter directed thrombolytic therapy with recombinant tissue plasminogen activator (Alteplase) in non-traumatic acute limb ischemia; a randomized double-blind clinical trial. Bull Emerg Trauma. 2015;3:86-92.
Berridge DC, Kessel DO, Robertson I. Surgery versus thrombolysis for initial management of acute limb ischaemia. Cochrane Database Syst Rev. 2013 Jun 6;(6):CD002784.
Acosta S, Kuoppala M. Update on intra-arterial thrombolysis in patients with lower limb ischemia. J Cardiovasc Surg (Torino). 2015;56:317-24.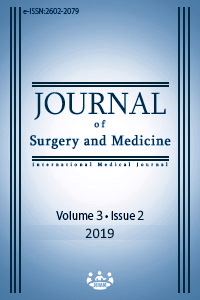 How to Cite
1.
Demir D, Kahraman N. Outcomes of intravenous thrombolytic and adjuvant surgery in acute limb ischemia: Review of 23 patients. J Surg Med [Internet]. 2019 Feb. 25 [cited 2023 Sep. 25];3(2):172-5. Available from: https://jsurgmed.com/article/view/525350
License
Copyright (c) 2019 Deniz Demir, Nail Kahraman
This work is licensed under a Creative Commons Attribution-NonCommercial-NoDerivatives 4.0 International License.
#6351